website  watertownhistory.org
    ebook  History of Watertown, Wisconsin
Herbert A. Baurichter
1891 - 1959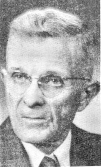 Herbert A. Baurichter, 902 North Second Street, died quite suddenly at his home.  The funeral was held from the Schmutzler Funeral Home with services in St. Henry's Church. The Very Rev. A. J. Herrmann, V.F., officiated and interment was in the parish cemetery.  There were military rites at the grave.
The parish and Holy Name Society rosary was said at the funeral home the night before the funeral.
Mr. Baurichter was a retired city mail carrier. He had been a postal employee for 39 years. He was also a veteran of World War I. He was born in the town of Milford on Jan. 1, 1891, a son of the late Mr. and Mrs. Adolph Baurichter. Virtually all of his life was spent in Watertown.
He was married at Chilton to Regina Schneider on Sept. 2, 1919.  She died here on Jan. 18 of the same year.
He was a member of St. Henry's Catholic Church, the Holy Name Society, Branch No. 120, Catholic Knights of Wisconsin and the Pitterle-Beadouin Post No. 189, the American Legion.
"Mr. Baurichter was a familiar figure in the city and his personality and friendliness won many friends for him. He possessed many excellent qualities and during his years at the post office here he proved to be one of the most faithful and conscientious workers."
SURVIVORS:
Daughter                Mrs. Harry Boyum, this city
Daughter                Miss Florence Baurichter, LaJolla, Calif.
Son                     Herbert E. Baurichter, this city
Son                     Melvin Baurichter, Payallup, Wash.
11 grandchildren
Brother                 Edward
Sister                  Ella this city.
PRECEDED IN DEATH:
A grandson and a brother preceded Mr. Baurichter in death.

History of Watertown, Wisconsin