website† watertownhistory.org
††† ebook† History of Watertown, Wisconsin
June, 1932
Both Catholic Schools Here Graduate Pupils
<![if !vml]>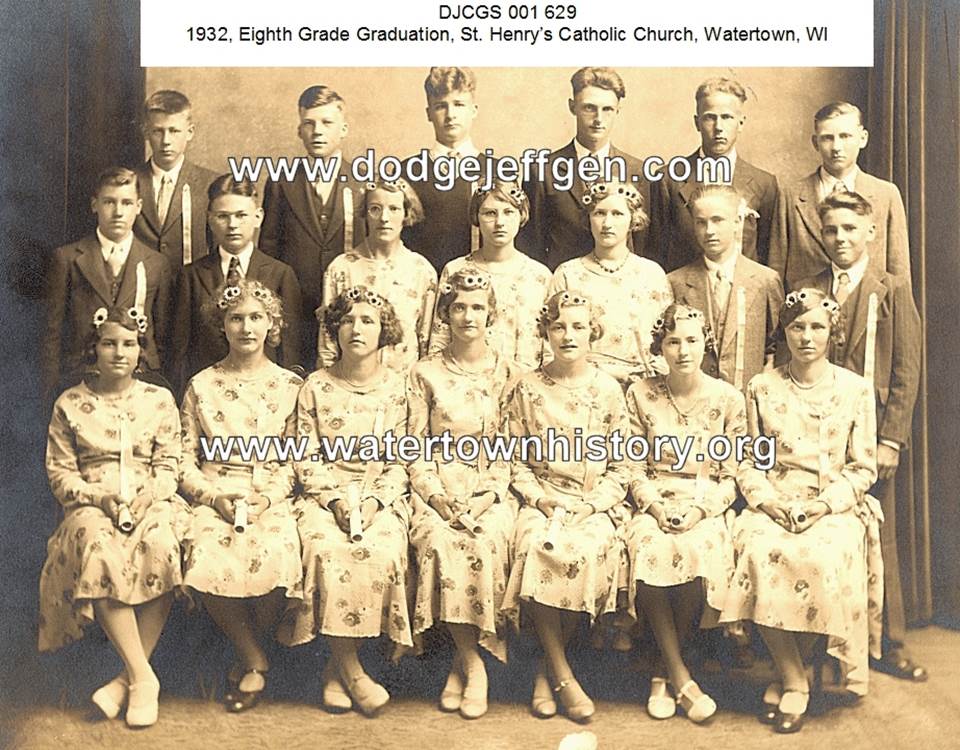 <![endif]>
Back row [l-r]:† Joseph Koehler, Carl Stangler, John Berg, George Ertl, William Berg, Clarence Riedl
Middle row:† Joseph Schuch, Oscar Scheiber, Virginia Hady, Alice Scheiber, Marcella Peirick, George Hrobsky, George Schmitt
Front Row:† Marian Kehr, Loretta Klecker, Frieda Huebel, Margaret Huebel, Dorothy Imming, Margaret Roffeis, Viola Haberkorn
1932
June 10, 1932
St. Bernardís Catholic School will graduate a class of 17 students.† The exercises have been set for Sunday night in St. Bernardís Church.† In addition to awarding of the diplomas a list of prize winners in scholarship will also be announced.
The graduates and prize winners will be announced for publication after the exercises.
The school term came to a close with a picnic in Riverside Park this afternoon.
St. Henryís School will not graduate its class of students until Sunday, June 26, although classes have already been dismissed.† The date for the graduation was set by Archbishop Samuel A. Stritch of Milwaukee.
Cross Reference:
†††††††††††††† Scheiber, Oscar, 1932 Graduation, 8th Grade Certif, St. Henry's††
†††††††††††††† First Communion pic (1926) of this class

History of Watertown, Wisconsin