website  watertownhistory.org
    ebook  History of Watertown, Wisconsin
Elizabeth Wenck
1848 - 1942
08 14 1942
Mrs. Elizabeth Wenck, widow of Charles J. Wenck, 220 Emerald Street, died peacefully in her sleep Thursday night at at her home.  Last Friday she had observed her 94th birthday and many friends had called on her.  She was taken ill Sunday.
A native of Berne, Switzerland, she was the former Elizabeth Gerber, daughter of Mr. and Mrs. Frederick Gerber.  At the age of three she came to the United States with her parents and the family settled in Syracuse, N. Y., moving to Brookfield, Wis., a few years later.  Later she moved to Oconomowoc where most of her youth was spent.
She moved to Watertown after her marriage to Mr. Wenck, the wedding taking place on her 21st birthday, Oct. 7, 1869.  Her married life had been spent here, except for about three years, which were spent in New York City.
Surviving are two daughters, Mrs. Emma Bence, Watertown; Mrs. Joseph Koester, Flint, Mich.; three sons, Charles, Oconomowoc; Edward, Minneapolis, Minn., and George, Watertown.  One son John died in 1924 and another son died in infancy.
There are seven grandsons, one great grandson and three great granddaughters.  Mrs. Wenck was the last member of her family.
Mrs. Wenck was a member of the First Evangelical and Reformed church and of the Woman's Guild of that church.  She was a charter member of the Women's Relief Corps here.
Mrs. Wenck had a great many old friends in the community and in her neighborhood she was respected by all who knew her.  Her long life was a useful one and even in her advanced age she continued to be as active as possible and always enjoyed visits from old friends who dropped in to see her.  She was keenly alert and possessed a fine mind.
The funeral will be held Monday at from the Schmutzler funeral home, the Rev. Gordon E. Robinson officiating.  Burial will be in Oak Hill Cemetery.   
c.1880
EMMA WENCK, daughter of Charles and Elizabeth
<![if !vml]>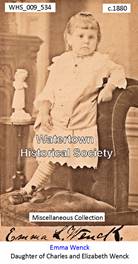 <![endif]>
  click to enlarge
<![if !vml]>

<![endif]>
History of Watertown, Wisconsin