website  watertownhistory.org
    ebook  History of Watertown, Wisconsin
Emilie (Emidoe) Weber
Zayda Weber
1856 (1855?) - 1956
DATE UNCERTAIN
Little Zayda Weber, the shining light at the Empire theater last evening and Watertown's juvenile favorite, scored honors again in her song, spot light dance and frog hop, the latter being in response to a hearty encore from her many admirers.  It requires more than inclement weather and an impending storm to keep the crowd away when Zayda is on the bill, as was fully evidenced last evening in the fact that the theatre was well filled and had the weather been more favorable the house would certainly have been packed to its capacity.  Zayda is appearing before the public this week as a result of numerous requests by admirers of the clever little song and dance artist who appeared at her best last evening . . . She will appear at each performance up to and including Sunday evening . . . Preparations (are being made) for Zayda to appear again in the course of two or three weeks in an entirely different role . . .
The professional portion, the opening, with Pearl Evelyn . . . (was) a case of "Pearl before swine," for the audience last evening showed a swinish propensity in their demands for more, especially the gentleman making up the box seat party on the right hand side of the theatre . . .
Miss Zayda Weber
Watertown Dancer & Vaudeville Performer
<![if !vml]>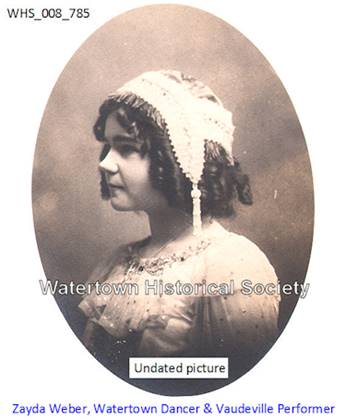 <![endif]>
1915
04 08       Miss Zayda Weber, the charming little lady of Watertown, Wis., who has won a place in the hearts of local theatre-goers by her dancing and who has been dancing to the delight of thousands in Chicago during the past ten months, returned with her mother, Mrs. Emidoe Weber, to their Watertown home last week.  Although she will enjoy a well-earned rest till the season opens in the fall, the Lyric theatre of this city will seek her services soon.  Miss Weber is a general favorite in Chicago and has been in great demand to entertain theatregoers there.  Local people who saw her at the Lyric about a year ago and in Chicago this fall say that she has made wonderful improvement in the art of dancing.  She has been under the tutelage of Madame Jung of the Chicago Musical Academy.— Ft. Atkinson Union.
Cross Reference:  Picture of George and Zayda Weber in auto on Main St., c.1915, on p 11 of Then & Now, Watertown Wisconsin, by Bill Jannke.
1956
06 12       A trim looking little lady dropped into the Times building yesterday afternoon.  One look at her and one knew it must be Zayda Weber Germain of Miami, Fla., better known in her heyday as a child dancer as Zayda Weber.  It was her first visit here in some years.  She had come to Watertown to bring with her the silver urn containing the ashes of her mother, Mrs. Emilie Weber, who died in Miami some months ago at the age of 101. [ gravestone dates indicate age 100 ].
The ashes are being deposited in the family lot here in Oak Hill cemetery where Mr. Weber, who died here many years ago, is buried.  Mrs. Germain said that she has come to Watertown quite regularly to visit the grave of her father but that her visits had been brief.  Her own son had sometimes accompanied her.  That was when they made their home in Milwaukee.  Both now live in Florida, he with his family and she by herself.   WDT
<![if !vml]>

<![endif]>
History of Watertown, Wisconsin