website† watertownhistory.org
††† ebook† History of Watertown, Wisconsin
Ronald W. Uhlhorn
1936- 2014
<![if !vml]>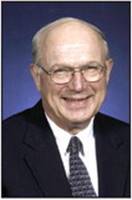 <![endif]>Pastor Ronald W. Uhlhorn, 77, Watertown, went to be with his Lord on Sunday, Jan. 5, 2014.
He was born Aug. 24, 1936, in Darfur, Minn., son of Walter and Laura (Janzen) Uhlhorn. †He earned a master of divinity from Wisconsin Lutheran Seminary, Mequon, in 1961. †
Ron married Kay Kathryn Kaddatz on June 4, 1961, at St. Johnís Lutheran Church, Watertown. †
The Rev. and Mrs. Uhlhorn had the privilege of serving congregations in Charles City, Iowa; King of Prussia, Pa.; Pardeeville; New Ulm, Minn.; Blantyre, Malawi, Africa; and most recently as chaplain at Heritage Homes, Watertown. †He was a member of St. Markís Evangelical Lutheran Church of Watertown. †Pastor Uhlhorn served in various church leadership roles throughout his life: †Lutheran Pioneers, Western Wisconsin District Special Ministries, vice president of the WELS Minnesota District, Minnesota Valley Lutheran High School board chairman, liaison to the WELS mission in Cameroon, Africa, chairman of the board at the Alpha Life Resource Center and many more.
Survivors include his wife, Kay Uhlhorn; five children, Debbie Rothe, Belle Plaine, Minn., Pastor Wayne (Daneen) Uhlhorn, Colorado Springs, Colo., Ann (Pastor Virgil) Hanson, Sherwood, Kathy (Stefan) Felgenhauer, Blantyre, Malawi, Africa, and David (Rachel) Uhlhorn, Manitowoc; 17 grandchildren, Matthew, Jacob, Hannah, Luke, all children of Debbie; Jennifer, Marissa, Ryan, Michael, children of Wayne; Aaron, Grace, Miriam, children of Ann; Louisa, Benjamin, Anna, children of Kathy; Joshua, Caleb and Emily, children of David. He is also survived by a sister, Lanita (Dr. John) Nolte, New Ulm, Minn., and a number of other relatives and friends.
Ron is preceded in death by his parents, Walter and Laura; brother, Paul, and infant daughter, Susan.
Memorials are suggested to the Lutheran Home Association Chaplaincy Program (337 S. Meridian St., Belle Plaine, MN 56011) or WELS World Missions (N16 W23377 Stone Ridge Drive, Waukesha, WI 53188).
A funeral service will be held at 3 p.m. on Thursday at St. Markís Evangelical Lutheran Church with the Rev. James E. Werner presiding. Visitation will be on Thursday at the church from 1 p.m. until the time of service. †Burial will take place in Oak Hill Cemetery, Watertown.††
Pederson-Nowatka Funeral Home 213 S. Fifth St. Watertown

History of Watertown, Wisconsin