website  watertownhistory.org
    ebook  History of Watertown, Wisconsin
LeRoy Strohbusch
1927- 2014
<![if !vml]>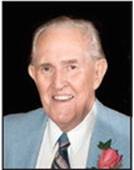 <![endif]>LeRoy Strohbusch, 87, was born in Watertown on Jan. 11, 1927, to Lester and Erna (Schroeder) Strohbusch.  He was a U.S. Navy World War II veteran and retired from AT&T in 1986 after 42 years of service. On Jan. 26, 2014, LeRoy returned home to be with his Lord and Savior, Jesus Christ.
LeRoy was a loving husband, father and grandfather. He was a strong man of God who sacrificially loved and served his family and his Lord.  He lived his life for others, and leaves behind a legacy of love that will last for generations to come.  He learned much from his Father in heaven who says it is better to give than receive.
"For God loves a cheerful giver ... They share freely and give to the poor. Their good deeds will be remembered forever." (2 Corinthians 9:8-9).
LeRoy was preceded in death by his loving wife of 66 years, Mary Ann Strohbusch.  He is survived by his six children, LeRoy (Kathy), Bonita (Strohbusch) Ashbaugh, David (Susan), Robert (Sherry), Mark (Linda) and Joseph (Marijane); 16 grandchildren, 16 great-grandchildren and many dear friends.
Memorial visitation will take place at Fuller Speckien Hulke Funeral Home, 3209 Rudolph Road, Eau Claire, WI 54701 today from 5:30-7:30 p.m. with a prayer service at 7:30 p.m. to conclude the evening's visitation.  Father Don Meuret of Immaculate Conception Catholic Church in Eau Claire will officiate.
Funeral Mass will be held Saturday at 1 p.m. at St. Francis Xavier Church, 602 College St., Lake Mills, WI 53551.  Interment with military honors will immediately follow at Oak Hill Cemetery, Watertown.  A gathering for family and friends will take place in Watertown following the interment.
Memorials can be directed to Immaculate Conception Church, 1712 Highland Ave., Eau Claire, WI 54701.
Fuller Speckien Hulke Funeral Home 3209 Rudolph Road Eau Claire

History of Watertown, Wisconsin