website  watertownhistory.org
    ebook  History of Watertown, Wisconsin
Thomas R. Stoppenbach
1923- 2013
<![if !vml]>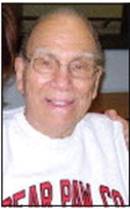 <![endif]> QUINCY, Ill. — Thomas R. Stoppenbach, formerly of Watertown, Wis, passed away Sunday morning, Dec. 8, 2013, at the Good Samaritan Home in Quincy. He was 90 years old.
Tom was born on July 17, 1923, in Watertown, son of Viola (formerly Griep) and Reed Stoppenbach. He was the oldest of five children. Tom was a 1941 graduate of Watertown Senior High School. He was employed by the G.B. Lewis Company in Watertown prior to his entry into the military. Tom served in the U.S. Army during WWII in the 82nd Airborne Division Glider Troops. He was captured in Holland and held as a POW at several different German POW camps in Germany until liberation by the United States Army near the end of the war. After being liberated by Gen. George Patton's troops, he was transferred to Camp Lucky Strike in France eventually coming home to Camp McCoy, Wis. After WWII, he attended and graduated from La Crosse State Teachers College in La Crosse, Wis.
On Sept. 3, 1950, Tom married the former Lillian Heinrich of Watertown in a double-wedding ceremony with her twin sister, Olive and fiancé, Dayton Powers. Lillian preceded Tom in death in 2007. Tom and Lillian had three children together, Daniel, Julane, and Lori.
Tom taught school in Sturgeon Bay, Wis., for three years. He then returned to Watertown where he applied to the local post office. He was employed as a letter carrier for the U.S. Postal Service for 26 years when he retired.
Tom loved sports: watching the Green Bay Packers, the Chicago Cubs, the Milwaukee Brewers and Bucks, and the Wisconsin Badgers. In his early years, he liked to travel and vacation with his family. He also enjoyed doing a lot of woodworking and refinishing in his workshop. He was an avid reader and liked to watch old movies and TV shows. Tom was a good husband, loving father and grandfather. He will truly be missed.
He is survived by his son, Daniel Stoppenbach (Robin) of Lyndon Station, Wis.; his daughters, Julane Milbrath (Michael) of Madison, Wis.; and Lori Gerth (Grant) of Quincy; his grandchildren, Erika Stueber of Chandler, Ariz.; Ryan Milbrath of Milwaukee, Wis.; Daniel Gerth of Fort Collins, Colo.; Sarah Gerth of Quincy; and nieces, nephews and friends.
Tom was preceded in death by his parents; his wife, Lillian; his brothers, William and Charles Stoppenbach; his sisters, Colleen Guetzlaff and Patsy Bigelow.
A memorial service will be held 11 a.m. Saturday at the Pederson-Nowatka Funeral. Visitation will be held on Saturday 10:30 a.m. until the time of the service at the funeral home. Interment will be in Oak Hill Cemetery.
Pederson-Nowatka Funeral Home is caring for the family. To place an online condolence or to light a candle in his memory, please visit www.pn-fh.com.
Pederson-Nowatka Funeral Home 213 S. Fifth St. Watertown

History of Watertown, Wisconsin