website  watertownhistory.org
    ebook  History of Watertown, Wisconsin
Janis S. Stiever
1946- 2015
<![if !vml]>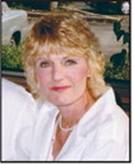 <![endif]>GERMANTOWN — Janis S. Stiever, 69, of Germantown, passed away on Thursday, June 11, 2015, at Community Memorial Hospital in Menomonee Falls.  Funeral services will be held on Wednesday at noon at Hafemeister Funeral Home in Watertown with the Rev. Ron Kral of the Christ United Methodist Church in Watertown officiating.  Friends and family may gather at the funeral home from 10 a.m. until the time of the service.  Burial will be at Oak Hill Cemetery in Watertown.  In lieu of flowers, memorials to the family or the charity of one's choice would be appreciated.  The family would like to thank Jeff Wetzel for his assistance with the arrangements.
The Hafemeister Funeral Home and Cremation Service of Watertown is serving the family.
Janis Sue Hadaller was born on Feb. 24, 1946, in Beaver Dam, the daughter of Leander Roman and Edna Ida (nee Christian) Hadaller.  She was a 1964 graduate of Watertown High School.  She married John "Jack" Stiever in 1988.  She was a dedicated mother and wife.  Janis loved to read and travel.  She enjoyed canning.
Janis is survived by her husband, John "Jack" of Germantown; children, Julie (Mike) Paschke of Waunakee; Chrissy (Rob) Brillhart of Lake Mills; Ryan (Erin) Mueller of San Diego, Calif.; stepchildren, Beth (Steve) Ewing of St. Louis, Mo.; Amy (Nathan) Paris of Laurel, Mont.; Keri (Nick) Scheibel of Edwardsville, Ill.; Scott (Rebekah) Stiever of Cincinnati, Ohio; mother, Edna; as well as 10 grandchildren. She is further survived by sisters, Sandy Ebert of Costa Mesa, Calif.; Lynn Michael of Watertown; Marjorie (Gary) Bos of Ave Maria, Fla.
She was preceded in death by her father, Leander.

History of Watertown, Wisconsin