website  watertownhistory.org
    ebook  History of Watertown, Wisconsin
Virginia M. "Jinny" Smith
1932- 2013
<![if !vml]>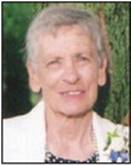 <![endif]>Virginia M. "Jinny" Smith of Watertown, age 81, passed away peacefully on Monday, Dec. 30, 2013, at her home.
She was born on May 21, 1932, in Brodhead, the daughter of Frank C. and Leah E. (DeVoe) Daniels.
As a child, she performed with her parents and older brother, Frank, in the Daniels Family Troupe, in traveling shows and vaudeville acts.  She graduated from Milton High School in 1949.  She graduated in 1951 from the University of Wisconsin-Whitewater with a rural teaching degree and she taught in a one-room schoolhouse.  She married in 1952 and raised her six children in Sullivan.  She was a den mother when her sons were in Scouts.  She volunteered for the March of Dimes, championing their work to wipe out childhood polio, birth defects and premature infant births.  When her youngest started school, she returned to UW-Whitewater to obtain her K-3 degree, graduating in 1971.  She taught in the Palmyra-Eagle school district and did substitute teaching in Waukesha, Jefferson and Rock counties.  She was also a tutor for Alverno College's "1 on 1" tutoring program.  She retired from Bethesda Lutheran Communities in Watertown.  Her hobbies included music, traveling, camping, gardening, birding and antique hunting.
"Last Act/Final Curtain:"  A memorial service will be held on Saturday, June 7, at 11:30 a.m. at St. Stephen Evangelical Lutheran Church, W2094 Church Drive, Watertown, in the town of Concord, on the corner of Hillside Drive and Church Drive, just off of County Highway B.  Visitation with the family will be at the church from 10 until 11:30 a.m.  There will be a private burial at Oak Hill Cemetery in Watertown.  Schmutzler-Vick Funeral Home and Cremation Services is assisting the family.
She is survived by her children, Anne (Stanley) Sawvell, Oconomowoc, and her daughter, Megan Edwards; Michael (Mary), Huntersville, N.C., and their children, Angela Kargus and Robert Smith; Matthew (Ginny), Watertown, and their children, Pauline Zeren, Theresa Mueller, Margaret, Peter, Joseph, Elizabeth, Michael and Benjamin Smith; Benjamin (Cheryl), Waupaca, and her children, Justin and Michael Drmolka; Andrew (Amy), Brookfield; and Brian (Debbie), Palmyra, and their children, Nathan, Jennifer and Kristin Smith.  Jinny is survived by eight great-grandchildren.  Jinny is also survived by brothers, Frank H. (Betty Ruth) Daniels, Janesville, and Robert (Lucy) Daniels, Beloit; sister, Judy Largent, Jacksonville, Fla.  She is also survived by her former husband, Neal (Anne) Smith, Sullivan, as well as other dear relatives and friends, including her niece, Cecelia, with whom she shared a birthday, and her sweet feline friend, Miss Kitty.
She was preceded in death by an infant son, Joseph, her parents, and three sisters who died in infancy.
In lieu of flowers, memorial donations may be made to the Salvation Army, March of Dimes, Alzheimer's Association, American Heart Association or the charity of one's choice.  The family would like to thank Phyllis S. of Grand Assistance for her caring companionship, friendship, caretaking, and gifts of laughter and music to Jinny in her last years of life on this earth.  Thanks also to the Schmutzler-Vick Funeral Home and Cremation Services, Watertown, for their assistance.
"To teach is to touch a life forever."

History of Watertown, Wisconsin