website  watertownhistory.org
    ebook  History of Watertown, Wisconsin
Christoph Schroeder
1817 – 1876?
Christoph Schroeder, retired undertaker; born in Vorbruck Walsrode, Hanover, February 18, 1817.  He came to America in 1844; located in Cleveland, Ohio, for about one year and half; then he came to Watertown; for a number of years, he worked at the carpenter and joiner business; then he was engaged in business as undertaker for twenty-five years; three years ago he retired from that business. 
Mr. Schroeder laid out and started Oak Hill Cemetery, and now has charge of it.  He deserves great credit for the judgment displayed in the location and arrangement of this cemetery. 
He has one of the best constructed family vaults in the country, in which rest the remains of his children, of his mother, Mary Schroeder, and Mary Arntz, his wife's mother.  In 1843, Mr. Schroeder married Mary Arntz; she was born in Altenboetzen, Hanover, Dec. 15, 1820; they have seven children living:  Teresa (now Mrs. John K(?), of Fond du Lac), Henry, Mena (now Mrs. Frederick Wilkopsky), Sophia (now Mrs. Hermann Rapp), Mary, Ernst and Lena.
"The History of Jefferson County, Wisconsin," Chicago:  Western Historical Company, 1879.
Coffins & Undertaker's Services
1860
The subscriber is now prepared to make on the shortest notice all the different varieties of coffins which may be wanted on the shortest notice, and on the most reasonable terms.  He has also a large number of coffins of various sizes for sale at his shop, all ready prepared for immediate use.  He will furnish a hearse at all times on application, and shrouds all ready for use, when desired, at rates cheaper than they can be made.  His shop will be found on Fourth Street, opposite the Buena Vista House, in the Second Ward of this city.  He will hold himself in readiness to render services at all times as an undertaker.
Christoph Schroeder     Watertown Democrat
1862
1872 Watertown City Directory:  Christian Schroeder, Undertaker and Coffin Warehouse, business at west side of North Fourth St, between Jones and Madison
1881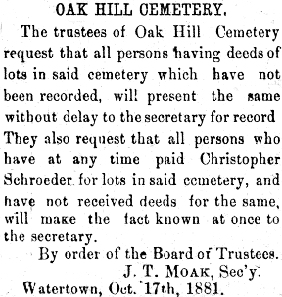 Mrs. Christoph Schroeder
SCHROEDER- Mrs. Marie [Mary] Schroeder, age 94 years, died at the home of her daughter, Mrs. Fred Wikowski in Watertown last Wednesday morning.  She was born in Hanover, Germany in 1820 and had lived in Watertown and vicinity since 1846.  Her husband who died 22 years ago was a pioneer undertaker and casket manufacturer in Watertown.
Mr. and Mrs. Schroeder were the parents of eleven children, only four of whom now survive.  They are Mrs. Aug. Kettner, Hustisford, Mrs. Fred Wilkowski, Watertown, Mrs. William Krahn , Milwaukee and Mr. Ernst Schroeder, Iron Mountain.  Funeral services will be held tomorrow (Sat.) at 2 p.m. at St. Luke's Church, Watertown, interment, Oak Hill.

History of Watertown, Wisconsin