website  watertownhistory.org
    ebook  History of Watertown, Wisconsin
Harvey Riedeman
1918 - 1945
<![if !vml]>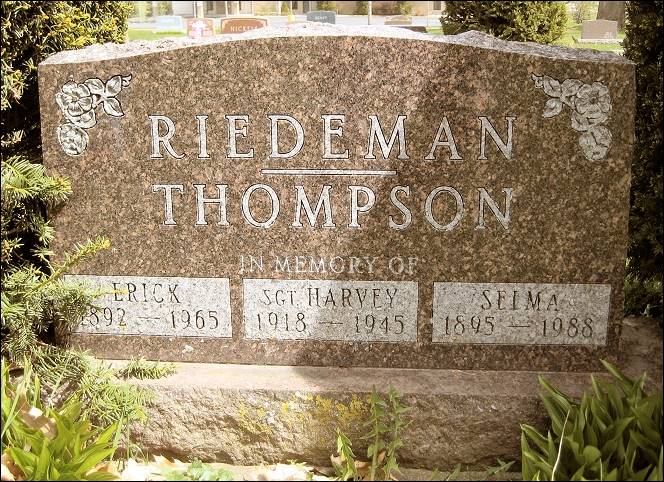 <![endif]>  Ken Riedl
Father, Sgt. Harvey Riedeman, Mother
Sgt. Harvey Riedeman.  Harvey was a member of the 192nd Tank Battalion and was assigned to A Company.
The company was originally a Wisconsin National Guard Tank Company from Janesville.
<![if !vml]>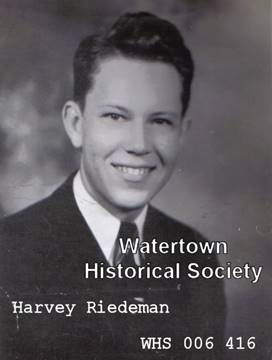 <![endif]>
Contributed photo of Harvey Riedeman. From the scrapbook of 1st Lt. Jacques Merrifield.
Merrifield was an Illinois National Guardsman who went to the Philippines as a sergeant
and received a battlefield commission.
From what is known, the two men were
good friends at Ft. Knox and in the Philippines.
1945
    Watertown Daily Times, 09 28 1945
Staff Sgt. Harvey H. Riedeman, Watertown's only prisoner of war of the Japanese, is dead. Official word to that effect came here this morning in a message from the office of the secretary of war.
The message reached Watertown shortly after in the form of a telegram and was delivered at the Riedeman home in West Main Street by the local manager of Western Union, R. J. Redstrom.
"It was one of the saddest things I ever had to do," Mr. Redstrom said. He contacted Miss Marion Haney, local Red Cross representative, and informed her of the fact, asking her to go to the Riedeman home, which she did.
Text of Message
It was from Miss Haney that the Daily Times secured the text of the message to Mr. and Mrs. Erick A. Riedeman, 746 West Main Street, the parents. It said:
"The secretary of war asks me to inform you that your son, Staff Sgt., Harvey H. Riedeman died aboard a Japanese transport while a prisoner of war on 30 January, 1945, of acute enteritis. Information was received through the International Red Cross. Regret long delay in informing you of fact, which was occasioned solely by the failure of the Japanese government to report his death. Letter containing additional information will follow."
Mrs. Riedeman was too distraught to speak when sympathetic friends and neighbors called.  She broke down upon receipt of the message. She had been hopeful that her son was alive and was looking for the day when a message telling her of his safety would come to the home. Instead, today there came the death message. Mr. Riedeman, a railroad man, was out of the city when the message came. He was due to return this afternoon.
Friends Notified
The Daily Times dispatched a telegram to Maj. Paul L. Ashton, a young army doctor, in Corona, Cal., informing him of the death message. Maj. Ashton was the closest friend young Riedeman had in Bilibid prison in the Philippines where both were held prior to Riedeman's transfer to Japan.
Maj. Ashton, who was among the Americans liberated in the Philippines and returned to this country, paid Watertown a visit in August, calling at the Daily Times, following a prior exchange of correspondence.  
Maj. Ashton is the last man who has been located who saw Riedeman alive. That was last December 12. At that time Riedeman was ordered transferred to Japan. The transport on which he was taken was attacked and sunk and since he did not die until Jan. 30 of this year, as now officially revealed, he was among the group who survived that disaster and was sent on another transport later, on which he died.
Intestinal Inflammation
The term "acute enteritis" which was used in the war department message as the cause of death is a medical term for inflammation of the intestines.
Maj. Ashton at the time of his visit in Watertown said that when he last saw Riedeman he appeared good shape, though the improper diet which all prisoners of the Japanese were forced to subsist on had left its mark.
Riedeman was one of the brave band of Americans who fought against overwhelming odds on Bataan and Corregidor which fell to the Japanese on April 6, 1942 (webmasters note: believe this should be April 9). Previously he had been stationed at Fort Knox before he went overseas with Co. A, 192nd Tank Corps.
His capture, like that of the rest of the gallant band, was veiled in mystery until Dec. 6, 1943, when the first word reached his family here that he was alive.
In the interval his family wavered between hope and despair regarding his safety and the possibility of his return. Then, early this year, when word came from his friend, Maj. Ashton, the family's spirits were considerably buoyed up and every day word was awaited that he had been among the Americans freed, but that word never came.
Message Misinterpreted
Some weeks ago, after the capitulation of Japan, it was reported that Riedeman was alive in Japan, but it was later developed the message had been misinterpreted, that his family had merely been notified it could send a message which would be delivered to him at the nearest possible liberation center if he was among those who turned up.
When Maj. Ashton was in the city he brought with him several articles belonging to Riedeman which he turned over to his mother.  Among these was an identification tag which he had made, a book, a flag and several carvings. Maj. Ashton had also brought to this country a diary which Riedeman kept in Bilibid prison and which was turned over to the war department and then sent to the Riedeman home here.
Maj. Ashton said at the time he regarded Harvey like a brother, since the two had been very close friends and had worried together in prison. He said he found him resourceful and competent, a young man of exceptionally fine character who bore up well under the hardships and humiliation at the hands of the Japanese.  He said Riedeman had assisted him in his work at the prison, taking care of the records and issuing supplies.
Born in Milwaukee
<![if !vml]>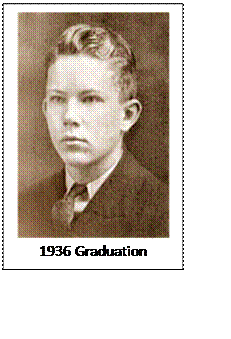 <![endif]>Riedeman was born in Milwaukee August 17, 1918, and came to Watertown with his parents when he was only seven weeks old.
He attended Lincoln school and graduated from Watertown High school on June 10, 1936.
He was later employed as a messenger and clerk by the Farmers and Citizens Bank, a position he held for two years, prior to entering service on January 27, 1941, at Fort Sheridan, Ill.
Incidentally, Arthur Hilgendorf, a close friend, entered service with him the same day and was today notified by the Daily Times of his friend's death. Hilgendorf was enroute to Texas today from Scott Field where he has been stationed.
Riedeman was transferred to Fort Knox, Ky., on February 4, 1941 and left .for San Francisco on October 16 of that year and soon after set sail for the Philippines where he arrived on November 22.
After the fall of Corregidor he was listed as captured on April 9, 1942.
Besides his parents, he is survived by a sister, Lorraine Riedeman, this city. He also has a grandmother, Mrs. Louise Glaus, living in Milwaukee.
He was a member of St. Mark's Lutheran Church here.
Cross-References:
No 1:  Men of the 192nd Tank Battalion Company B     Sgt. Harvey Herbert Riedeman was born in Milwaukee on August 17, 1918, to Mr. & Mrs. Erick A. Riedeman.  He grew up at 746 West Main Street in Watertown, Wisconsin and attended Lincoln School.  He was a 1936 graduate of Watertown High School. 
On January 27, 1941, Harvey was inducted into the U. S. Army.  He was sent to Ft. Sheridan, Illinois and next sent to Fort Knox, Kentucky for basic training.  His hometown newspaper reported that he was a messenger and clerk for the Farmers and Citizens Bank in Watertown before being inducted into the army.
Upon arriving at Ft. Knox, Harvey was assigned to the 192nd Tank Battalion which had been formed from National Guard units from Wisconsin, Illinois, Ohio and Kentucky.  It was during his basic training that Harvey became friends with Ed DeGroot.
After basic training, Harvey was assigned to A Company, 192nd, which had originated as a Wisconsin National Guard tank company from Janesville.  After being assigned to the company, Harvey and Ed became good friends with Sgt. Owen Sandmire.
In the late summer of 1941, Harvey took part in maneuvers in Louisiana.  It was after these maneuvers, on the side of a hill, the he and the other members of the battalion learned that they were being sent overseas.
Harvey and the other men, who were shipping out, were given leaves home to say goodbye to their families and friends.  He then returned to Camp Polk, Louisiana and rode a train to San Francisco.  Upon arriving there, he and the other men boarded a ferry that took them to Angel Island.
Harvey sailed for the Philippine Islands arriving on November 22nd, Thanksgiving Day.  A little over two weeks later, on December 7, 1941, the Japanese attacked Pearl Harbor.  Ten hours later, he and the other tankers lived through the Japanese attack on Clark Air Field.
For the next four months Harvey fought to slow the Japanese conquest of the Philippine Islands.  On April 9, 1941, Capt Fred Bruni informed A Company that Bataan on been surrendered to the Japanese.  It was on that day that Harvey became a Prisoner of War.
From Mariveles at the southern tip of Bataan, Harvey started what became known as  the death march.  He made his way to San Fernando.  From there, he rode a train to Capas where he and the other POWs disembarked.  He then walked the last few miles to Camp O'Donnell.
It is not known if Harvey went out on a work detail, but it is known that he was sent to Cabanatuan after the new camp opened.  He was later sent to Bilibid Prison where he became friends with Dr. Paul Ashton.  Harvey worked as an aide to Dr. Ashton and kept records and issued supplies to the POWs.  During his time at Bilibid, Harvey kept a diary.  After the war, his dairy was given to his family.
In late 1944, the Japanese began evacuating POWs to Japan or another occupied country.  Their reason for doing this is that they did not want the men to be liberated by the advancing American forces.  On December 15, 1944,  Harvey, along with 1619 other POWs were marched from Bilibid to the Port Area of Manila, The POWs were boarded on the "Hell ship" Oryoku Maru which was bound for Japan.
The Oryoku Maru came under attack by American planes.  The attack on the ship lasted two days resulting with the ship being intentionally grounded and then sunk by the planes on December 26, 1944.  Harvey and the other survivors swam to shore near Olongoa, Philippine Islands.  He did this while under Japanese machine gun fire.  
While the Japanese attempted to recapture the POWs, the prisoners were rounded up and held on tennis courts.  After all the prisoners were back in custody, the Japanese asked if any of the POWs were too weak to continue the voyage to Japan.  Those who said that they were too weak to go on were loaded onto trucks and taken to the mountains.  They were never seen again.
The remaining prisoners were taken by train to San Fernando and then returned to Manila where they boarded another "Hell Ship" the Enoura Maru.   On this ship, the POWs were held in three different holds.  Men who attempted to get fresh air by climbing the ladders were shot by the guards. 
The POWs on the ship were taken to Formosa.  There, Harvey once again came close to death when the ship was bombed and sunk by American planes on January 13, 1945, while it was still docked.   During the attack, a bomb exploded in one of the ship's holds. This explosion resulted in the deaths of many POWs, including Lt. Leroy Scoville, of A Company, who was wounded by the bomb.
On January 14, 1945, Harvey was boarded onto his third "hell ship" the Brazil Maru which left Formosa and arrived in Moji, Japan, on January 29, 1945.  Of the original 1619 men that boarded the Oryoku Maru, only 459 of the POWs had survived the trip to Japan.
Harvey may have been wounded when the bomb exploded in the hold of the Brazil Maru, since he was taken to Moji POW Hospital.  According to the final report on the 192nd Tank Battalion written by 1st Lt. Jacques Merrifield, Sgt. Harvey H. Riedeman died on February 4, 1945, at the Moji POW Hospital in Moji, Japan.  The official cause of death was listed as dysentery.
After Harvey died, his remains were cremated and he was buried in the Charnel House at Moji.  It is known that the Japanese combined the ashes of the POWs buried in the house.  After the war, his family requested that his ashes be returned home to Watertown where they were buried in Oak Hill Cemetery.
After Harvey died, his remains were cremated and interred in the Charnel House at Moji.  The Japanese combined the ashes of the POWs who had died.  After the war, Sgt. Harvey H. Riedeman's remains were interred at the Yokohama Commonwealth War Cemetery.  This is a British Military Cemetery.  The urn contains the remains of 335 British, Australian, Dutch and Americans who died while POWs. On the walls of the memorial, appear the names of the POWs whose remains are contained in the urn.
<![if !vml]>

<![endif]>
click to enlarge
Original grave where the ashes of Harvey Riedeman
and 301 other POWs were buried in at Moji Hospital in Japan.
Photo below is of the urn that contains the remains of Sgt. Harvey Riedeman at the Yokohama Commonwealth Military Cemetery in Japan.  Since most of the remains in the urn were British Commonwealth soldiers, the urn was relocated to a British Cemetery after WW II.
<![if !vml]>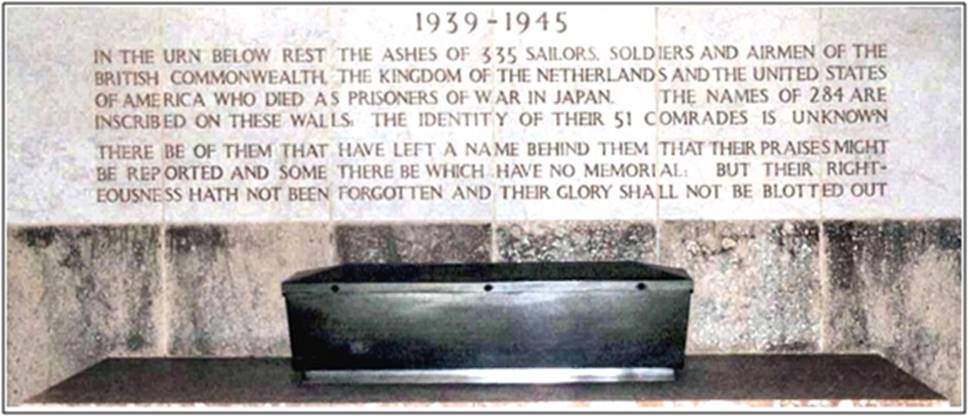 <![endif]>
At some point, Harvey's family also had a memorial dedicated to him at the Oak Hill Cemetery in Watertown, as seen at top of this page.
Set of Images while at Fort Knox:
Riedeman and friend Sandy (l-r)   WHS_005_713
Friend Sandy & Riedeman     WHS_005_714
Friend Sandy & Riedeman   WHS_005_715
Riedeman    WHS_005_716
Riedeman    WHS_005_717
Riedeman   WHS_005_718

History of Watertown, Wisconsin