website  watertownhistory.org
    ebook  History of Watertown, Wisconsin
b. Mar 15, 1845, d. Apr 23, 1920
<![if !vml]>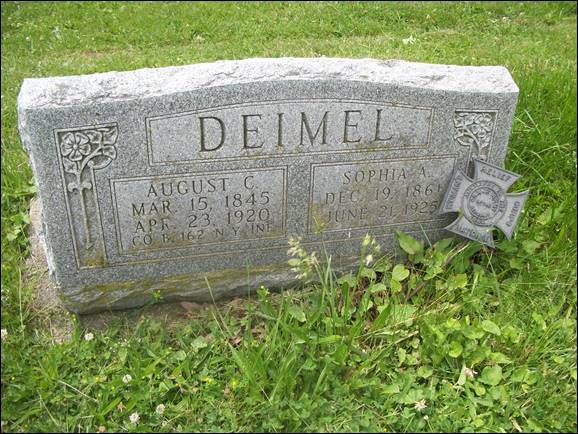 <![endif]>
WDTimes, 04 23 1920
THIRTY-TWO YEARS ANSWERS LAST CALL
The angel of death this morning called from his earthly cares Mr. August Charles Deimel, 221 Margaret Street, this city.  The end came peacefully after a long illness.  For nearly two years his health had been growing gradually worse.  About two months ago he accidentally fell and sustained a broken leg, which greatly aggravated his condition.  The shock was very great and hastened his death.
Mr. Deimel was among the best known old residents of this city and was distinguished as a soldier who had given all of the best years of his life to the service of the country in the Civil War and in the regular army.  Men who have taken his part in the military service are exceptional and he was therefore a man of mark in this community.
August Charles Deimel was born in Lenep, Rhenish Prussia, Germany, March 15, 1845.  Both of his parents died when he was a mere child and he was brought to this country by an uncle, Mr. Engelhart, who came directly to Watertown when the boy was but five years of age.  He was a sturdy youngster, inclined to physical activities, yet ambitious to gain all the advantages of the public schools.  When he was twelve years of age he went to New York and there resided with another uncle, a Dr. Hoyle, where he continued his studies.
The Civil War came on and he resolved to become a- soldier for the preservation of the union at the earliest possible time.  He sought enlistment but was refused on account of his tender age.  Like many other patriotic boys of the time, he "stretched his age," as they called it, and on November 7, 1862, his physical proportions permitting it, he became a private in Co. B, 174th N.Y., which regiment was afterward consolidated with the 162nd N.Y. Volunteers.  Afterward when he entered the regular army his record as to age was by government order corrected without objection, a proceeding in recognition of a long and spotless record as a soldier.
He received his honorable discharge from the army on July 13, 1865.  This was upon the surgeon's certificate of disability at Dowd's Island, New York Harbor, the disability having been contracted while confined in rebel prisons.  His discharge shows a record of engagements in which he participated.  Among them the battle of Plain Stores, La., May 21, 1863, which was the first important battle.  He was in the famous siege of Port Hudson from May 27 to June 14, 1863, and the battle of Donaldson, Va., July 13, 1863.  He was in the memorable engagement at Sabins Pass in October of the same year.  He was with his regiment in the battles of Pleasant Hills, La. and Mansfield, April 7, 8 and 9, 1864, and Cane River Crossing a month later.  Morganza Bend in May, 1864, and Deep Bottom, Va. in July, 1864, were other notable engagements in which he took part.  Private Deimel was also in the Red River Expedition.  During one of the engagements he was badly wounded in the foot.
In July, 1864 he was captured by Gen. Longstreet's army and placed as a prisoner of war in the famous Libby prison at Richmond, Va.  He was there confined until August 29 of the same year and then transferred to another prison, "Belle Isle" in Virginia, where he remained until October 2, 1864.  He was then confined in Salisbury prison, N. C. until March, 1865, when he was paroled and placed in De Gamp Gen. hospital.  When he was released he was in extremely poor health and for a long time his life was despaired of.  His recovery however was complete and he decided to continue in the life of a soldier, enlisting at New York in the regular army as a member of Co. F, 19th U. S, Inf., in April, 1866.  His career in the regular army was eventful. He served under Gen. Hiles in repressing Indian uprisings and in Indian wars from then on until late in the seventies.  He was of the rescuing party sent in aid of Gen. Custer and arrived at the "Little Big Horn" the day following the historical massacre.  His company took part in running down the Indians.  He assisted in the capture of Apache and Sioux Indians under Gen. Miles and Gen. Crook, and while stationed at Mt. Vernon, Alabama he was at times the warden for Geronimo, noted Apache chief, and those of his band who were placed on a reservation there.
While stationed at Ft. Clark, Texas, Mr. Deimel came to Watertown on a furlough and was here married to Miss Sophie Eiffler on January 16, 1886.  The young couple went directly to Ft. Clark, and there remained until 1889, when the husband soldier was transferred to Mt. Vernon, Ala.  The next move was to Ft. Porter, near Buffalo, N. Y. in 1891, where he did garrison duty.  After a year and a half he went to Ft. Brady, Sault St. Marie, Michigan, and remained there until his retirement with an honorable discharge in April, 1894. 
The family came direct to Watertown and took up their residence in Margaret Street, which is still the family home.  The surviving members of the family are his wife and two daughters, Mrs. Gertie Bischoff, wife of August Bischoff, 316 North Montgomery Street, this city, and Miss Helen Deimel of Chicago.  Two grandchildren also survive.
Mr. Deimel took an active interest in O. D. Pease Post G.A.R. of this city and served as quartermaster for over twenty-five years and up to the time of his death.  He was mainly instrumental in the preparing of a permanent record, now in the archives of the post, showing in detail the military service of members.  These records contain much important data concerning the individual members of the local post.  He was greatly beloved by his comrades and most highly esteemed by all our citizens.  A quiet unassuming man, he seldom referred to his long and eventful career as a soldier.  He believed it to be the duty of every citizen to take an active part in political campaigns, giving his allegiance to the republican party.  His disposition was so kind and his manners so mild that he never engaged in controversies even of a political nature, hence he made nothing but friends.
The funeral service will be held at his late residence.  Interment in Oak Hill cemetery.
MILITARY BURIAL FOR AUGUST C. DEIMEL
All that was mortal of the late First Sergeant August C. Deimel was tenderly laid to rest in Oak Hill cemetery Sunday afternoon, the obsequies being entirely of a military nature.  
The impressive burial service of the Grand Army of the Republic was spoken by his old comrades in arms, officers of O. D. Pease Post.  The W. R. C. and soldiers of the world war attended in bodies.  
Captain Walter Simon, bugler, sounded taps and a firing squad composed of soldiers of the late war fired the last salute over the grave of the Civil War veteran.
The pallbearers were ex-service men residing in the neighborhood of the deceased and were as follows: Paul Zastrow, Ben Schmutzler, Henry Griesbach, George Ryan, Arthur Ullrich and Adlow Weber.

History of Watertown, Wisconsin