website  watertownhistory.org
    ebook  History of Watertown, Wisconsin
William Creuz
1829- 1903
Creuz Saloon at 5 E. Main
<![if !vml]>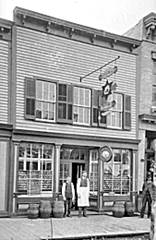 <![endif]> 
1895
click to enlarge
1872
SHOE SHOP
<![if !vml]>

<![endif]>
1885
SALOON
<![if !vml]>

<![endif]>
1903
01 24       WILLIAM CREUZ, 1829- 1903
William Creuz, a citizen of Watertown since 1853, died at the home of his son, Emil Creuz, at three o'clock Thursday morning, aged 74 years.  He was taken ill last Friday and continued to grow worse until the end came.  He had been in poor health for several years, but was able to be about and nothing serious was apprehended by his relatives until he was stricken.
Mr. Creuz was born February 5, 1829, in Krankenhauser, Theringen, Germany, and when a young man learned the trade of shoemaking, which he followed for many years.  He was married in his native land in 1851 and in the following year came to this country, remaining one year in New York.  In 1853 he came to Watertown and the family has since resided here.  He engaged in shoemaking here which he followed until 1877, when he engaged in the saloon business which he continued until about five years ago when he retired from his active pursuits. 
His wife died April 10, 1885, since which time he has made his home with his son.  He was a member of the Odd Fellows lodge, being one of the oldest members.  He is survived by three sons—William, Iron Mountain, Michigan, and Emil and Fred of this city.
The funeral will take place from the home 705 Main Street, Sunday afternoon at 2 o'clock and will be held under Odd Fellow auspices.  The interment will be in Oak Hill cemetery.
Mr. Creuz was a man well thought of by the community in which he resided for so many years.  He was just and fair in his dealings and lived a good life, respected and esteemed by all who knew him.     The Watertown News, 24 Jan 1903

History of Watertown, Wisconsin