website  watertownhistory.org
    ebook  History of Watertown, Wisconsin
Donald Richard Carlson
1923 - 2013
<![if !vml]>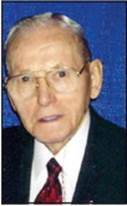 <![endif]> COTTAGE GROVE — Donald Richard Carlson, age 90, formerly of Watertown, passed away on Monday, June 24, 2013, at his home.
Funeral services will be on Thursday at 11 a.m. at Schmutzler- Vick Funeral Home and Cremation Service with the Rev. John Kennedy officiating. (Please enter the funeral home using the Welsh Road detour or through the Farm & Fleet parking lot.)  Burial will be in Oak Hill Cemetery with military graveside rites.  Family and friends may call on Thursday from 10 to 11 a.m. at the funeral home. In lieu of flowers, memorials may be given to First Congregational United Church of Christ, Stars and Stripes Honor Flights, the American Heart Association, Agrace Hospice or the charity of one's choice. Online condolences may be left at svfuneralhome.com.
Donald was born on Jan. 4, 1923, in Renwick, Iowa, the son of Thomas and Charlotte (Johnson) Carlson. Donald and Marian E. Koerner were married on July 16, 1950, at the Koerner Family residence in Watertown. He received his schooling in Kanawha, Iowa, enlisted in the United States Navy in 1942 and was honorably discharged in March 1956. He was a machinist mate first class and saw duty in both the Atlantic and Pacific areas during World War II and later the Korean War.
Upon his discharge from the Navy, Don was employed for 32 years by Hevi-Duty Electric Company, later known as Lindberg, retiring in 1988. He was a member of Lindberg's Quarter Century Club. Don was a member of Jefferson County Lodge No. 9 F&AM, a past master of Watertown Lodge No. 49 F&AM. He was a member and past patron of Martha Chapter No. 44 OES. He served on the advisory board of Watertown Assembly, Order of Rainbow for Girls and also as an adviser for the Rock River Chapter Order of DeMolay. Don was a life member of the Clarence McGuire VFW Post No. 7852 and a member of Galvin-Struckmeyer Post No. 248 American Legion of Cottage Grove. He was a member of the First Congregational United Church of Christ of Watertown.
Don is survived by his wife, Marian; three daughters, Barbara (Steven) Oestreicher of Harshaw, Cynthia (Thomas) Clay and Diane (Daniel) Zoern, both of Cottage Grove; three granddaughters, Kathryn (Timothy) Grandaw, Sarah (Nathaniel) Dencker and Nicole Zoern (fiancé Scott Liska); three grandsons, Tyler Zoern, Christopher Clay and Timothy Clay; a great-grandson, Alexander Grandaw; one sister, Margaret Anderson of Kanawha; also survived by many nieces, nephews, other relatives and friends.
He is preceded in death by his parents; seven brothers, Clifford, George, Leonard, Clarence, Floyd, Thomas and Harold; two sisters, Mildred Anderson and Marie Minor; and a granddaughter, Jessica Zoern.
Don's family would like to thank the Stars and Stripes Honor Flights for his trip of a lifetime to Washington, D.C., and to Agrace Hospice for their compassionate care for him these past few weeks.
Schmutzler-Vick Funeral Home 500 Welsh Road Watertown

History of Watertown, Wisconsin