website  watertownhistory.org
    ebook  History of Watertown, Wisconsin
Brennecke, Katherine
1834 - 1906
At Friday evening, June 8, 1906, Mrs. Katherine Brennecke, widow of the late Henry Brennecke, who died in this city in 1893, died at her home, 507 Third Street.  Deceased was born June 17, 1834, in the Rhine Province, Germany, and in 1849 located in this city, residing here ever since.  Nine children, fourteen grandchildren and one great grand child survive here.
Her children are:  R H Brennecke, Otto Brennecke, Mrs. Henry Steinfort, Martha and Vina Brennecke, Watertown; Arthur Brennecke, Milwaukee; Dr Herman Brennecke, Ernst Brennecke, Aurora, IL, Mrs. Louis Spangenberg, Dawson, N D.
Monday afternoon her funeral was held from the Moravian Church and her remains were interred in Oak Hill cemetery.
Dr. Gerhard C. Brennecke
1884 - 1911
Watertown Gazette, 07 06 1911
Dr. Gerhard C. Brennecke, while in bathing last Tuesday in Rock River, was drowned in the presence of a large number of people who were holding a private picnic on the banks of the river near Albert Kohloff's farm in the vicinity of the C. M. & St. P. Ry. bridge southeast of this city.  He had been rowing on the river and about 6 o'clock decided to take a swim.  He was a good swimmer and at once plunged into deep water, was seen to struggle and sink.  His body was recovered in a short time and an effort made at resuscitation, but without avail. 
He was born in Watertown October 16, 1884, he being a son of R. H. Brennecke and wife, and recently graduated from Rush Medical College, Chicago, previous to which he was graduated from the Moravian theological seminary in Bethlehem, Pa.  He intended entering service as a medical missionary in the Moravian mission field in Alaska after one year more in preparation in hospital service in the Deaconess Hospital at Spokane, Washington.  Miss Harriet Forrest of Morden, Manitoba, Canada, a trained nurse and a most excellent young lady, had promised to go with him to that far-off land as a life companion. 
Deceased was one of Watertown's most esteemed young men and his sudden taking away is sincerely mourned here by a large circle of friends here, all of whom extend to the afflicted family their heartfelt sympathy.  His parents, one brother, Rev. R. H. Brennecke, Jr., of Emaus, Pa., and his two sisters, Miss Margaret, who resides at home, and Mrs. Carl F. Nowack of this city, survive him.  At 3 o'clock Friday afternoon his funeral will be held from the family home at 813 Western Avenue to Oak Hill cemetery.
<![if !vml]>

<![endif]>
c.1890: Gerhard C. Brennecke
<![if !vml]>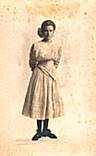 <![endif]> 
1909:  Miss Margaret Brennecke
Sister of Dr. Gerhard C. Brennecke
<![if !vml]>

<![endif]>

History of Watertown, Wisconsin