website  watertownhistory.org
    ebook  History of Watertown, Wisconsin
Harriet A. Stalker Brede
1934- 2015
<![if !vml]>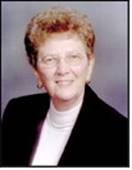 <![endif]>Harriet A. Stalker Brede, 81, of Watertown, went to be with her Lord and Savior, Jesus Christ on June 14, 2015, at her home.
Harriet was born on May 1, 1934, in Cambria-Friesland, to Leon and Gladys (Schmidt) Burbach.  She was a 1952 graduate of Watertown High School.  
On June 6, 1953, Harriet married Dwayne Stalker.  The couple was wed until Dwayne's death in 1961.  She later married Kenneth Brede in 1983.  Kenneth passed away in 1998.  
Harriet was a longtime employee and retired from Watertown Memorial Hospital, where she worked as a switchboard operator.  Harriet's devotion to Jesus Christ was at the forefront of her life.  She was a charter member of both Calvary Baptist Church and River Valley Alliance Church, both of Watertown.  She was kind to all, an active church member, an avid Green Bay Packer fan and dedicated to her family and friends.
She is survived by her daughter, Joanne (Jim) Hertel, and son, Dave (Lynne) Stalker, both of Watertown; grandchildren, Amanda Hertel of Watertown, Andrew (Jesse Kornacki) Hertel, Port Washington, Angie (Jamie) Ward of Milton, Wash., and Nick Stalker of Milton; stepgranddaughter Courtney Schuett of Johnson Creek; great-grandchildren Noah, Riley, Jordan and Autumn.  Harriet is also survived by a number of nieces, nephews, other relatives and friends.
She is preceded in death by her parents, husbands and her son Robert Stalker.
In lieu of flowers, memorials in Harriet's honor to the family for distribution to charities would be appreciated.
A funeral service will be held at 3 p.m. on Thursday at River Valley Alliance Church of Watertown with the Rev. Dick Schaefer presiding. Visitation will be from 1 p.m. until the time of service at the church.  Burial will take place at Oak Hill Cemetery.    
Pederson-Nowatka Funeral Home is caring for the family.

History of Watertown, Wisconsin