website† watertownhistory.org
††† ebook† History of Watertown, Wisconsin
Caroline E. Arndt
zzzz - zzzz
<![if !vml]>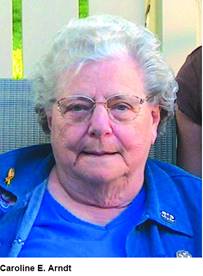 <![endif]>Caroline E. Arndt, 88, of Watertown, passed away on Wednesday, April 20, 2016, at Heritage Homes in Watertown.
Funeral services will be held on Monday at 6 p.m. at St. Markís Lutheran Church in Watertown with the Rev. Michael Jensen officiating. Visitation will be at the church on Monday from 4 p.m. until the time of the service. Burial will take place on Tuesday at 10 a.m. at the Oak Hill Cemetery in Watertown. †Memorials, if desired, may be directed to St. Markís Lutheran Church Organ Fund.
Hafemeister Funeral Home and Cremation Service of Watertown is serving the family.
Caroline Elizabeth Harder was born on May 8, 1927, at her parentsí home in Watertown, the daughter of Herman and Dorthea (nee Grosnick) Harder. Caroline attended grade school in Watertown and was a 1945 graduate of Watertown High School. On Oct. 19, 1946, she married Robert H. Arndt in Watertown. Robert preceded her in death on Jan. 15, 2002. She had been employed by Woolworths as the window display trimmer as well as Hevi-Duty Electric for 19 years and Durant/Eaton for 22 years, retiring in 1992.
Caroline was a member of St. Markís Lutheran Church in Watertown. She was a former treasurer of the St. Markís Ladies Aid as well as coordinator for Meals on Wheels. She was past president of both VFW Post 3709 Auxiliary and VFW Post 7852 Auxiliary. Caroline was a regular in the postís kitchen for the Wednesday night bingos. She served as senior vice president of the 2nd District of the Wisconsin VFW Auxiliary. She was a member of Watertown American Legion Post 189 since 1939, holding numerous offices. Caroline was former president of the Jefferson County Council of the American Legion Auxiliary. She was also a former president of the Watertown Womenís Bowling Association and was elected to the Watertown Bowling Hall of Fame in 1997. She was a charter member of the Watertown 600 Club. Caroline was instrumental in getting the Wisconsin Womenís Senior Tournament going and bringing it to Watertown where she was honored by both the menís and womenís associations along with the bowling proprietors for starting the senior leagues in Watertown. Caroline was also a former president of AARP No. 3056.
Caroline is survived by her children, Elizabeth (Thomas) Brennecke of Watertown, John (Terri) Arndt of De Pere and James (Lisa) Arndt of Watertown; five grandchildren, Patrick Bergmann, Edward Arndt, Sandra Arndt, Taylor Arndt and Janelle Arndt; six great-grandchildren, Hannah and Lauren Bergmann and Sabrina, Robert, Susan and Andrew Kline; as well as nieces, nephews, other relatives and friends.
She was preceded in death by her parents, Herman and Dorthea; husband, Robert; brothers, Roland (Lorna) Harder and Frederick (Betty) Harder; as well a son-in-law, James R. Bergmann.
The family wishes to thank the staff at Heritage Homes for their care and dedication.
Hafemeister Funeral Home and Cremation Service
611 E. Main St. Watertown

History of Watertown, Wisconsin