website  watertownhistory.org
    ebook  History of Watertown, Wisconsin
Wis-Pak
860 West Street
<![if !vml]>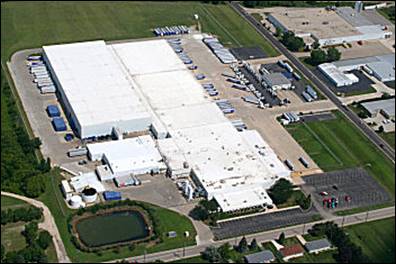 <![endif]>
1970      CONSTRUCTION OF Wis-Pak (Pespi plant)
<![if !vml]>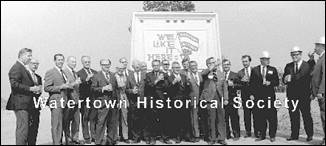 <![endif]>  
1970
<![if !vml]>

<![endif]> 
1983
Watertown Daily Times, 01 25 1983
A major expansion and improvement program which will cost over $1.5 million, is being undertaken at Wis-Pak Inc., 860 West Street, according to Arnold Fobes, vice president and general manager of the firm. Work is already underway for the projects, which are broken down into two major areas. They are a new two liter bottling facility and improvements to reduce the content of waste from the plant which is sent to the Watertown Wastewater Treatment plant. Fobes said the two-liter bottle project is being undertaken to meet the needs of the Pepsi distributors that own Wis-Pak.
Watertown Daily Times, 11 11 1983
Wis-Pak Expansion
Another Watertown industry has undertaken an ambitious expansion program. Wis-Pak, Inc., 860 West Street, has announced it is constructing a 48,000 square foot addition to the north end of its facilities. The addition, which will be 200 by 240 feet in size, will be used primarily for warehouse space, according to Arnold Fobes, vice president and general manager. Work on the $600,000 square foot addition got under way this week. Oliver Construction of Oconomowoc is general contractor for the project. Initial ground preparation work is now under way.
1985
Watertown Daily Times, 09 13 1985
Wis-Pak, the Pepsi Cola canning facility located at 860 West Street, Monday afternoon announced plans for another major expansion of its facilities. This expansion, a 135,000 square foot addition on the west side of the north end of the present building, will be used primarily for storage of both full and empty cans. Arnold Fobes, vice president and general manager, announced the plans at groundbreaking ceremonies. Oliver Construction of Oconomowoc is construction engineer for the project. Work is scheduled to begin immediately, Fobes said. He said the addition was being constructed as a joint effort with Metal Container Corporation, a subsidiary of Anheuser Busch, which is a major contractor with Wis-Pak for production of cans.
1988
Watertown Daily Times, 07 08 1988
Barbara Parish has been promoted to the position of president and chief executive officer of Wis-Pak, Inc., according to an announcement by Ed McKelvey, chairman of the board of the firm.  Parish previously held the position of vice president and chief operating officer of the corporation.  In her new role, Parish has full responsibility for the business and affairs of the holding company and its subsidiaries.  Wis-Pak is owned by 29 shareholders, each a Pepsi Cola bottler.  The corporation owns five subsidiaries, including the production operation in Watertown.  The other subsidiary corporations are production operations in Mankato, Minn., and Norfolk, Neb., a Central Sales Corporation, and Klarbrunn, a private label water company.
1989
Watertown Daily Times, 09 30 1989
FORT ATKINSON - The Watertown-Fort Atkinson area could soon be known as the soft-drink capital of the world. The largest soft-drink bottler in existence, Pepsi-Cola's Wis-Pak is located in Watertown.  As a logical addition, the world's most technologically advanced metal container plant is now operating in Fort Atkinson. The plant held an open house for members of the media and the families of employees Tuesday.  On June 6, Anheuser-Busch's 200,000 square foot, $40 million Metal Container Corporation (MCC) plant sent out its first shipment of aluminum cans to its only customer — Wis-Pak.
2007
Watertown Daily Times, 07 27 2007
Manufacturing upgrades, WDTimes article

History of Watertown, Wisconsin