website  watertownhistory.org
    ebook  History of Watertown, Wisconsin
Werner's Bathing Establishment & Barber Shop
Dr. Frederick C. Werner
<![if !vml]>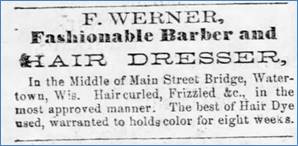 <![endif]>
1868
<![if !vml]>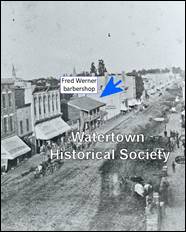 <![endif]>
1859
-- --          WERNER BATHING ROOMS NOW OPEN
The subscriber has just fitted up in the most convenient manner a suite of Bathing Rooms, under his Barber Salon, on the north side of Main Street bridge, which are now open.  Those who wish to regularly indulge in this most healthful exercise will find every comfort and convenience to enable them to do so.  Shaving and Hair Dressing done in the Salon above in the most neat, prompt and fashionable manner.  F. WERNER
1870s
-- --          APPARATUS LOWERED INTO RIVER FOR TAKING A BATH
                                    "Hier werden zaehne ausgezogen; geschroepft, und zuer
                                    Oder gelassen."
                                    (Here will teeth be pulled; cupping, and blood letting)
Such was the sign over the entrance of Werner's barber shop which stood in the middle of Rock River on the north side of Main Street bridge in 1860.
In addition to his skill in the practice of medical science Mr. Werner was a skilled barber, a manufacturer of wigs, and most beautifully wrought woven hair work; and he operated the only public bath apparatus in the whole city.
I call it an apparatus because it consisted of a cage about 12-foot square which could be lowered into Rock river to any depth which the bather desired and really was a practical device for the benefit of the great body of migrating citizens who seldom took advantage of the bath room.  And yet it is perhaps amazing to think that in the whole city there were no bath tubs until many years later. 
Derived from "Reminiscences of Ernest Wood" published in 1921

History of Watertown, Wisconsin