website  watertownhistory.org
    ebook  History of Watertown, Wisconsin
Dr. Frederick C. Werner
April 12, 1857 – January 11, 1924
<![if !vml]>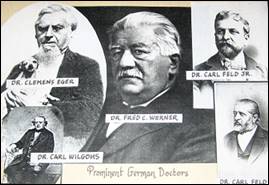 <![endif]>
Click to enlarge.   A holding of the Watertown Historical Society
c.1890   3 E Main St Location
<![if !vml]>

<![endif]>      Office of F. C. Werner, 3 E Main St.
1891
03 13       NEW OFFICE AND DRUGSTORE
As soon as the weather will permit it, Dr. F. C. Werner will commence the erection of his new store building on his lot just west of H. J. Strauss' store. It will be the neatest-looking store building in the city and will be occupied by the doctor for office and drugstore purposes.    WG
1900
07 13       META WERNER RECEIVES DIPLOMA
Miss Meta Werner has been granted a diploma in stenography, which she studied for the last year at the Academy of Our Lady, Chicago.  In the office of the Smith-Premier Typewriter Co., Chicago, she passed a successful examination, and received a most flattering endorsement for her ability in that line.   WG
1905
10 11       Dr. WERNER PURCHASED LOTS NEAR TURNER HALL
<![if !vml]>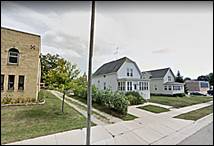 <![endif]>  
Dr. F. C. Werner has confidence in Watertown and will demonstrate such confidence next spring.  Friday he purchased the southwest quarter of the Turner Opera house block [307 & 313 S. Fourth St. properties] and in the spring will cause to be erected dwelling houses for rental purposes.  The Republican has from time to time called attention to the fact that money invested in nice, convenient residences would be profitable investment beside helping the city, which today is in need of more houses to rent to people who are willing to pay a good rental.     WR
1906
06 17       MISS MARIE HEDWIG WERNER
Dr. F. C. Werner is at home, having been at Chicago to attend the graduating exercises of the Chicago University, his daughter Miss Marie Hedwig Werner, being included among the list of graduates, leaving that institution of learning with high honors, having graduated from the department of Bachelor of Philosophy.  The young lady won a distinction that is accorded but few.  She received honorable mention for excellence in the work of the senior college, also honorable mention for excellence for the last two years in the school of education.  Miss Werner will remain till after the meeting of the alumni on the 18th inst., after which she will return home to remain during the summer.  That her eight years' school work has been productive of good results is best evident in the fact that she has been offered a department in the university.
1908
07 10       104 [East] Main St Location
Dr. F. C. Werner has sold his office and store property at 104 [East] Main Street to P. W. Mansfield, through the real estate agency of Skinner & Mauer, consideration $9000.  The doctor's office will still be located in the same building.   WG
1914
<![if !vml]>

<![endif]>
1915
04 08       Dr. F. C. WERNER RECEIVES GOOD APPOINTMENT
Our esteemed citizen, Dr. F. C. Werner, has received the appointment of deputy revenue collector to work under the Harrison Anti-Narcotic Law and began his duties on the 5th.  His appointment came from Washington, D.C., and he will be under the supervision of United States revenue collector, Burt Williams.  His selection gives general satisfaction here.  He is an excellent man for the position and The Gazette offers its hearty congratulations, especially so as there is a good large salary attached to the office.   WG
____________________________________________________
January, 1924
DR. F. C. WERNER
PIONEER PHYSICIAN
DIES SUDDENLY
Dr. Fred C. Werner, pioneer physician and well known citizen, died suddenly at his home in Fourth Street this morning.  He had been indisposed several days but his condition was not alarming and when his daughter went to call him this morning she found him cold in death.  Apoplexy was given as the cause.
Dr. Werner was the son of a pioneer resident of Watertown and was born in this city April 12, 1857.  He received his early education here and in 1871 was engaged as a drug clerk.  In 1874 he entered the Chicago College of Pharmacy from which he graduated March 6, 1876, receiving the title of Ph. G.  He then entered Rush Medical College and graduated February 25, 1879 and returning to Watertown engaged in the practice of medicine which he had followed every since.  In point of service he is the oldest physician in Watertown and at one time enjoyed an extensive practice but of late years he has devoted a considerable share of his time to private enterprises.
For many years he took an active part and interest in civic affairs to which he devoted considerable of his time and has served the city in an official capacity for many years. 
Dr. Werner was married to Miss Elinore Bursinger of this city on November 4, 1880.  He is survived by his widow and two daughters, Mrs. John Probst of St. Paul, Minn. and Miss Margaret Werner, at home and by one son, Fred Werner of Milwaukee.  One daughter, Miss Meta Werner, died in 1905.  Eight grandchildren also survive as does one sister, Mrs. William Reichardt, and one brother, Louis Werner of St. Paul, Minn.
Dr. Werner was for years a member of the city council, representing the First ward.  He also served on the board of education and was a member of that body at the time of his death.  He was a member of Watertown B. P. O. E. No. 666, of the Turner society, the Knights of Columbus, the Modern Woodmen of America, Plattdeutscher Verein, as well as of other fraternal organizations.
Dr. Werner was a man of generous impulses and never forgot the duties of hospitality.  He united sound sense with strong conviction and a candid, outspoken temper which conveyed earnestness.  The soul of integrity, he was fair and just to all and filled honorably and conscientiously every niche in which duty placed him.  He was a man of liberal tastes and cultivation with a public spirit and gave generously of his time and means to movements and institutions for the public weal. 
This community will deplore the loss of an active and widely popular good citizen with the passing of Dr. F. C. Werner.
The funeral arrangements will be announced later.
Cross References:

History of Watertown, Wisconsin