website  watertownhistory.org
    ebook  History of Watertown, Wisconsin
William Daniel Weber
George J. Weber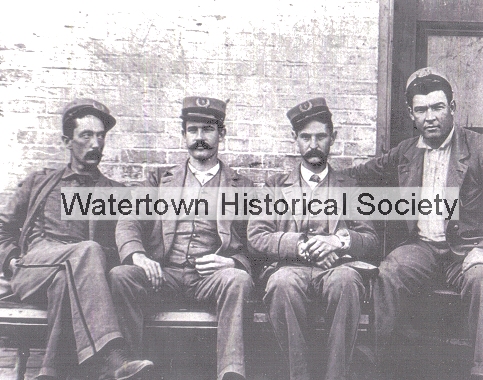 Watertown Post Office Employees.  1906 assumed    WHS_005_400
Names of the men in the group photograph are (as best determined):
L-R:  Bayes, Frank Schulz or George Henke, unknown,
George J. Weber (son of William Daniel Weber an early Watertown Cooper)
George delivered for the 2nd Ward
Both Webers buried Oak Hill Cemetery.
1906
December 5, 1906, was the fourteenth anniversary of the 1892 establishment of the free mail delivery system in Watertown. A fact in connection with the same is that George Weber and Frank Schulz, present carriers, have been in the service ever since the inauguration of the system. They are two of the original four.
Weber, William D., b. Mar 15, 1838, d. Nov 23, 1874, Sec 20, 1st Battery Lt Artillery
Weber, George J., b. 1858, d. 1910, Sec 20
William Daniel Weber
1838 - 1875
Son of John Weber and Maria Ruth Weber
Source:  Watertown Weltburger Nov. or Dec. 1874.
On Tuesday, one of our citizens in their best years passed away.  William Daniel Weber, cooper by trade, served in the artillery (1st WI light artillery) during the war.  Suffering from severe bleeding in the last year, physically very weak, a violent hemorrhage, took his life.
W. D. Weber was put to rest with members of Odd Fellows and Turners preceding the funeral, also the Musikcorps Band.  He leaves his grieving widow (Sarah Jane Irish Weber, second wife) and four children (George, from William's first wife, and Etta, Frances A. and Charles W. Weber, from second wife). 
<![if !vml]>

<![endif]>
History of Watertown, Wisconsin