website  watertownhistory.org
    ebook  History of Watertown, Wisconsin
         Chapter on Watertown Fire Department
Ronald E. "Bo" Weavel
1940-2012
<![if !vml]>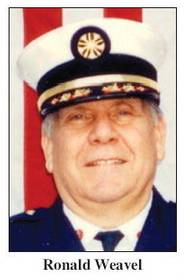 <![endif]>ROCKTON, Ill. — Ronald E. "Bo" Weavel, 72, of Rockton, died at 8:50 a.m. Monday, Dec. 31, 2012, in Beloit Memorial Hospital, Beloit, Wis., after a brief illness.  He was born Sept. 25, 1940, in Indianapolis, Ind.  Bunny married the former Carolyn A. Tucka in North Chicago on Aug. 14, 1965.
Ronald graduated from Southern Illinois University with a bachelor's degree in fire science management in 1991.  He worked as the fire chief for Rockton Fire Protection District retiring in January of 2009.  He has also worked for Resource One, Inc. in Rockford; city of Watertown, Wis., as fire chief/ director of emergency government; city of Rockford Fire Department; Illinois Fire Service Institute University of Illinois Champaign; city of Beloit Fire Department; city of Lake Forest Fire Department; and Great Naval Station Fire Department in Great Lakes.
Ronald was also active on many boards, Rock Valley College Fire Science Program, Stateline Fallen Firefighters, Illinois Firefighters Association and Foundation, Southern Wisconsin and Northern Illinois Fire Rescue Association, National Fire Protection Association, Illinois; International Fire/Arson Investigators, International Association of Fire Chiefs, Illinois and Wisconsin Fire Chiefs Associations, International Society of Fire Service Instructors, Mutual Aid Box Alarm System (MABAS) since 1982 when elected charter secretary of the newly formed Division Eight and then elected vice president; he served as chief of Task Force Eight at the Utica tornado of 2004 where he received a Humanitarian award for services rendered from MABAS and Illinois Fire Chief Association. 
In 2005 he was a task force chief during the tornado in Stoughton, Wis., and this was a driving force in the establishment of Division Eight's Regional Fire Academy. Chief Weavel's job statement is, "The fire service is the best dam job in the world!"
Ronald served in the U.S. Navy with overseas duty in the Far East aboard the USS Henrico APA-45 with the 7th Fleet.  Member of St. Peter Catholic Church in South Beloit, Ronald was active with many civic and village boards in the towns in which he lived.  The family wishes to extend a heartfelt thank you to family, friends and the brotherhood of fireman for all their help, prayers and support.
Survivors include wife, Carolyn of Rockton; sons Ronald E. (Julie) Weavel Jr., of Pleasant Prairie, Wis., Brian Paul (Stacy) Weavel of Winnebago; Eric Scott Weavel of Newark, Wis.; grandchildren that are his pride and joy, Alec and Evan Weavel; brothers Frank (Susan) Lee, Paul (Diane) Lee, Mark (Marcella) Lee; aunt Annette Hamilton and her family; mother-in-law Genevieve Tucka of Winnebago; brother-in-law John Tucka, very special brother-in-law James Tucka; numerous nieces and nephews.
Predeceased by special aunt and uncle that were like a mother and father, Elizabeth and Joseph Lee; sister Stephanie Gorman; father-in-law John Tucka Jr.
Prayers will be at 10 a.m. Monday in McCorkle Funeral Home, 767 N. Blackhawk Blvd., Rockton, and the funeral Mass to be held at 11 a.m. Monday in St. Peter Catholic Church, 620 Blackhawk Blvd., South Beloit, with Father Steven M. Sabo officiating.  Burial will be in Rockton Township Cemetery in Rockton.  A visitation will be held in the funeral home from 1 to 5 p.m. Sunday.  In lieu of flowers, memorials may be given to Rockton Volunteer Firefighter Association, 201 N. Blackhawk Blvd., P.O. Box 349, Rockton, IL 61072.
McCorkle Funeral Home 767 N. Blackhawk Blvd. Rockton, Ill.
1988
08 20       Watertown Fire Chief Ronald Weavel has been named president of the newly formed Jefferson County Fire Chiefs' Association.  Weavel said the organization hopes to promote coordination among the county's 13 fire departments to provide more efficient fire protection for Jefferson County.  "What we're hoping to do is get more involved so that we will be able to advance the service (in the county)," Weavel said.  The association, which held its first meeting in July, will be looking at several areas of cooperation, including cooperative purchasing, standardization of mutual aid system and programs for advance officer training.

History of Watertown, Wisconsin