website  watertownhistory.org
    ebook  History of Watertown, Wisconsin
Watertown Steam Laundry
2 E Main
Three-story bldg [Masonic Temple, third floor] was built on this site in 1906 [2-6 E Main]
1876
08 23       WATERTOWN BOASTS A LAUNDRY  
It may not be generally known to those sad and lonely young men who farm out their washing that Watertown boasts of a laundry [either Watertown Steam Laundry, 2 E Main or New Method Laundry, 218 S First]. 
But such is the fact, so we are informed, and several women are employed therein, washing, ironing—and other work.  Last Sunday while the proprietress of this establishment was out riding she was thrown from a carriage and very seriously hurt.  She was picked up for dead and although injured every badly, she is now in a fair way of recovery.     WR
1890
01 17       CLEANED LAUNDRY NEED NOT BE DISINFECTED
The Watertown Steam Laundry, east end of Main Street bridge, operated by Otto J. Walter & Co., is turning out first-class work, equal to that turned out anywhere, and you can depend upon it, that work given to them passes through clean hands and does not need a disinfectant after leaving the place to make it proof against imparting disease.  It is an institution that is neatly conducted, and work is turned out promptly and in a satisfactory manner.  It gives employment to quite a few of our people, and therefore it deserves the patronage of every citizen.      WR
c1892
<![if !vml]>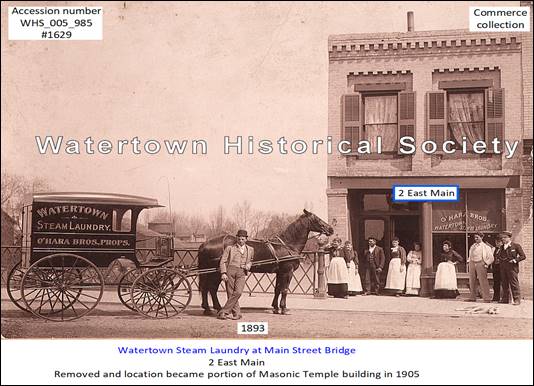 <![endif]>
2 E Main St, c1893      WHS_005_985
"O'Hara Bros." signage in window
1892-93 and 1893 Watertown City Directories list Theodore and William O'Hara, O'Hara Bros., as propr's, and both res 2 Main St. 
The 1892-93 directory also has an ad for the steam laundry and lists "H. Kotten, Prop." and the address of "100 Main Street, East of Bridge."  Not sure how this fits in
1897
2 E Main St, Rice & Campbell, props  /  John H Rice & Frank J Campbell
1898
Watertown Steam Laundry, 2 E Main, (right of Main St Bridge) WHS_005_601
1900
01 09       ADDITION TO OPERATION
Rice and Campbell, proprietors of the Watertown Steam laundry, have just added to their outfit a compound high-board combination ironer, an improved machine manufactured by Nelson & Kreuter, of Chicago.  This will greatly facilitate their work and show they are keeping up with the times.   WR
02 20       MOVE FROM 2 E. MAIN TO 218 S. FIRST ST
Rice & Campbell, the enterprising proprietors of the Watertown Steam Laundry, have leased the building on First Street (*) now occupied by William Ames pump shop and will remove their plant as soon as the new quarters can be made ready.  The building will be remodeled, an addition erected that will materially increase the accommodations, and every necessary convenience provided.  The proprietors also intend purchasing a lot of new machinery, and taken altogether, the contemplated improvements will provide one of the most complete and up-to-date laundry plants in the state.  An uptown office will be maintained in the present location, No. 2 Main Street, for the accommodation of patrons.  Since locating here, Messrs. Rice & Campbell have made a success of their undertaking, and their friends are pleased to know that their prosperity is so substantial that they find it necessary to branch out and secure larger quarters.  They are progressive and popular young business men and well deserve to succeed.
(*) 218 S. First Street, 1899-1900 City Directory
<![if !vml]>

<![endif]>
05 01       A COMPLETE ESTABLISHMENT
Messrs. Rice & Campbell, the enterprising proprietors of the Watertown Steam Laundry, can now boast of having as neat and complete an establishment of the sort as is operated in the interior of the state.  They have during the past week become nicely settled in their new quarters —-the old Ames building on First Street — and an inspection of their plant is sufficient evidence of their claim to conducting a laundry on the most approved and up-to-date lines. 
The establishment is divided into four parts — the office, the ironing, finishing and sorting room, the washing and drying rooms, and the boiler and fuel room. A twenty-five-horsepower boiler provides steam for the engine, for the drying room and for the heating apparatus, while an eight horse-power engine furnishes motive power for the machinery.
Included in the machinery operated are two large washing machines and an extractor, or wringer, all built after the latest models.  After the linen has gone through these contrivances, it is placed on racks in the drying room, where the intense heat does the necessary work in less than an hour.  Then the starchers are brought into service, whereupon the linen is ready for the ironing room.  Gas, combined with compressed air, is used for heating the irons, rollers, etc.  These machines are perfect in construction and render a high finish to the work, at the same time greatly simplifying the old manner of handling laundry.
The plant is also provided with minor machines necessary to skillful workmanship and is in every way prepared for the turning out of large quantities of laundry in a short space of time.  Messrs. Rice & Campbell are indeed nicely situated and their continued success seems assured.  Their enterprise is a credit to the city.
1902
04 12       WATERTOWN STEAM LAUNDRY SOLD
The Watertown Steam laundry, owned by Shepherd & Campbell has been sold.  C.  J. Sprague, of Waukesha, is the purchaser and he took possession last Monday.  Mr. Plummer of Janesville will be manager of the plant. Mr. Campbell has been in the business here for five years. Neither of the gentlemen have decided where they will make their home.    WR
05 31       WATERTOWN STEAM LAUNDRY SOLD
<![if !vml]>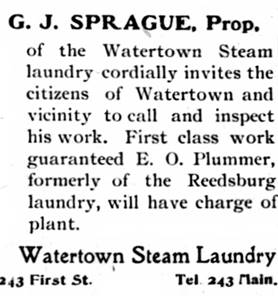 <![endif]>         WRep
1905       MASONIC TEMPLE
The Masonic Temple was built on the Main Street site in 1906 and was dedicated 06 01 1906

History of Watertown, Wisconsin