This file part of www.watertownhistory.org website
Watertown Steam Laundry
2 E Main
Three story bldg [Masonic Temple, third floor] was built on this site in 1906 [2-6 E Main]
1876
08 23       Watertown boasts a laundry   WR
c1892
<![if !vml]>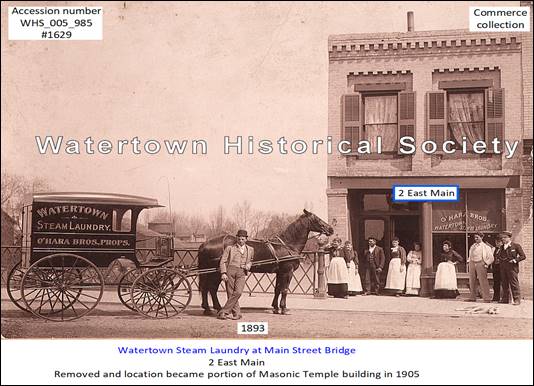 <![endif]>
2 E Main St, c1893      WHS_005_985
"O'Hara Bros." signage in window
1892-93 and 1893 Watertown City Directories list Theodore and William O'Hara, O'Hara Bros., as propr's, and both res 2 Main St. 
The 1892-93 directory also has an ad for the steam laundry and lists "H. Kotten, Prop." and the address of "100 Main Street, East of Bridge."  Not sure how this fits in
1897
2 E Main St, Rice & Campbell, props  /  John H Rice & Frank J Campbell
1898
Watertown Steam Laundry, 2 E Main, (right of Main St Bridge) WHS_005_601
1900
01 09          Rice and Campbell, proprietors of the Watertown Steam laundry, have just added to their outfit a compound high-board combination ironer, an improved machine manufactured by Nelson & Kreuter, of Chicago.  This will greatly facilitate their work and show they are keeping up with the times.   WR
02 20       Move from 2 E Main to First St
Rice & Campbell, the enterprising proprietors of the Watertown Steam Laundry, have leased the building on First Street now occupied by William Ames pump shop and will remove their plant as soon as the new quarters can be made ready.  The building will be remodeled, an addition erected that will materially increase the accommodations, and every necessary convenience provided.  The proprietors also intend purchasing a lot of new machinery, and taken altogether, the contemplated improvements will provide one of the most complete and up-to-date laundry plants in the state.  An uptown office will be maintained in the present location, No. 2 Main Street, for the accommodation of patrons.  Since locating here, Messrs. Rice & Campbell have made a success of their undertaking, and their friends are pleased to know that their prosperity is so substantial that they find it necessary to branch out and secure larger quarters.  They are progressive and popular young business men and well deserve to succeed.
1905      Masonic Temple
The Masonic Temple was built on this site in 1906 and was dedicated 06 01 1906