website  watertownhistory.org
    ebook  History of Watertown, Wisconsin
Watertown Machine Co
305 Third
12 25       ANDWALL COMPANY
We are glad to notice that the business of the Watertown Machine Company has increased to such proportions as to greatly tax the capacity of the works -- the employees of which are now working twelve hours per day in order to meet the demands for the new "Perfection" sanders.  Considering the slanderous and despicable character of the assault made upon this company and their business by their unscrupulous competitors in the same line of manufacture, we think the success of the Watertown Machine Company is a matter for which congratulations and an augury of their future success and prosperity [is worthy].
1890
03 05       SOLD TO BERLIN MACHING CO.
The Watertown Machine Company disposed of their interests here to the Berlin Machine Company, of Beloit, the transfer taking place last week.  By this transaction Watertown, we regret to say, loses another manufactory, which had kept employed a number of men, and thus was a vital importance to the place.  Can we hope to see the space made void filled by another establishment?
1915 Ad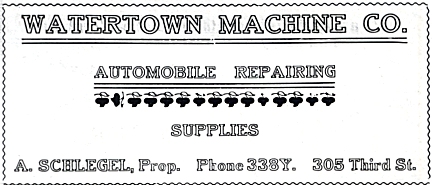 1954
01 27       ANDWALL COMPANY
The Andwall Company, which operates in Ixonia, and which recently acquired a plant in Watertown, recently has doubled its facilities at Ixonia with the erection of a new building.  The new building, which measures 160 by 160, adds, together with the dock space and boiler room, about 20,000 square feet of floor space.  Formed a short five years ago, the Andwall Company has had a rapid growth, with approximately 250 persons now being employed by the concern.  Of this number, about 20 are employed in the Watertown plant, which a short time ago was acquired from the Watertown Machine Company.  Of the approximately 230 working at Ixonia, about 75 per cent, or about 175, are from Watertown and vicinity.  The Watertown plant, which is a subsidiary of the Andwall Company, continues to operate as a separate unit under the corporate title of Watertown Machine, Inc.  The company began its operation in Oconomowoc five years ago, and in 1950 opened a small branch plant at Ixonia.  With the new addition, the Ixonia facility now has expanded to the point where the Oconomowoc operation is being discontinued.   WDT
1955
11 04       CITY TO ACQUIRE PROPERTY
The city is expected shortly to acquire possession of the old Watertown Machine Co. property at South Fifth and Market streets purchased recently by the City Council for an off-street parking lot.  All preliminaries have been completed, but filing of the abstract is awaited.
The city is expected to begin demolishing the buildings on the site early next year.  The lot will provide room for some 30 cars and it is planned to meter the lot before it is opened for parking.
The city paid $20,000 for the property, a reduction of the $5,000 from the original price asked.  Money from the parking meter fund will pay for the property.
1962       JENSCH AUTO SUPPLY
09 18       Robert Jensch and William Jensch have taken over the operation of the Auto Supply and Service Company, located at 307 South Third Street.  They purchased the business from their father, Henry P. Jensch, who is treasurer of the city of Watertown.  The business was started by Mr. Jensch on July 1, 1933.  The store building was at one time located in a portion of the Watertown Machine Co., which is now the site of the parking lot of the Wisconsin Telephone Co.  Robert Jensch has been working for the company since Aug. 1, 1948, and his brother since Jan. 1, 1958.  The company is a wholesale automobile parts and equipment establishment.   WDT

History of Watertown, Wisconsin