website† watertownhistory.org
††† ebook† History of Watertown, Wisconsin
Watertown Grain Co
West Main Street Elevator, Later on North Water Street
317 East Main Office
Oscar Wertheimer
Son of Herman
THIS FILE IS UNDER CONSTRUCTION
1900
<![if !vml]>

<![endif]>
1899-1900 Watertown City Directory
1901
12 17†††††† ENORMOUS AMOUNT OF STUFFED GEESE HAS BEEN MARKETED
An enormous amount of stuffed geese has been marketed here the past two days.† The Watertown Grain Company of which Mr. H. Wertheimer is president, has contracted for 1200 stuffed geese and in the companyís warerooms today 800 geese were packed in rows ready for shipment. The quality of the geese this year is excellent but they are a trifle light compared with other years, accounted for by the w arm weather which prevailed until a few days ago.† The average weight is a trifle less than twenty pounds. Most of the geese will be marketed by tomorrow but a few orders will be filled for the New Year trade.†† WDT
1902
07 19†††††† FIRE AT ELEVATOR
During the heavy wind and rain storm that passed over our city Monday afternoon lightning struck and set on fire the Watertown grain elevator near NorthWestern depot, but the prompt response of the fire department saved the building and contents.†† WR
c.1905
<![if !vml]>

<![endif]>††
1908
07 31†††††† ELEVATOR MOVED, WEST MAIN TO NORTH WATER
H. Wertheimer will remove his elevator in a few days from West Main Street near the Northwestern depot to the vicinity of the sidetrack [spur] of the Northwestern rail way just north of S. M. Eaton's & Son's factory in North Water Street.†† WG
Cross Reference:† This building was originally located on West Main Street near the C & NW depot and was moved intact to North Water Street (today near site of Fannie Lewis park).
c.1915-1920
WATERTOWN GRAIN CO. ELEVATOR IN ICE HARVESTING PHOTO
<![if !vml]>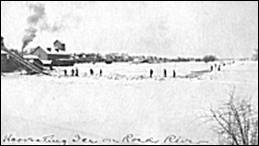 <![endif]>†† North Water Street location
1937
WATERTOWN GRAIN COMPANY ELEVATOR FIRE
An old elevator on the west side of the Rock River was destroyed by a spectacular fire.† This elevator had just become the specialty plant of the Globe Milling Company and was located at the foot of Rock Street on North Water Street.† The plant had been in operation for only a year and was devoted to making a cereal binder.† The huge building was once a grain elevator and was for many years operated by the Watertown Grain Company.† The Wertheimer interests acquired the property years before from the Pritzlaff family which had operated the elevator.† It was then located near the Chicago & Northwestern Railroad tracks.†
Incredibly, the huge grain elevator structure was moved to the North Water Street location and set on a new foundation.†
When the grain company abandoned the elevator it stood unused for some years and later was taken over by the Globe Milling interests.
Cross References:
317 E Main St.† Wisconsin AHI Inventory record
| | |
| --- | --- |
| Watertown Grain Co | 1909, 317 E Main |
| Watertown Grain Co | 1913, 317 E Main, grain dealers |
| Watertown Grain Co | |
| Watertown Grain Co | |
| | |
| --- | --- |
| Main, E, 317 | |
| Main, E, 317 | 1909, Watertown Grain Co |
| Main, E, 317 | 1913, Watertown Grain Co, grain dealers |
| Main, E, 317 | Early, first 3-story bldg, Christian Marquardt, WDTimes, 03 12 2005, WHS_005_091 |
| Main, E, 317 | |
| Main, E, 317 | |
| Main, E, 317 | |
| Main, E, 317 | |
| Main, E, 317 | |
| Main, E, 317 | |
| Main, E, 317 | 1957c, Borchardt's Liquor, 1950s-70s city assessor form, WHS_006_046a |
| Main, E, 317 | 1957c, Borchardt's Liquor, 1950s-70s city assessor image, WHS_006_046b |
| Main, E, 317 | 1971, Central Labor Union |
| Main, E, 317 | 1971, Justmansís Liquor Store |
| Main, E, 317 | 1993, Wesemann Insurance |

History of Watertown, Wisconsin