website  watertownhistory.org
    ebook  History of Watertown, Wisconsin
Wassem Ox Team Passes Through City
<![if !vml]>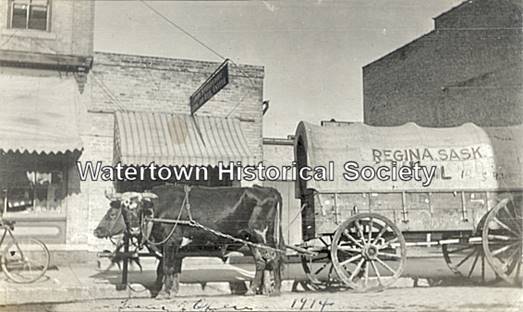 <![endif]>
Click to enlarge
John Spiegelhoff Real Estate office,
115 N Third St, 1914
1914
06 26           WASSEM OX TEAM PASSES THROUGH CITY
Quite a novel sight was seen by many pedestrians Tuesday afternoon (June 22) when there appeared on Main Street an old-fashioned rig drawn by a team of oxen.
Charles Wassem was the owner of the unique outfit and had journeyed from Milestone, Saskatchewan, Canada, on his way to Bellville, Illinois, his former home.
He makes 15 or 20 miles a day.  He left Canada February 18 and has been on his way ever since.  He has traveled 1550 miles and when he arrives at his destination he will have journeyed 2,000 miles.  He is 27 years old and is making the trip alone.  He will pass through Milwaukee and Chicago and no doubt will be a big attraction in both places.
______________________
2000 MILES BY OX TEAM
Old-time residents of Watertown saw a familiar sight on our streets last Tuesday afternoon, when Charles Wassem of Milestone, Saskatchewan, Canada, was on our streets with a splendid team of oxen hitched to a "prairie schooner."  He is on his way to his old home at Belleville, Ills., and started from Regina, Canada, on Feb. 24, 1914, and expects to reach Belleville in time to take part in the centennial celebration at Belleville on Sept. 24.  He makes as high as 15 and 20 miles a day with his ox team, and in the early part of his journey, when he had his "schooner" on runners, he made as high as 31 miles in a single day.  He spent about two hours in the city and then left for Oconomowoc.
He is a young man 27 years of age, and says he enjoys every moment of his novel journey

History of Watertown, Wisconsin