website  watertownhistory.org
    ebook  History of Watertown, Wisconsin
Byron Wackett
Wackett's Service Station
1960
-- --FIRST KINDERGARTEN / STANDARD OIL AD
<![if !vml]>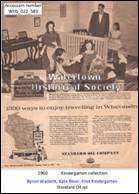 <![endif]>      Byron Wackett, Kate Bloor, First Kindergarten
Standard Oil ad
Meet Byron Wackett, one of more than 1,300 Wisconsin "tourist guides" who are at your service. 
When you visit his hometown, Watertown, be sure to look him up.  He can tell you the best places to eat, sleep, golf, hunt, fish and "rubberneck."
What's more, you can rely on his judgment because he is a member of the state legislature, president of the Watertown Historical Society, a former mayor, and a successful, independent businessman -a man whose opinion you can trust.
Mr. Wackett is a Standard Oil dealer and he is typical of these dependable, friendly men who probably know more about their local communities than anyone else.
<![if !vml]>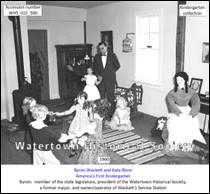 <![endif]>         <![if !vml]>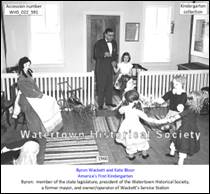 <![endif]>  
| | |
| --- | --- |
| Wackett, Bryon | |
| Wackett, Bryon (Elda Kieck) | |
| Wackett, Bryon (Elda Kieck) | |
| Wackett, Bryon (Elda Kieck) | |
| Wackett, Byron | |
| Wackett, Byron | 1952, Watertown Wisconsin Centennial 1854-1954 book, pg 80 |
| Wackett, Byron | |
| Wackett, Byron | |
| Wackett, Byron | |
| Wackett, Byron | |
| Wackett, Byron | |
| Wackett, Byron | |
| Wackett, Byron, Mayor | 1946-48, Watertown Wisconsin Centennial 1854-1954 book, pg 76 |
| Wackett, Byron, Mrs | |
| Wackett, Elda nee Kieck (Byron) | |
| Wackett, Robert | |
| Wackett, Robert | |
| Wackett, Robert | |
| Wackett, Robert | |
| Wackett, Robert (Marialyce) | |
| Wackett's Service Station | |
| Wackett's Service Station | |
| Wackett's Service Station | |
| Wackett's Service Station | |
| Wackett's Service Station | |
| Wackett's Service Station | |
| Wackett's Service Station | |

History of Watertown, Wisconsin