website  watertownhistory.org
    ebook  History of Watertown, Wisconsin
Sophie M. Traeger
1925 - 2015
<![if !vml]>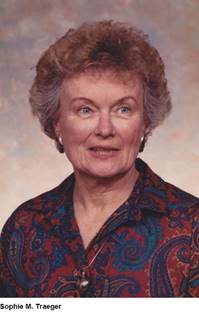 <![endif]>Sophie M. Traeger, age 90, of Watertown, passed away on Wednesday, Nov. 25, 2015, at Highland House.
A memorial service will be held in January at the Hafemeister Funeral Home in Watertown. Memorials would be appreciated to the Watertown Humane Society, the St. Henry Tuition Fund or to the charity of one's choice. Hafemeister Funeral Home and Cremation Service of Watertown is serving the family. Online condolences may be made at www.hafemeisterfh.com.
Sophie Mary Gilewicz was born on March 26, 1925, in New York City to Michael and Stephanie (nee Kilarska) Gilewicz. She graduated from Lafayette High School in Brooklyn, N.Y., where she was a member of the National Honor Society. Her career course was geared toward college with a scholarship to Brown's Business College, but that career course changed due to the loss of her father when she was 16. She worked for Mutual Life Insurance Company (now MONY) and as a stenographer in the New York Field Office of the Federal Bureau of Investigation (FBI) where she met and later married her G-Man husband, Bernard John Traeger on Feb. 22, 1944. Bernard returned to Wisconsin with wife and daughter, Dorothy Ann in 1947. After her family was grown, Sophie worked as a paralegal in the Traeger Law Office until Bernard retired and preceded her in death on Dec. 17, 1985.
She and her spouse had six children, Dorothy Anne, JoAnn Elizabeth, Jeanne Marie, Donald Joseph, Mary Katherine and Carol Lynn.  She and Bernard enjoyed taking their offspring in the golden brown Pontiac out west and to the east for a family wedding showing them NYC after their mom moved further West.  As the family grew older, positive rules were a family standard. Sophie taught them to love and care for animals, the need to become swimmers, typists and above all dancers. There was grumbling and different opinions, but each graduated and went on to colleges and marriages.
Sophie taught catechism and CCD classes at St. Henry Catholic Church for eight years when Father Dunn was pastor.  She belonged to St. Henry Christian Mothers Confraternity, Catholic Women's Club, Friends of the Public Library and the Watertown Saturday Club where she chaired the annual scholarship fund raising luncheon.  She belonged to the Watertown League of Women where she served as vice president until the league moved away.  Sophie became a literary volunteer while employed at MATC Watertown campus, donating her earnings each year towards scholarships to MATC students with financial needs.
When not involved with family, she loved playing bridge and growing her "funny little people," the unusual cacti she was fond of collecting.  Her collections of seashells were often viewed in the library display cases.  She was the companion of several Siamese cats through their long lives. Her car trips to each college child in the golden Pontiac resulted in passenger stuff left to Mom to dispose of or refurnish.  She loved seeing their lifestyles and progress made.
Sophie is survived by her children, Dorothy Westlund of Johnson Creek; JoAnn (Michael) Smith of White Rock, BC, Canada; Jeanne Traeger of Austin, Texas; Mary (Ed Means) Traeger Means of Watertown; Carol Lynn Traeger of Madison; five grandchildren, Brian Walters, Amy Walters, Jeffrey Smith, Ian Smith, Jonathan Means, as well as three great-grandchildren, Madison Smith, Austin Smith and Aaron Walters.  She was preceded in death by her parents, Michael and Stephanie; husband, Bernard; son, Don and a son in infancy, Michael John "Billy" Traeger.
Hafemeister Funeral Home and Cremation Service  /  611 E. Main St. Watertown.
Cross reference note:
Oct. 6, 1993:  A fine selection of Persian rugs, which some call the most coveted of all carpets, came through Watertown this week in a U-Haul.  Maj. Edward Means III and his wife, Mary, visited her mother, Sophie Traeger, en route from Incirlik Air Force Base in Turkey to F.E. Warren Air Force Base in Cheyenne, Wyo.  Along with the couple were about a dozen Persian rugs they purchased during their overseas stay.  The carpets represent the finest in their collection of about 40 rugs.  The couple said the rugs are kept in their possession because the heirlooms are too valuable to risk theft through shipping.  Most of the rugs come from Iran, which used to be called Persia.  Others come from Afghanistan, Pakistan and Turkmenistan, a new state that once was part of the Soviet Union.  All of the woven and knotted rugs vary in texture, color and design.  All designs are distinctive and named after the city or region where they are made.

History of Watertown, Wisconsin