website  watertownhistory.org
    ebook  History of Watertown, Wisconsin
Trachte & Trayser
Trachte Organ
<![if !vml]>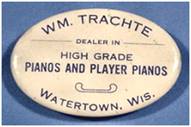 <![endif]>
William F. Trachte was born in 1859 and became a very successful Watertown businessman.  He was in partnership with G. A. Trayser at one time (Trachte & Trayser) and at another he was the sole proprietor of a piano, organ, sewing machine and bicycle store on Main Street.  At the latter, he specialized in the sale of parlor pump organs which were a popular item at the time [WHS 005 217].
He and his wife, Emma, were quite musically inclined and both were proficient playing the organ and the piano.
When an organ was sold, a gilded label with the "Trachte" name was affixed to it before it left the shop. William and Emma wanted to be sure everyone knew where the musical instrument was purchased.
Emma was also proud to tell buyers that the purchase of an organ also included 10 free lessons. Emma would have the buyer come to their home on South Third Street where a Trachte organ stood proudly.
That organ was manufactured by the Raymond Organ and Piano Company of Cleveland, Ohio, and over the years the organ was played by three generations of the Trachte family.
There were several different ideas as to where the store was located in downtown Watertown [WHS 005 218 ], [WHS 005 219 ], [WHS 005 220].
<![if !vml]>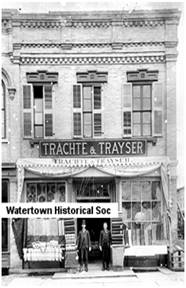 <![endif]>         <![if !vml]>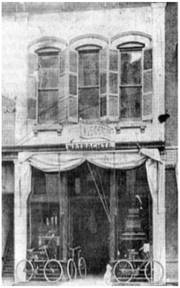 <![endif]>
Two differing stores and locations
(left) 216 Main St (Kreitzman Collection) and (right) 108 Main
I have created the following timeline that establishes its location
over time and it is gleaned from the Watertown Gazette.
06 15 1888 ad and article
"Trachte & Trayser, two of Watertown's most enterprising young business men, have a new advertisement this week of special interest to the ladies.  They are offering bargains in gloves, embroideries, parasols, etc."
The June 15 ad is "Trachta & Trayser - Have an Immense Line of PARASOLS EMBROIDERED DRESS PATTERNS LACE EMBROIDERY FLOUNCING of every description, LACE MITS GLOVES AND HOSIERY, which they are selling at very low prices.  Call and see what bargains they have to offer." 
("Trachta" is indeed used in the ad, not Trachte.  No address given).
I find no ad for T&T before this date so assume that the placement of the new ad is close to the time of the founding of the new business partnership (as listed in the 1887-88 city directory).
09 14 1888 ad ("Trachta" again, instead of Trachte; location noted)
"GREAT REDUCTION IN PRICES
On Parasols, Lawns and Summer Goods at Trachta and Trayser's
Cor. Main and 3d Sts.
Now is the time for the ladies to secure bargains in this line of goods.  We quote no prices, but guarantee to suit you in this respect.  Come and see us.
Trachta & Trayser."
03 20 1891 article, very short
"Trachte and Trayser have dissolved partnership, Mr. Trachte continuing at the old stand."
After the dissolution of T&T, they became competitors in dress goods (dry goods) and were located on the same block.  Every week they both had ads in the Gazette, normally at the very top of the same page, with the Trachte ad on the left side and the Trayser ad ("I lead while others follow") on the right.
11 18 1892 ads, example, addresses only
Wm. F. Trachte
216 Main St.
G. A. Trayser
208 Main St.
04 06 1894 article, Trayser dry goods closes
"G. A. Trayser, for the past nine years engaged in business here, left for Kaukauna, Wis., on Wednesday, where he will conduct a general store, making a specialty of provisions.  Mr. Trayser is a straightforward business man, and his departure from here is much regretted by his many friends and all hope himself and his wife will be prosperous and happy in their new home."
05 07 1895 ad, Trachte dry goods line discontinued at 216 Main
"Selling Out.       Selling Out.
STOCK - $18,000 - STOCK
I intend to sell out my entire stock of Dry Goods, Clothing, Gent's Furnishing Goods, Hats, and Caps - complete stock in good shape, all new clean, seasonable and saleable goods - everything will be sold, and a better chance to buy will never CHANCE to come your way again.  This is not special sale, no blind advertisement, but a real
    - Slaughter Closing Out Sale -
. . . Wm. Trachte, 216 Main Street"
02 27 1895 article
We understand that William F. Trachte intends closing out his dry good and grocery business at 216 Main Street and locating at Ohms mill, where he will build a store directly north of Ebenezer church and also be interested in a creamery to be erected the coming season.  Mr. Trachte is circulating a petition to change the name of the place to Ebenezerville, and locate the post office near the church.   WR
08 23 1895 ad
"Closing Out Prices TAKE ANOTHER TUMBLE ..... Wm. Trachte"
08 30 1895 ad, Trachte piano and organ line offered at 216 Main
"WM. TRACHTE.
Pianos and Organs
I have added to my stock a large and well selected line of PIANOS and ORGANS, such as never was exhibited in Watertown before.  A cordial invitation is extended to each and everyone to visit my store and examine my goods.  Insist upon seeing the 'Malcolm Love Piano' with the Phelp's Harmony attachment . . .
Wm. Trachte, 216 Main Street"
02 28 1896, ad
Sometime after the 05 07 1895 sale of all dry goods they must have been offered again as they were sold out again when the business had to vacate the 216 Main store:
"AUCTION! 
AT WM. TRACHTE'S STORE
216 Main Street, Watertown, Wis.
Dry Goods, Groceries, Underwear
Blankets, Ribbons, Notions, Corset, etc . . .
Having decided to retire from the Dry Goods business, I shall sell my entire stock of Dry Goods and Groceries at Auction to the highest bidder  . . . Do not forget that every dollar's worth of goods must be sold by March 16, 1896, as I must give possession of store on that date . . . Grove D. Fulmer, Auctioneer."
The 1897 city directory lists Wm. Trachte, re-established at 108 Main, as seller of pianos, sewing machines and bicycles.  This has to be the location of the photo submitted by Bill Trachte.  Isn't this, in part, where Keck's is located today?  In the same 1897 city directory Keck's is listed at 110-112 Main.
The 1899-1900 city directory lists 108 Main, pianos and organs.
The above Kreitzman image is the earlier of the two.
Emanuel G. Wetzel (1871 - 1934) was affiliated with the Trachte firm, being in charge of its music department.  Born in Wilton, WI, he previously attended Northwestern College in Watertown and for a time was a parochial school teacher.  He later moved to Jefferson and was in charge of the music department of the C. F. Bullwinkel Company of that city [Jefferson Banner, 08 17 1934].
I've reviewed the set of Kreitzman images and note that in #045 of the set a number of store fronts can be seen in the background of a parade event on Main.  A store front perfectly matching the "unknown" one submitted by Bill Trachte can be seen.  It is to the east of a building clearly identified as "Watertown Republican" and according to the 1898-99 city directory the Republican was located at 106 Main. 
In Kreitzman image #074 of the set a number of store fronts can be seen less distinctly in the background of a different parade event on Main.  But it can be made out that the building that would be 108 has a sign hanging out over the walk that say "Music Store," and it is the very same sign as shown in the above right-side image.  This store is adjacent to another with the lettering "Kecks."  The 1898-99 city directory lists Kecks at 110-112 Main Street.
Trachte & Trayser dry goods store was located at the corner of Third and Main (216 Main).  After the dissolution of T&T, the Trachte dry goods and music store remained at this location until relocated as the Trachte Music Store at 108 Main.  The Trayser dry goods store opened at 208 Main.
1898
SIGNAGE NOTED
<![if !vml]>

<![endif]>  
c.1900
<![if !vml]>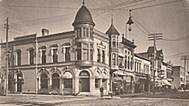 <![endif]>  
1901
01 16 1901 article
Business Change.
On Monday William F. Trachte, proprietor of the Trachte Manufacturing company, disposed of his piano, organ and sewing machine business to the D, E. Owen Piano Manufacturing company, which has been established at Oconomowoc for some months past.
The transfer was made through the agency of H. J. Strauss, and by it Mr. Trachte not only disposes of the good-will of his business and the agencies he has controlled, but also of his entire stock of instruments and machines.  Mr. Trachte gives possession at once.
For the present the store at 108 Main Street will be continued, as will also the Oven establishment at Oconomowoc, but in the course of a few months the entire business will be located at 113 Third Street.
Mr. Owen is a reputable and energetic business man and expects to ply a large trade in this vicinity.  He is well pleased with the prospects and considers the field he has entered a most promising one.  He will be welcomed to the business circles of Watertown.  
Charles De Brier, Mr. Owen's right-hand man and a gentleman well versed in the piano and organ line, will be manager of the Watertown store.  Previous to his engaging with his present employer, he was for five years a salesman for Mr. Trachte.
1909 City Dir listing
Trachte, William, produce            1909, 216 S. Third
1912

        Oconomowoc store.  Ad in program of 1912 Saengerfest singing festival held at Oconomowoc, WI.

History of Watertown, Wisconsin