This file part of www.watertownhistory.org website
Kenneth P. Thiel, Sr.
1947 – 2008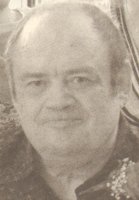 1987
Watertown Daily Times, 03 28 1987
Watertown's two mayoral candidates disagree about the proposed strip mall on the city's east side and the methods of dealing with the declining flow of federal funds to the city.  Aldermen Mark D. Kuehl and David R. Lenz debated issues posed to them by the League of Women Voters in the City Council chambers Tuesday night.  Downtown merchants have argued that a strip mall on the east side of the city would further detract from their businesses.  Proponents of the project say the strip mall represents growth and more jobs.
Watertown Daily Times, 03 31 1987
Barring any special meeting, Mayor Kenneth Thiel will preside over his final meeting Tuesday at 6:30 p.m.  Thiel some months ago announced he would not be a candidate for re-election when his term expires.  Tuesday voters will choose between David Lenz and Mark Kuehl as the new chief executive for the city.  Thiel's term of office will officially end on April 21 at noon.  The mayor has served as an elected representative of the city since 1976 when he won the election as sixth district alderman by defeating Myrle Eckert, 209 to 143.  That year the incumbent, the late Erich Nuernberg, brother of incumbent alderman Walter Nuernberg, decided not to seek re-election.
2008
Kenneth P. Thiel, 61, of Watertown, passed away unexpectedly Sunday morning, Nov. 30, 2008, at the Gunderson Lutheran Hospital in La Crosse.
Funeral services will be held on Saturday at 1 p.m. at the Hafemeister Funeral Home in Watertown with Father Brian Wilk of St. Henry Catholic Church in Watertown officiating.  Burial will be in St. Henry Catholic Cemetery, Watertown.
Relatives and friends may call to pay their respects at the funeral home on Saturday from 10 a.m. until the time of the service.
In lieu of flowers, memorials may be directed to the charity of one's choice.
Kenneth Peter Thiel was born in Ripon on Nov. 18, 1947, son of Verlyn and Marjorie (Steger) Thiel.  He married the former Nancy Parker on April 23, 1966, at St. Michael's Catholic Church in Berlin.
Ken graduated from Berlin High School in 1966.  He had been employed at Berlin Foundry in Berlin, as a foreman at Borge Textiles in Jefferson, and was a financial planner at IDS in Watertown, which became American Express and is now Ameriprise Financial.
Ken served as mayor of Watertown, four two-year terms from 1979 to 1987. In 1987, he did not run for re-election.  He had also been a candidate for state assembly and was involved in many other community activities.
Thiel's first exposure to local politics came in 1976 when he successfully ran for the vacant Sixth Aldermanic district.  The district was vacated when veteran alderman Erich Nuernberg decided not to seek re-election.  That year he defeated Myrle Eckert for the post.
In 1977 he ran in a crowded primary election for the mayor's position which was held by Carl Kolata but was eliminated. Kolata went on to win re-election. 
In 1978 he defeated Eckert again and won his second term on the council.
Then, in 1979 when Kolata announced he would not seek another term as mayor, Thiel was again a candidate and won easily, defeating a write-in effort by Ken Wilkes.
Thiel was unopposed for re-election in 1981 and then two years later, in 1983, he easily won a challenge by Jeanne Reed, a veteran school board member.  In 1985 he was unopposed when he captured a fourth term in office.  He did not run for re-election in 1987.
Ken was a member of St. Henry's Catholic Church in Watertown.  He was also a member of the Masonic Lodge in Watertown, Watertown Moose Lodge No. 830, Watertown Rotary Club, Watertown Kawanis Club and the Watertown Elks Lodge No. 666.  He enjoyed traveling, was an avid fisherman and hunter, and loved playing cards.
He is survived by his wife, Nancy Thiel of Watertown; a son, Brian (Brenda) Thiel of Somerset; a daughter, Michelle (Scott) Jones of Watertown; three grandchildren, Cecily Engstrom, Grant Thiel and Broden Thiel; two great-grandchildren, Aviana and Maliekai; two sisters, Jean (Tom) Kresal of Strum and Cathie (Kevin) Owens of Wales; a brother, Steve Thiel of Arkdale; his father-in-law, Bertram Parker of Berlin, nieces, nephews other relatives and friends.
Ken was preceded in death by his parents; a son, Kenneth Thiel Jr. in 2002; and his mother-in-law, Marjorie Parker.