This file portion of www.watertownhistory.org website
1951, Graduation Class
(8th grade)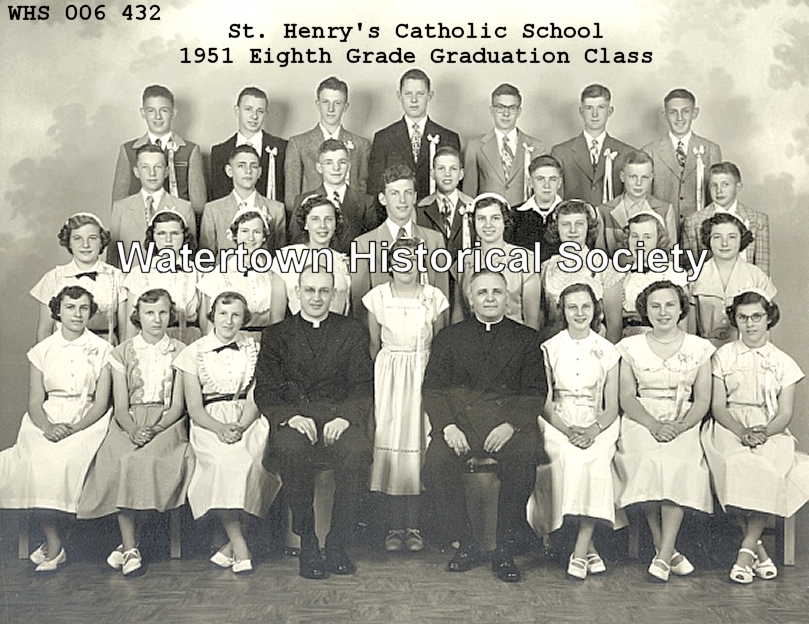 Class of 1951.    Eighth Grade Graduates
Fourth Row:  Robert Heiden, Donald Hemp, John Pirkel, Anthony Surdick, Paul Reichart, Paul Richter, George Renz.
Third Row:  Tom Kaul, Robert Ruesch, Alvin Gudenkauf, Joe Pfeifer, Tom McGinis, Don Flint, James Klecker.
Second Row:  Pat Stangler, Agnes Hoffer, Janet Borazo, Lucille Boje, Tom Hargraves, Dolores David, Joyce Bohmsack, Florence Kreuziger, Marlene Heck.
Front Row:  Leah Richter, Margaret Kreuziger, Mary Hartman, Father Brecktl, Pat Timm, Father Herrmann, Mary Lou Hoffer, Rita Haberkorn, Pat Koshelnick.
1951 Graduation Class
06 08 1951
A class of 30 students graduated from St. Henry's School on the Sunday morning of June 10, 1951.  Exercises took place at the 8 a.m.  Mass and diplomas were distributed after the Mass.
Members of the class were:
Joyce Bohmsack, Lucille Boje, Janet Borazo, Dolores David, Donald Flint, Alvin Gudenkauf, Rita Haberkorn, Thomas Hargraves, Marialyce Hartman, Marlene Heck, Robert Heiden, Donald Hemp, Agnes Hoffer, Mary Lou Hoffer, Thomas Kaul, James Klecker, Patricia Koschelnick, Florence Kreuziger, Margaret Kreuziger, Thomas McGinnis, Joseph Pfeifer, John Pirkel, Paul Reichardt, George Renz, Leah Rae Richter, Paul Richter, Robert Ruesch, Patricia Stangler, Anthony Surdick and Patricia Timm.
Hymns sung by the children's choir during the Mass were as follows:  "I Place My Trust in Thee," "O Magnify the Lord," "Upon the Altar Night and Day" and "I See by Rays Surrounded."