website  watertownhistory.org
    ebook  History of Watertown, Wisconsin
William A. Schuett, Jr.
1927-2012
<![if !vml]>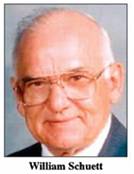 <![endif]>William A. Schuett was born to eternal life on Saturday, May 26, 2012, at Marquardt Memorial Manor, with family members at his bedside.  A special blessing from the Lord, dad was reunited in heaven with his son, John, on the day that would have been John's 55th birthday.  Together they celebrated!
A Mass of Christian burial will be held at noon Friday, at St. Henry's Catholic Church with Father Jorge Miramontes presiding.  Relatives and friends may call to pay their respect 4–7 p.m. on Thursday at the Pederson Funeral Home of Watertown and at the church on Friday from 11 a.m. until the time of the service.  Memorials may be directed to Marquardt Memorial Manor or the Watertown Humane Society.
William was born on Feb. 26, 1927, in Richwood, the son of William and Florence (Thoma) Schuett.  Born and raised in rural Wisconsin during a much less complicated era, Dad was educated at a small country school in Dodge County.  He married Agnes Peirick on Sept. 4, 1948, at St. Henry's Catholic Church in Watertown.  They lived in the rural Watertown area farming full time for many years.  Schuett also became employed at Eaton Corporation several years before leaving the farming industry and moving into the city of Watertown in 1974.  He was a set-up technician in the molding department at Eaton Corporation for more than 25 years, retiring in 1992.
He was a member of St. Henry's Catholic Church.  Dad's greatest joy in life was the 63 years of marriage with Agnes and spending time with his children, grandchildren and great-grandchildren. 
He and Agnes loved to polka dance. He had a passion for automobiles and had some colorful stories about his cars that he shared with grandchildren.  He also told many, many funny stories about childhood escapades with close friends and brothers that brought tears of laughter to our eyes.  Dad enjoyed anything and everything that brought laughter and that gift was passed on to the generation after him.  He was a gentle and kind animal lover and cherished both his farm animals and his "city" animals, Rambo and Kipper.
William is survived by his wife, Agnes of Watertown; his children, Patricia (James) Nehls of Hancock, Beverly Bailey of Watertown, Richard (Wendy King) Schuett of Watertown, Paul (Mardelle) Schuett of Watertown, Joseph Schuett of Fort Atkinson and Philip (Deb) Schuett of Watertown; his 10 grandchildren, Todd (Penny Crawford) Nehls, Troy Nehls, Emily (Justin) Zastrow, Jason Schuett, Nathan (Sheena) Schuett, Derek (Cindy) Schuett, Jonathan Schuett, Bethany Schuett, Korey (Larissa) Schuett and Tonya (Eli) Lewis; eight great-grandchildren, Nicole Nehls, Collin Nehls, Kierra Nehls, Maison Nehls, Benjamin Zastrow, Isaac Lewis, Josiah Lewis and Anabelle Lewis; two stepgrandchildren, Joe Pingel and Amber (Brad) Schuett and a sister, Mary Jane (Willard) Ninmann.
He is preceded in death by his parents; his son, John, in 1983; son-in-law, Dennis Bailey; granddaughter, Christina Schuett; sister, Marjorie McHugh; brothers, Harold, Lawrence and Merlin, as well as other relatives and friends.
Special thank you to Dr. Moe Chin, the staff at Marquardt Memorial Manor and to Angie, of Marquardt Hospice, for their care and compassion.
Our love and our memories of him will live on; the Lord has given him the promised reward.
Pederson Funeral Home 213 S. Fifth St. Watertown