This file portion of www.watertownhistory.org website
Riemerís
600 N. Fourth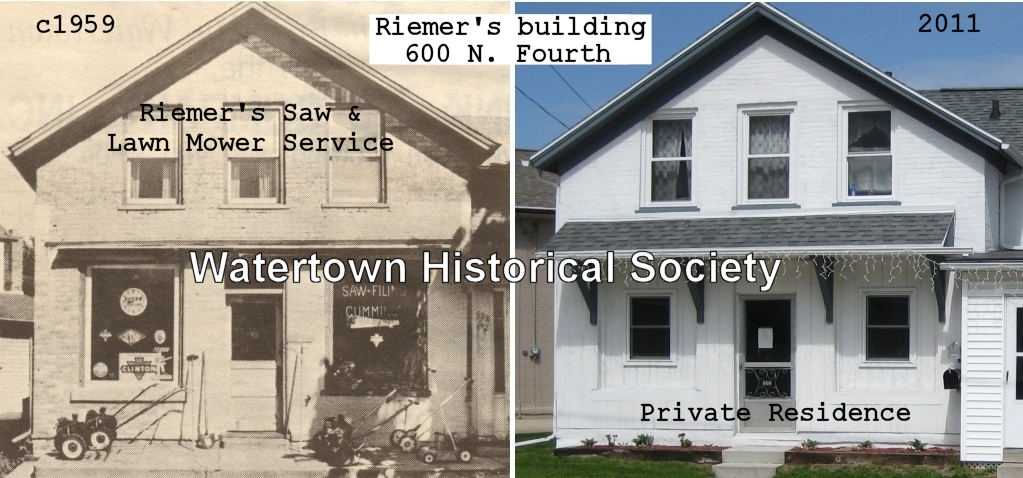 Complete Sharpening Service, Titan Chain Saws, Briggs-Stratton, Clinton, Lawn Boy and Lawson Power Products Engines, Power and Hand Lawn Mowers.
We Grew With You, Watertown..
Starting with a humble beginning in Milford Street and the locating at 600 North Fourth Street where we established ourselves in business to the citizenry of Watertown.† It was here that we made many friends in the business world and found many happy and satisfied customers.† We spent 10 years at this location but ever expanding business forced us to find larger quarters.† It was then that we decided to build at 301 West Spaulding and since that time we have enlarged our present store on three different occasions to take care of the ever increasing business.
RIEMER'S
Garden Mart Gift Shop
301 W. Spaulding St.
Watertown, Wisconsin
PHONE 261-6631
1949
Daveís Turf & Marine began in 1949 by Leonard Riemer, in his basement, as a saw sharpening business.†
1950
In 1950 he opened the business on Fourth Street in Watertown selling and servicing lawn mowers, chainsaws, go-carts, etc. And expanded to a new building on W. Spaulding Street.
1960
09 03†††††† Leonard Riemer has been granted a building permit for a new shop and sales building to be erected at 301 Spaulding Street. The estimated cost will be $16,000. Mr. Riemer now operates the Riemer Saw and Lawn Mower Service in North Fourth Street. No date has been set for moving to the new place of business.
1961
1966
Dave Kahler came to be a part of the business in 1961, and Dave and Leni (Leonardís daughter) Kahler have been the owners since 1966, when it became known as Daveís Turf & Marine.
1988
In 1988 it moved to its current location of W2755 East Gate Drive, Watertown.
Daveís Turf & Marine currently have five full-time and four part-time employees and offers sales and services for lawn and garden equipment, boats and motors.
Daveís Turf & Marine sells Princecraft (the finest aluminum boat on the market); Warrior Boats; Evinrude, Johnson and Mercury motors; John Deere lawn and garden, both residential and commercial equipment; in addition to their service department and parts and accessories.
Daveís Turf & Marine prides itself in its long-term employees with factory training, and its friendly customer service.† They have carried the John Deere line since 1975 and is one of the top-selling Princecraft dealers.
Cross References:
| | |
| --- | --- |
| Fourth, N, 600 | 1913, Reinhold Block, meat market-retail |