website  watertownhistory.org
    ebook  History of Watertown, Wisconsin
Racek Building
Theodore Racek
204-206 E. Main Street
<![if !vml]>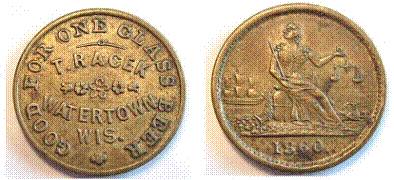 <![endif]>
Click to enlarge
1860 Civil War token, (2 of 2), [tail]
1860 Civil War token, (2 of 2), [head]
The building located at 204-206 Main Street was constructed in 1853.  It was once known as the Theodore Racek Building.  It began as a saloon, but has had a long history as a drug store.  It later became the Busse/Aurora Pharmacy.
Originally, the store featured a multi-bay storefront with corbelled brick cornice and arched windows.  It remained so through the occupancy of Theodore Racek, J. Schubert Drug Store, Eberle Drug Store and William Weber Hardware Store.  The original cream brick is evident in the upper story and rear of the building.  Sometime in the early 20th century, a remodeling was done, producing the current facade which features stone and a full length canopy. 
This change renders the building ineligible for historic designation in spite of its long and varied history as a retail establishment. 
1865
10 12       BUILDING BOUGHT
J. W. Cole sold lot and building on Main Street to R. Racek for $3,000.   WD
1899
04 05       STORE FOR SALE
At a bargain and on favorable terms, a store lately occupied by William Weber, Hardware.  The same has a frontage of 24 feet 2 inches; lot is 116 feet 4 inches deep, with a right of way 9 feet wide to Second Street.  Also a part of lot 3 adjoining this lot on the east side [204-206 E. Main].  This is one of the most desirable business locations on Main Street.  The store has a good brick-paved cellar, an elevator and three floors.  Most suitable for a business where storage room is an object.  At the terms this property is offered for sale the purchaser will find it a well-paying investment to remodel the building and make a fine modern store out of it.  For particulars apply to A. Tanck or the owner.   WR
Cross References:
Edward Racek, brother

History of Watertown, Wisconsin