website† watertownhistory.org
††† ebook† History of Watertown, Wisconsin
Citizen's Police Academy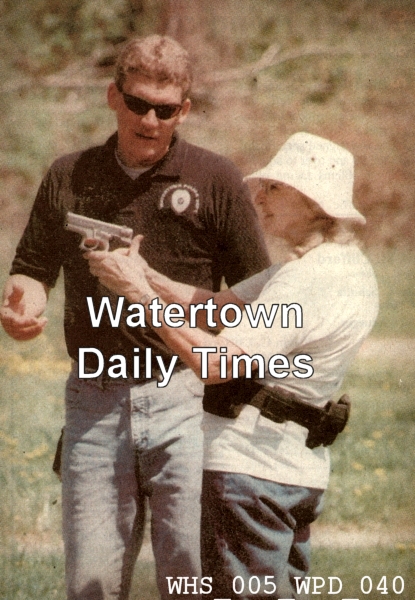 Detective Ken Severn teaches Watertown resident Alice Fuchs, a member of the cityís Citizenís
Police Academy, how to use a firearm during a session at the Watertown Conservation Club.
2000
05 12†††††† Graduation at Watertown Police Department's first-ever Citizen's Police Academy, students of the class are saying they're glad they enrolled.
"I think they did great for the first year," student Alice Fuchs said of academy coordinators. "I love this, and I didn't realize there was this much to policing."† Fuchs has been interested in police work since 1967. That year she began helping rehabilitate inmates at state prisons.
The 69-year-old woman learned up-close about police on Saturday at the academy's eight-hour, hands-on instruction session at the Watertown Conservation Club's rifle range.†
Eighteen Watertown residents make up the student body of the cost-free, 10-week class. Watertown Crime Prevention Officer Andy Gee and Capt.† Tom Killmon are academy coordinators and aim to teach the students about police operations while offering them the opportunity to meet the force.
Class member Shelly Nelson, 26, works with Watertown's Project J.O.I.N. (Juvenile Offenders Involvement Network), which seeks to reintegrate juvenile offenders into the community.† She said the class is significant because citizens in the class have the opportunity to discover that police officers are in their line of work because they care about helping people.
"The most important thing is that this class shows police do the job because they care about people.
2014
04 21†††††† CITIZEN POLICE ACADEMY FISH FRY
A fish fry and fundraiser is being sponsored by the Citizen Police Academy Alumni (CPAA) on Friday from 5-8 p.m. at Turner Hall.† More than 50 prizes have been donated by businesses and individuals for a bucket raffle and silent auction.† Attendees need not be present to win.† A 50/50 raffle will also be held during the event.
Proceeds from the fundraiser will assist in purchasing updated exercise equipment for the Watertown Police Departmentís fitness room and will also support the CPAA as it assists the departmentís community events.
<![if !vml]>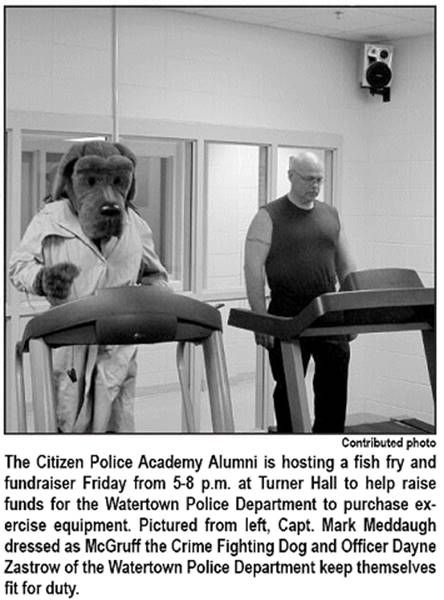 <![endif]>
2017
04 20†††††† CPAA FUNDRAISER AND FISH FRY
The Watertown Citizen Police Academy Alumni will hold a fish fry fundraiser Friday at Turner Hall. †The organization has already received donations from area businesses along with statewide tourist and children attractions totaling more than $8,000 in support of the fundraiser.
Some of the silent auction items include a motorcycle riding academy training course certificate, three-month fitness memberships, Aquatic Center family pass, "Made in Watertown" items, "Shop Watertown" certificates, a horse drawn carriage ride, among others. †
This year, proceeds from the fundraiser will go towards the police officers' out of pocket costs of a bullet proof safety vest, a carrier for the vest and a water bottle filler station.

History of Watertown, Wisconsin