website  watertownhistory.org
    ebook  History of Watertown, Wisconsin
Nowack Funeral Home
Pederson Funeral Home
200 North Fourth Street
213 South Fifth Street
1873
Pederson Funeral Home Watertown was established in 1873, as the Nowack Funeral Home by Carl & Frank Nowack. 
c.1911
CARL F. NOWACK / FURNITURE STORE AND FUNERAL HOME
<![if !vml]>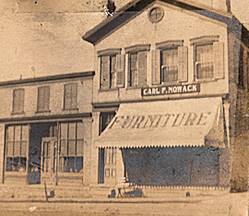 <![endif]>      <![if !vml]>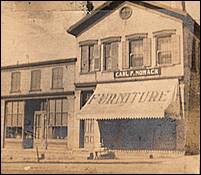 <![endif]>
NW corner of North Fourth and Madison streets
1940      Nowack Funeral Home
               <![if !vml]>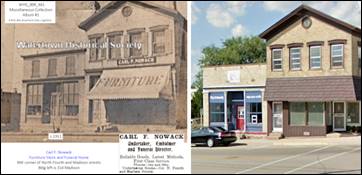 <![endif]>
1951
The funeral home remained in the Nowack family until 1951, when D.D. Pederson purchased the business from Carl F. Nowack.  David W. Pederson joined his father in business in 1973 and later purchased the business in 1978.  In 1983 David purchased the Jones Funeral Home Waterloo from Myron Jones.  In 2001 Ryan J. Nowatka joined David in business and later became co-owner in 2006.  In June 2011 Ryan purchased the remaining interest of the business from David.  The business is operated out of the building which was Watertown's first funeral home, built as a full service funeral home in 1930.
1983
02 07       Dave Pederson of the Pederson Funeral Home in Watertown announces expanded services to families in Waterloo effective immediately.  Pederson has purchased the Jones Funeral Home in Waterloo and plans to refurbish the facility.  An open house at the Pederson Funeral Home, Waterloo, will be announced after remodeling is completed, but Pederson stresses the Pederson Funeral Home is ready to extend all its services to Waterloo families. Services through the firm include traditional funerals, irrevocable funeral trusts, prearrangement counseling, cremation, non-emergency medical transfer and home care supplies including hospital beds and other equipment.

History of Watertown, Wisconsin