website  watertownhistory.org
    ebook  History of Watertown, Wisconsin
George Wilbur Peck
1840 - 1916
Governor of Wisconsin, 1891-1895
<![if !vml]>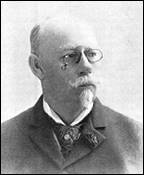 <![endif]>
click to enlarge
Men of Progress: Wisconsin, edited by Andrew J. Aikens and Lewis A. Proctor, Milwaukee, The Evening Wisconsin Company, 1897.
George W. Peck, ex-governor of Wisconsin and a resident of Milwaukee, was born in Hudson, Jefferson county, New York, on the 28th of September, 1840, and came with his parents to Whitewater, Wisconsin, when a child of less than three years. His education was received at the common schools, and was completed, so far as the schools were concerned, when he was fifteen years of age.
Watertown Republican
His first essay in the more serious duties of life was as an apprentice to the trade of printer in the office of The Whitewater Register.  After he had learned this trade, he worked as a journeyman on a number of Wisconsin papers, and finally became foreman of The Watertown Republican, for the duties of which position he received the ridiculously small sum of $3.50 per week.
This business did not present many inducements for an ambitious young man, and he became clerk in a hotel in Janesville, were he remained until the proprietor failed . . . He married Miss Francena Rowley of Delavan, Wis., who bore him three sons, the eldest of whom is George W., Jr.
Soon after his marriage, he purchased an interest in The Jefferson County Republican, and took charge of the mechanical department of the paper.  In 1863 he sold out his interest in the establishment and for a short time was a compositor on The Madison Journal.
He next enlisted in the Fourth Wisconsin cavalry, in which he served until 1866, one year after the close of the war.  Returning home, he established The Ripon Representative, on which he did the local and mechanical work. He retained his active connection with this paper until 1888, meantime having attracted some attention as a humorous writer, and "Brick" Pomeroy offered him a salary of forty dollars a week to go to New York and write for the Democrat.
This offer he accepted, and remained in New York City two and a half years.  Pomeroy then sent him to La Crosse to write for The La Crosse Democrat.  After two years the paper passed into the hands of John Symes and Mr. Peck, and was published by them until 1874, when Mr. Peck withdrew from it and established The La Crosse Sun, a weekly paper.
The venture did not prove very successful, and, after four years, he removed it to Milwaukee, where, by reason of Mr. Peck's peculiar humor, it became at once very popular, reaching, at one time, a weekly circulation of 80,000 copies, and proving very profitable.  This paper he published until elected governor.
Mr. Peck has generally affiliated with the Democracy, although he voted for Lincoln for president in 1864.  He was city treasurer of Ripon in 1867, chief of police of La Crosse in 1874 and chief clerk of the legislative assembly in 1875.  He served as assistant state treasury agent under Gov. Taylor for one year, and was chairman of the La Crosse Democratic city and county committee in 1880.  He was the Democratic nominee for mayor of Milwaukee in the spring of 1890, and was elected by the almost unprecedented majority of 6,500.
His surprising popularity in this election won him the Democratic nomination for governor in the fall of 1890, when he was elected by 28,330 plurality.  In 1892 he was renominated and re-elected by a plurality of 7,707.  He was again renominated in 1894, but was overwhelmingly defeated, as was his party throughout the north.  Since retiring from the gubernatorial office he has devoted himself to his private business.
In the literature of humor he has had few superiors.  His quaint conceits and forms of expression combined to render him one of the most original and assuming writers of the generation.  His genial manner and drollery have won him many friends and given him a personal popularity such as few attain.
"Peck's Bad Boy" was the fictional star of newspaper stories and books created by George W. Peck in the late 1800s.  Hennery (or Henry) Peck was a mischievous lad who loved to play sneaky pranks on others, especially his father, for the sheer pleasure of creating mayhem. The stories were a huge hit in their era, and the name "Peck's Bad Boy" became a popular term for any incorrigible rule-breaker. George Peck collected his stories into several books.
1861
02 08       HYATT HOUSE, JANESVILLE  /  George W. Peck
The Hyatt House, Janesville, under the management of Messrs. Pierce & Clapp, is well kept and doing a fine business.  The proprietors are untiring in their exertions to render their guests comfortable, in which efforts they are ably assisted by a company of courteous and obliging waiters.  The clerk of the establishment is our friend George W. Peck, who resided here for a while and is known to most of our citizens.  People from Watertown who have occasion to stop at a hotel in Janesville will consult their own interests by calling at the Hyatt House and placing themselves under the care of Peck.  We promise that he will do the handsome thing and see that while there they are well taken care of.  [The elegant Hyatt House was completed in 1857 and burnt down in January, 1867].    WR
1871
Peck, George W, 7/13/1871, misc, Watertown Democrat
1872
Peck, George W, 4/25/1872, misc, Watertown Democrat
1873
Peck, George W, 12/25/1873, "Our City Debt", Watertown Democrat
1915
10 14       WHEN BOSTON WAS SHOCKED
At 75, George W. Peck, author of the preposterous "Peck's Bad Boy," once governor of Wisconsin, is mellowed to a philosophic turn.  "After all," he tells an interviewer, "this is a good and kindly world.  Sometimes we are disappointed, sometimes some of those we befriended and helped forget us.  But the unpleasant things we should forget and, remembering only the kindly, helpful, beautiful things of life, peddle them around."  Not bad advice.  Considerably superior in propriety to much of the writing which made Peck famous. — Boston Record.     WG
Cross-References:
No 1: Charles Rounds, Wisconsin Authors and Their Works, 1918
No 2: Peck's Bad Boy at the Circus 

History of Watertown, Wisconsin