website  watertownhistory.org
    ebook  History of Watertown, Wisconsin
Keith "Ole" B. Olson
1931-2013
<![if !vml]>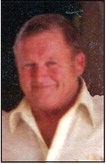 <![endif]>Keith "Ole" B. Olson of Watertown, age 82, passed away on Thursday, Oct. 31, 2013, at Marquardt Village.
He was born on April 28, 1931, in Postville, Iowa, the son of Emma (Mork) Imholte.
Ole was a proud Marine veteran of the Korean conflict.
He is survived by his wife of 53 years, Beverly; son, Brian; daughters, Tina, Debby (Ken), Dorothea, Denise (Blake) and Diana; grandchildren, great-grandchildren, other relatives and friends.
He was preceded in death by his mother and son, Keith.
A funeral service will be held at Schmutzler-Vick Funeral Home, Watertown, on Monday at 5:30 p.m. with visitation beginning at 2:30 p.m. Burial will be held at Oak Hill Cemetery at a later date. Online condolences may be left at www.svfuneralhome.com.
Schmutzler-Vick Funeral Home 500 Welsh Road Watertown

History of Watertown, Wisconsin