website  watertownhistory.org
    ebook  History of Watertown, Wisconsin
Nack's Market
621 E Main
Walter A. Nack
1881-1963
1915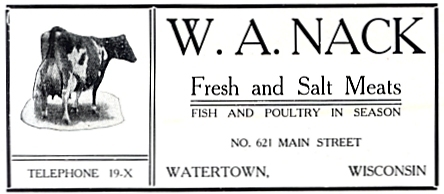 1915 ad
<![if !vml]>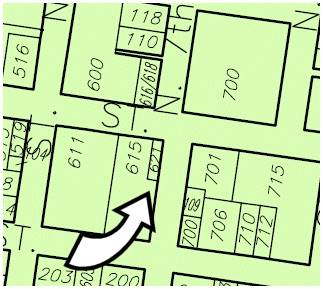 <![endif]>
1943
03 02     NACK'S MARKET TO CLOSE DUE TO WAR
Curtailment of supplies of meat forces move; Opened in 1911
Mayor Walter A. Nack, who in private life operates the Nack Meat Market at Main and South Seventh streets, announced that because of war-time restrictions and inability to obtain supplies of meat and meat products he is closing his place of business.  It was also reported today that several other meat markets here would be forced to close shortly.
Mr. Nack said that he has been unable to obtain only very limited supplies of meat and that with meat rationing about to start there was nothing to do but to reach a definite decision and that he had decided to close his market.  He has operated at the same location since 1911.
While his stock of meat and supplies has been about exhausted, he will nevertheless be at his shop for the balance of this week to close accounts and other matters pertaining to the business.
Asked if he planned to reopen his shop after the war, the mayor said that any such plan is indefinite.
Last year some government authorities in Washington estimated that one result of the war on the home front would be the closing of 300,000 small, independent businesses.  In many communities meat markets are already among the hardest hit.   WDT
1963
DIED MAR 1, 1963
Walter A. Nack, 82, of 504 South Eighth Street, three-time mayor of Watertown, died at St. Mary's Hospital following a brief illness.  Mr. Nack, who was born in Oconomowoc on Feb. 11, 1881 and who had lived in Watertown the past 57 years, owned and operated Nack's Market at Main and South Seventh Streets for 32 years prior to his retirement.  His parents were the late Mr. and Mrs. August Nack.  He was first elected mayor in 1940 and served until 1946.
Cross ReferenceS:
Buried in Oak Hill Cemetery:  Nack, Walter, b. Feb 11, 1881, d. Mar 1, 1963
The Walter Nack Home and
What Happened to One of the Seibel Ponies
Tale about the Seibel pony that was purchased by
local butcher Walter A. Nack for his children
The Nack's lived at 504 S. Eighth Street, across from the old Watertown Senior High School.
<![if !vml]>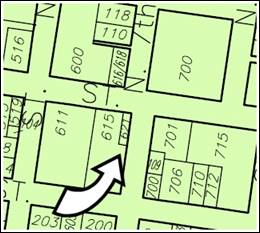 <![endif]>
Nack home at 504 S. Eighth Street
Just after the Seibel Bros. Dog and Pony Show broke up, Walter Nack purchased one of the trick ponies for his children, Tom and Eleanore. This particular pony's trick was its ability to walk upstairs.  Now knowing this, Tom had to see it in action.
So, one Sunday, just after services at the Advent Church on Eighth Street, where the family attended services regularly, Tom and his cousins Ray Goetsch and Milton Rabenhorst ran ahead to the Nack home and got the horse.  They somehow managed to get it inside and led it upstairs.  And, by golly, it did walk upstairs, much to the boys' delight.  However, when it came time to get the horse out, they found, to their horror, that while the horse could go upstairs, it had an inability to walk downstairs.
By the time Eleanore and her parents arrived, there was a crowd assembled in front of their home, and staring forlornly out of one of the bedroom windows was the horse!

History of Watertown, Wisconsin