website  watertownhistory.org
    ebook  History of Watertown, Wisconsin
Miscellaneous set
Curtain Club's production of "Pajama Game"
Watertown Daily Times, 03 01 1967
The male and female leaders in Curtain Club's production of "Pajama Game" are Reuben Feld and Mrs. Edward Smith.  In looks and talent they form a duo which is hard to surpass and is sure to be a delight to everyone seated at Turner Hall on March 4 and 5 at 8:15 p.m.  Mrs. Smith (Mary) is cast as Babe Williams, head of the union's grievance committee.  Babe is a loving person who feels intensely that the workers in her particular factory are victims of injustice, and that she must do everything in her power to rectify the situation, regardless of the consequences to her personal life.  By her dedication to this musical, Mrs. Smith has followed many of the precepts indicative to her stage character.  She has given unstintingly of her time and energy to meet an exceedingly demanding rehearsal schedule.  In addition, she has pleasantly helped other cast members whenever possible.
Watertown Daily Times, 04 12 1992
The location of the proposed Super 8 motel in Watertown has moved, although most people probably won't notice the change.  Mark D. Adrian, operating partner of Watertown Hospitality Inc., said his firm has purchased 3.3 acres of land from the R.J. Voigt Real Estate Agency.  This property, located at the corner of state Highway 26 and County Trunk Y, is directly south of the previous proposed location of the motel complex.  The Voigt property previously had a sign advertising a proposed American Budget Inn, but that motel will not be built now that the land has been sold.  "We didn't need two new motels at that location," Adrian said.  Adrian said the firm continues to hold an option to purchase the 3.95-acre parcel, currently owned by David Welbourne, and is looking for a potential development for the site, which is adjacent to the Super 8 property.
Watertown Daily Times, 04 11 1992
A day of special music, messages and activities is planned Sunday as members of Fellowship Baptist Church hold a dedication service and open house at the new facility.  The special day begins with Sunday school at 10 a.m., when gifts will be presented to children of all ages.  The morning worship service is planned at 11 a.m., with founding pastor, the Rev. Randy Jaeggli, as guest speaker.  The dedication service at 3 p.m. will include a message from the Rev. Paul Auckland of Sellersville, Pa.  Fellowship Baptist Church was formed in 1987 and has held worship services in an area town hall, the Elks Lodge and the Mason building.  Construction of the new facility began in August 1991, and the first service was held Jan. 26.  The church is located at 605 Welsh Road, north of the new Farm & Fleet store on the east side of Welsh Road.
Honor Roll in Municipal Building
Watertown Daily Times, 03 20 1967
Months of work spent in preparing Watertown's Honor Roll, listing the men and women who served in the nation's armed forces, will be climaxed here Monday evening in the municipal building when the name plates are placed in the automatic revolving display case where they will be on permanent view and record.  Members of the committee, representing the three major service organizations here, are: AMVETS — Al Stengel, Al Tobalske, John Kube. Legion — Ceilan Baker, Palmer Freres, Palmer Wickert. VFW — Gene Schlesner, Lowell Dubois, Lloyd Giese. Members of the special common council committee are Aldermen Phil Gerloff, Erich Nuernberg and Dan Grinwald.
Fuller's Music and Sewing Store
Watertown Gazette, 05 09 1890
One or the very finest pianos ever brought to Watertown is now on exhibit at S. B. Fuller's Music and Sewing machine house.  It is one of A. B. Chase's Cabinet Grand, Style 16, finished and highly polished in walnut, natural color.  The work throughout is a marvel of excellence, and for sweetness of tone, nothing like it has ever been heard here.  The price of it is $900, and the probabilities are it will become the property of a Watertown young lady.
Watertown Republican, 04 11 1903
A New Firm.  P. H. Knick and Fred Braunschweig have opened a photograph gallery at 305 Main Street, over Pohlmann's shoe store.  The firm will be known as Knick & Braunschweig.
Watertown Republican, 04 11 1903
The Straw residence property at the corner of Church and Emmet streets was sold at sheriff's sale last Saturday morning to John Thauer for $1906.  The property has a frontage on Church Street of 132 feet with a depth of 82 1/2 feet and contains a large brick house.  Deputy Sheriff Gus Struck sold the property.  To the sale price must be added taxes to the amount of about S200.
<![if !vml]>

<![endif]>
1899-1900 Watertown City Directory
<![if !vml]>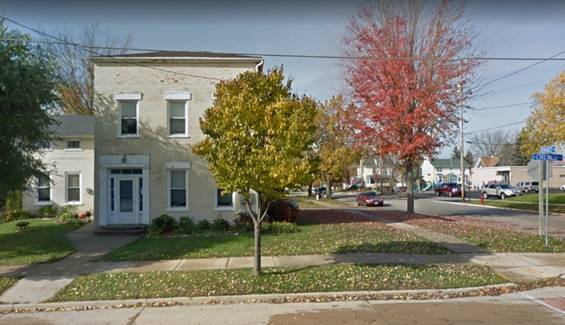 <![endif]>
Singer Sewing Machine Cos. branch agency
Watertown Republican, 05 09 1903
The Singer Sewing Machine Cos. has opened a branch agency in this city at 119 North Fourth Street.  W. F. Moenning of Sheboygan, has charge of the business and arrived on Tuesday evening with his household goods.  Mrs. Moenning and their two children arrived Thursday evening and have commenced housekeeping in the rear of their business place for the present.  Mr. Moenning is an experienced man in the machine business and is ready to show a full line of the first-class article.  He is also prepared to do all kinds of repairing in his line in a satisfactory manner and at reasonable prices.  Mr. Moenning will undoubtedly receive a generous patronage.
<![if !vml]>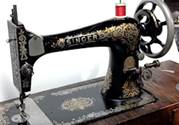 <![endif]>
411 South Third Street
Watertown Republican, 05 20 1903
TASTY IMPROVEMENTS.  What was an entire piece of wilderness for many years has been turned into a fine lot on [409 South] Third Street, bordering on the north side of Dr. F. Hoermann's residence [411 South Third].  It has been cultivated and cleared of all filth and has now numerous flowers beds with an oleander tree in the center.  This work is much appreciated and enhances the beauty and neatness of the city, as well as adding financially to the value of the property, which is owned by Wm. A. Buerhaus, one of our prosperous dry goods merchants.
<![if !vml]>

<![endif]>
1899-1900 Watertown City Directory
Watertown Republican, 05 20 1904
Ernst Engelman has opened a shop at 211 North Third Street, for the purpose of grinding and filing tools of all kinds.  Mr. Engelman is an experienced man in this line of work.
Watertown Daily Times, 07 02 2006
Marilyn Moran has enjoyed working with the elderly population since 1962.  She has been with Beverly Terrace for the past 26 years.  Recently, Beverly Terrace celebrated her retirement with an afternoon party of appreciation.  Moran joined Beverly Terrace in 1980 as an activity assistant.  A native of Michigan, Moran moved to Watertown in 1956 after marrying her husband, Al Moran.  She became the director of the Funster Club for the city of Watertown and held this position for 18 years.  The Funster group grew from 25 members to over 175 during her directorship.  During that time she drove for FISH and Meals on Wheels as well.
Christmas 1891
Watertown Gazette, 01 02 1891
The observance of Christmas day in Watertown did not differ materially from similar occasions, although the merriness of the day was somewhat lessened by Mother Earth being entirely free of snow, which usually adds to a merry Christmas in this portion of the world.  Offices, stores, and in fact all places of business were closed, and at the churches the customary Christmas services were rendered, each vying with the other in celebrating the great festival in a truly Christian spirit. . . .
She's a Swindler
Watertown Gazette, 10 31 1898
A few days since a strange lady visited our city and disposed of a recipe for $5.00 to several ladies here, claiming that the mixture prepared from the recipe was excellent for curling and coloring feathers.  On submitting the recipe to druggists, it was found that such a mixture would produce a terrible explosion and would burn feathers or anything else placed in it.  She's a swindler:  look out for her.
Watertown Daily Times, 07 02 2006
The saga of how a cargo barge was turned into a river belle begins with a man who has a feel for history, is mechanically inclined, and likes to putz with boats.  The story has a happy ending with three men enjoying a cruise down the river in the new Rock River Queen, a barge-turned-paddle wheeler.  Although the boat is owned by Hank Rabbach and Bill Loeb of Watertown, the paddle wheeler is actually a community commodity.  Rabbach, official skipper of the former barge, said, "Everybody for 10 miles around donated stuff for this boat."
The Hotels of this City
Watertown Gazette, 12 05 1890
The article in last Sunday's Milwaukee Sentinel reflecting on the hotels of this city by one N. Friedmann, was entirely uncalled for.  We have sifted the matter here and find that his credence consists solely of losing three friendly games of "freeze out" that he indulged in with a party of four others, he being the loser to the extent of 75 cents.  The game was played merely for amusement and not for money.  If this is a case of "fleecing" we fail to see it.
Thanksgiving 1890
Watertown Republican, 12 03 1890
A beautiful day was given us for the enjoyment of Thanksgiving, the atmosphere being clear and bright, with just sufficient crispiness for outdoor pleasure.  The church services were well attended and most of the business places were closed for the afternoon and evening.
The union services at the M. E. church were appropriate to a proper observance of the day.  The sermon by Rev. J. M. Campbell on "Social wrongs and how to right them," was timely in its character and set forth many matters well worth heeding in this day and generation.
Turkey Thief
Watertown Gazette, 12 19 1890
For some weeks past a turkey thief has been enriching himself by raiding at night time the turkey roosts of farmers residing west of this city.  He'll receive several ounces of cold lead some night if caught at his work.
Watertown Daily Times, 12 14 1967
Harley Lehmann, 912 Garfield Street, has taken over the operation of the former Tastee-Freez Restaurant located at 769 North Church Street, across from the Bowl-A-Fun.  Mr. Lehmann has changed the name of the restaurant to the Bluebird Cafe.  Breakfasts, lunches, dinners, as well as pizzas will fee served.  Lehmann said he will also feature carryout service.
Watertown Republican, 12 21 1890
Wednesday forenoon last Alanson Boomer's horse and buggy were stolen while hitched in front of Raue's store on Main Street.  Marshal Kerr being notified, he at once telephoned to different points describing the property.  Word was soon received from Fort Atkinson, that a horse and carriage answering the description given had been offered for sale there at a very low figure, and the person in charge of the property was taken to the lockup on suspicion of having stolen them.  Marshal Kerr went down to Fort Atkinson and identified the horse and carriage as belonging to Mr. Boomer.  The young man who offered them for sale was recognized as one Patrick Dunn, of Chicago, who has a habit of hanging around here three or four times a year.  He was brought before Justice Stacy Thursday morning for examination.  In default of $300 bail he was committed to Jefferson jail to await trial in the circuit court on the charge of horse stealing...
Watertown Republican, 12 24 1890
The date of the farmers' institute to be held in this city is January 22 and 23.  The farmers of this section should not fail to improve the opportunity which this meeting will offer them to gather knowledge from the experience of others.  It should be remembered that every worker in the institute force is a practical and successful farmer, whose prosperity is a result of his perseverance and the pursuit of the best-known methods.  The experiences of such men are valuable and worthy of consideration; besides it costs the farmers who listen to it nothing.  Better still, all subjects are open to discussion, and any point not made clear by the speakers can be brought up to the fullest satisfaction of all . Let there be a full attendance.
Watertown Republican, 12 19 1890
By far the most attractive window show ever arranged in Watertown, can be seen at Schiffler & Quentmeyer's.  In the window are a large eagle, a hawk, several grouse and rabbits, all tastefully arranged amid a winter scene of snow and shrubbery.  Don't fail to notice it.
Watertown Gazette, 12 26 1890
An exchange, referring to fitting Bull's death, says he was a ''bad Indian."  Did our esteemed contemporary ever hear of any other kind?  The only good Indian ever heard of in this glorious country is one that has passed to the happy hunting grounds. — (Waukesha Journal)
What's the matter with the Indian who fired the fatal bullet into Sitting Bull's body?
In the show window of Chas. F. Zautner's saloon and restaurant may be seen a couple of large tobacco pipes formerly owned by Sitting Bull, his knife pouch, and his ammunition bag, besides two arrows picked from the Custer battlefield, and photographs of all the Indian chiefs who took part in that battle, as well as a photograph of the scout, the only living survivor of Custer's force.  These articles were presented to Mr. Zautner- by Chas. Halligher, until recently a member of the U.S. army stationed on the frontier.
Bees
Watertown Gazette, 12 26 1890
A curious story comes from Darien about a swarm of bees that made their home between the ceiling and the floor of Fred Johnson's dwelling.  Last summer they became annoying, and when cold weather came on Johnson decided to remove them.  Taking up the floor he found three large swarms snugly domiciled for the winter, and 300 pounds of honey.
Watertown Daily Times, 06 27 1968
The Golden Touch Beauty Salon, a new business in Watertown located at 601 North Fourth Street, will hold an open house on Sunday, June 30 from 1 to 5 p.m.  A former gas station, the Golden Touch Salon was completely remodeled both inside and outside by its owners, Mr. and Mrs. Curtis Buss.  The interior is completely paneled, partly carpeted and is air conditioned.  There are six beautician chairs, six dryers, a waiting room and wig room.
Watertown Republican, 04 05 1905
Will Close Out Business. The farm implement business conducted by Gates and Carroll on North Water Street is for sale at a bargain. The building will be rented to the purchaser if he wishes to continue in that line. This is a fine chance for some enterprising man. Gates and Carroll.
Watertown Daily Times, 07 25 1968
For weeks there have been reports in circulation here of a new restaurant and dining complex to be located in Main Street and while no one reportedly connected with the deal involved would talk about it directly, the Daily Times has learned that the new facility is to be located on the site of the former A. D. Platz home at 715 Main Street and the two properties to the east, that of Miss Leona Lewandowski and the building on the corner at Main and South Eighth Streets.  The site is directly opposite the former recreation building block in Main Street.  Plans for the new dining place are now before the State Industrial Commission and are expected to be approved within a matter of a few weeks after which a building permit will be applied for. There still is one liquor license available here so that could be applied for also.
Watertown Daily Times, 07 31 1993
What began as a seemingly simple request to purchase a grave site may have started a task in preserving the history of the first residents of the township.  When Ixonia resident Ken Buss requested to purchase a spot next to his mother's lot in the Pipersville cemetery, the town found itself questioning what its procedure was concerning the sale of burial lots.  There were questions such as, "Does the town sell lots or is the cemetery closed?"  "How much?" and "Which lots are occupied and which are unoccupied?"  The latter question has proved to be one of the more intriguing for Ixonia supervisor Wayne Winter, who even sought the help of a UW researcher. Al Divine, a computer graphic designer at the Wisconsin Center for Education Research at the School of Education, pursued a three-week research of the cemetery recently.
2013 Parade of Homes / 1333 Livsey Place
The spacious and light-filled home reminiscent of an early English storybook cottage of Mark and Lisa Sweet, 1333 Livsey Place, will be one of five homes open for viewing Sunday as part of the 20th annual Holiday Parade of Homes.
Sponsored by the Watertown Main Street Program, the event will be held from 1-5 p.m. Proceeds from the tour will be divided between the Main Street Program for downtown beautification projects and the Alpha Life Resource Center, which offers free and confidential services that include pregnancy testing, counseling and parenting resources, as well as infant, child and maternity clothing and supplies. The center also offers referrals for educational, professional and/or medical help, housing and financial assistance. It operates solely on donations and fundraising efforts.
Built in 1922 for Dr. Theodore C. Abelmann, the Sweets are the fifth owners of the Tudor Revival style home. Since purchasing the house in 1989, they have updated their house to reflect the needs of a modern-day family while maintaining the unique character of the historic home. Among the most striking feature of the Sweets' house is the cedar shingle roof which was designed to resemble a cottage-style thatched roof with each shingle being individually cut to curve or "wave" where the shingles terminate along dormer windows and at the bottom of the roof line.
An open staircase, an original fireplace, an abundance of multi-paned windows and a unique wooden "spandrel" at the top of the staircase all add to the historic charm of the Sweets' home.
At Christmastime, many rooms in the Sweets' house are decorated with their own theme. Although the majority of their decorating style is traditional, one room in the home will sport a baseball theme with a Milwaukee Brewers tree along with family and local baseball memorabilia. Another room will be decorated in a military theme to honor the Sweets' son, Spencer, a Marine serving his third deployment to Afghanistan. The Sweets will have a collection box at their home for anyone interested in donating items to servicemen and servicewomen overseas. Items to be donated could include toiletries such as lip balm, shaving cream, deodorant, razor blades and foot powder, and food items such as granola bars, candy, nuts and dried fruit. Magazines will also be collected.
2013 Parade of Homes / 740 W. Main
The historic Victorian-style Watertown brick home of Chris Heins and family, 740 W. Main St., will be one of five houses featured on the 20th annual Holiday Parade of Homes on Sunday, Dec. 1.
Sponsored by the Watertown Main Street Program, the event will be held from 1-5 p.m. Proceeds from the tour will be divided between the Main Street Program for downtown beautification projects and the Alpha Life Resource Center, which offers free and confidential services that include pregnancy testing, counseling and parenting resources, as well as infant, child and maternity clothing and supplies. The center also offers referrals for educational, professional and/or medical help, housing and financial assistance. It operates solely on donations and fundraising efforts.
Built in 1867, the Heins family's stately and well-preserved residence retains many elements from the time of its construction including ornate metal cresting along the roof line of the original front porch and bay window, a heavily carved front door with original bell and a cast iron fireplace surround. Although the original ceiling light fixtures were long gone by the time the Heins family purchased the home in 1987, they have since been replaced by period-appropriate fixtures that date from the late 1800s.
All of the furniture in the Heins home is antique and includes parlor tables, velvet-covered chairs and settees, an heirloom walnut dining room table and chair set, a solid walnut étagère, a marble-top sideboard, an Eastlake-style cylinder secretary, and many framed prints and paintings.
Also on display in the Heins home are a number of antique and vintage collections that include Victorian cranberry glass, an extensive number or framed silhouettes, beaded purses, quilts, small jewel caskets, rug beaters, porcelain and cast iron tea trivets, and match strikes. A unique collection of Victorian hair art — where strands of a deceased loved one's hair is woven into wreathlike and floral shapes and preserved under glass as a memorial — also can be found within the home.
At Christmastime, the decorations within the Heins home reflect the family's passion for history and antiques. Doorways will be festooned with garland, and a grand Christmas tree takes center stage in the bay window of the dining room.
2013 Parade of Homes / 1010 Charles St
The 1950s era home of Mary-Sue "Susie" Mariani, 1010 Charles St., features an updated interior which has been painted and decorated in shades designed to appeal to the feminine senses. This cozy and well-kept home will be one of five houses showcased on Dec. 1 as part of the 20th annual Holiday Parade of Homes.
Sponsored by the Watertown Main Street Program, the event will be held from 1 to 5 p.m. Proceeds from the tour will be divided between the Main Street Program for downtown beautification projects and the Alpha Life Resource Center, which offers free and confidential services that include pregnancy testing, counseling and parenting resources, as well as infant, child and maternity clothing and supplies. The center also offers referrals for educational, professional and/ or medical help, housing and financial assistance. It operates solely on donations and fund raising efforts.
Built-in bookcases and many pieces of heirloom furnishings grace the interior of Mariani's home. An antique smoking stand and fan chair can be found in the home office, an antique end table and chest of drawers accent a bedroom and in the sunroom rests a large traveling trunk used by Mariani's grandparents when they immigrated to America from Europe. Among Mariani's most prized heirloom pieces is a picture of her father taken when he was 5 years old in 1919 that still retains its original oval brass frame with beveled glass.
Four six-foot tall Christmas trees take center stage in Mariani's home during the Christmas holiday. The tree located in the sun room is decorated with white lights and red and brass ornaments. The trees located in each bedroom accent the rooms' décor and the tree located in the home office contains multi-colored lights, vintage icicles and a variety of ornaments from around the world. Several of the ornaments are more than 70 years old.
Two lighted Christmas villages will be on display in the living room. Each miniature house and building was purchased by Mariani in remembrance of a particular home, downtown building or store located in Watertown, Milwaukee or Waukesha where she grew up. Mariani also recently redecorated her large laundry/utility room which will be dressed for the holidays in a Snowman theme.
Watertown Republican, 11 22 1905
Wednesday night, Mr. and Mrs. Nels. Hanson came very near the boundary line which divides time and eternity.  During the night coal gas escaped from a stove the cover on which was not tightly closed and when discovered they were both unconscious, and it was several hours before they were restored by Dr. J. E. Simpson who was summoned.  It was very fortunate for the couple that a messenger was sent to the house for Mr. Hanson by the party who employs him, who made the discovery and summoned help.  Their many friends in the city rejoice over their escape from death.
Watertown Daily Times, 08 16 1968
Arnold (Curley) Aufdermauer, who for the past 38 years has operated Curley's Service Station at 400 West Main Street, has gone out of business.  The last of his equipment was moved out yesterday.  He declined the invitation to lease the new and greatly enlarged Citgo station which soon will open at the same location.  Two homes north of the station were acquired by Cities Service Oil Company to provide the site for the enlarged station.
Watertown Daily Times, 08 25 1993
When the Carson & Barnes Circus pulls in to town on Sunday, its arrival will bring back many memories for Watertown resident Elton "Tubby" Reinhard.  Back in the old days, before he became a professional wrestler, he was hired by circuses to put body slams on any member of the audience who had the nerve to challenge him.  He went on to become the middleweight wrestling champion of the Midwest, and almost middleweight champion of the world.  He lost a tough match, making him second in the world, but not by much.  "He knew he was in a good fight," recalled Reinhard with a smile.  He enlisted in the service in World War II which marked the end of his professional wrestling career.
Watertown Daily Times, 06 22 2008
Habitat for Humanity of Jefferson County is planning a new home in Watertown.  The location of the new home will be announced after funding is arranged and permits issued.  Funding for the Watertown project will come from donations, and a grant which Executive Director of Jefferson County Habitat for Humanity Lauren Cravens is optimistic will be received.  Cravens said raising funds can sometimes be a challenge.  "We don't receive any money from Habitat for Humanity International, and we can only apply for donations to businesses in Jefferson County," Cravens said.  "Our homes cost about $100,000 to build, and we rely on grants and donations. Sometimes it gets hard to keep up, which is why we applied for the grant to build in Watertown."
River's Edge Espresso and Cafe
Watertown Daily Times, 10 19 2008
The River's Edge Espresso and Cafe in Watertown will open Friday and will offer a variety of foods and drinks for breakfast, lunch and dinner.  The cafe is an addition to The River's Edge restaurant owned by Chuck Wendt of Watertown.  A few years ago the space was used as Riverside Creations salon.  When that business moved out Wendt used it as a game room for the restaurant and banquet hall.  The idea of a cafe came up and he has made a number of changes to offer a new environment for those seeking a drink and meal in Watertown.
Watertown Republican, 02 06 1900
Clothes-line thieves are abroad in the city, Ernst Briesemeister on North Fourth Street being visited Friday night and the laundry hanging in the yard stolen.
Watertown Gazette, 11 21 1890
Last Saturday evening a brick was thrown into the front window of John Beisner's barber shop on the Fourth Street.  The glass was shattered in thousands of pieces, and by the scare produced Mr. Beisner narrowly escaped cutting the throat of a man he was shaving.  A demented female, giving her name as Mary Etta Sweeney, was locked up on suspicion of throwing the brick, and on Tuesday was turned over to sheriff Hibbard, who has probably by this time placed her in the Mendota Insane Asylum, from which she was discharged a few weeks ago.
Fleeced Playing Poker
Watertown Republican, 12 03 1890
One N. Friedman, claiming to be a traveling man, complains in the last Sunday Milwaukee Sentinel, of a hotel in this city where people are "fleeced playing poker," and says that traveling men aught to be put on their guard.  There being several hotels in this city, and only one charged with this offense, in justice to the others, Mr. Friedmen should have been more specific in his statement.  Mr. Friedman also states that "people will do well to see that front doors are kept locked, several places have entered by sneak thieves lately, and over-coats and other articles stolen."  Whether this refers to hotels or private houses does not seem clear.  In either case, we believe it is either a mistake or overdrawn, and no such general pilfering has been reported among us.
Hon. H. A. Cooper
Watertown Republican, 10 29 1890
There was a rousing Republican meeting last evening at Concordia Opera house addressed by Hon. H. A. Cooper, the next congressman from this district.  It was Mr. Cooper's first appearance before a Watertown audience and he created a most favorable impression, by his eloquence and keen logic.  As a whole the meeting was a fine success and will bear fruit next Tuesday.
The gallery gods must still smart under the well-directed and caustic rebuke administered to them by Mr. Cooper.  His considerate yet cutting manner in dealing with the disturbers had a very soothing effect on them.
To Hon. H. A. Cooper, Republican candidate for congressman this district, Wisconsin is indebted for the Cooper election law, so generally accepted by the men of all parties as a fair, wise and patriotic measure.
Why is it that in Watertown the gallery hoodlum and disturber is only heard at a Republican meeting?  Is there anything special about a Republican meeting that causes a propagation of the nuisance — a nuisance it must be, not only to himself but to everybody around him.  He seems to be gotten up for particular occasions, and these occasions are invariably when Republicans can be annoyed.  It is no credit to our city that such things occur as were witnessed at Concordia Opera house last evening.
Lad Almost Killed
Watertown Gazette, 10 24 1890
M. Buck's team ran away last Saturday, starting from Second Street, up Main to Brandt and & Abele's store, when it was brought to a stand still, running onto the sidewalk and striking against the electric light pole.  During the flight of the team a twelve-year-old boy of Mr. Buck came near being killed.  He was thrown out in front of the wagon, being tangled in a blanket, and dragged along until the team stopped.  His escaped from death, is to say the least, miraculous.  He suffered but slight injuries.
Watertown Gazette, 02 14 1890
An agent was in the city this week canvassing for a book on how to refresh the memory.  He called on Ed. Goeldner for the purpose of trying to sell him one, but Ed. informed him that his memory was all right, but recommended him to call on the 5th ward gentleman who borrowed $10 of him a year ago, promising to hand it to him next day, but has since forgotten all about it.  Ed. thinks if this agent succeeds in selling the fellow one of those books that he will get his $10 back.  How would it do Ed. for you to buy one of them and present it to him with your compliments?
Winter of 1890
Watertown Gazette, 02 14 1890
We have now the first sleighing of the winter, about four inches of snow having fallen last Wednesday.
Watertown Gazette, 02 14 1890
A Martin artificial stone sidewalk, made of Portland cement, has been placed in front of the Sprague homestead on Second Street by Chas. C. Sprague, who has gone into the manufacturing of that class of walks.  It is the first ever laid in Watertown, and looks very pretty and substantial.  The walk is guaranteed to last for 20 years.  Quite a number of Watertown people have contracted with Mr. Sprague for sidewalks of this kind to by laid the present season.  [may be cement brick/blocks]
Watertown Republican, 04 09 1890
Charles C. Sprague has just finished laying in front of his home on Second Street, one of the Martin artificial sidewalks [decorative bricks], the first of its kind in the city.  It is not only a handsome walk, but evidently possesses everlasting qualities.  Several are contemplating putting down these walks and they are doubtless destined to come into general use on account of their substantiabillty as well as ornamental appearance.  The stone are manufactured at the Sprague brick yard.
Merchant's Retail Commercial Agency
Watertown Republican, 02 19 1890
Thirty-one of the retail merchants of Watertown met at the Concordia Opera House Wednesday evening and listened to an address by M. L. Jordan, of the Merchant's Retail Commercial Agency, Chicago, IL.  The system in use by this agency has for its purpose to protect the retail merchants.  The legality and practicability results of this system were fully explained.  After consideration a motion was made that those present proceed to organize the Watertown branch of such an agency. The motion prevailed by a unanimous vote, and officers were duly elected . . .
River's Edge Espresso and Cafe
Watertown Daily Times, 10 19 2008
The River's Edge Espresso and Cafe in Watertown will open Friday and will offer a variety of foods and drinks for breakfast, lunch and dinner.  The cafe is an addition to The River's Edge restaurant owned by Chuck Wendt of Watertown.  A few years ago the space was used as Riverside Creations salon.  When that business moved out Wendt used it as a game room for the restaurant and banquet hall.  The idea of a cafe came up and he has made a number of changes to offer a new environment for those seeking a drink and meal in Watertown.
Winter Wheat Harvest
Watertown Republican, 07 16 1890
The winter wheat harvest is well under way in this section and the crop is fully up to the average in both quality and quantity.  It is feared that the barley will be somewhat injured with rust, owing to the hot weather, with a probable yield smaller than last yearis.  Spring wheat does not promise very well, being badly effected by the extreme hot weather.  There is a heavy crop of hay in these parts.
Pete Berres,
Berres Brothers Coffee Roasters
Watertown Daily Times, 12 12 2008
Pete Berres, owner of Berres Brothers Coffee Roasters in Watertown, recently completed training to prepare him for a nine month deployment with fellow Iraqi combat advisers.  Recently he deployed with his team to serve in the United States Army as part of Operation Iraqi Freedom in support of the global war on terrorism.  Berres is a major with the 104th Division based out of Vancouver, Wash.  He and the rest of his 15-man team mobilized to Fort Riley, Kan., in August and deployed to Iraq in November.  Military officials never confirm where specific units will be stationed as a force protection measure and due to constant changes in combat needs.
Watertown Daily Times, 11 08 1968
Lester Lange, who operates the A & W Root Beer stand in River Drive, is making a new attempt for property rezoning so he can expand his present business.  He has filed such an application with the city and this time has the support of property owners in the areas.  Mr. Lange's previous attempts to have the property rezoned failed to win approval because of opposition from some residents in the vicinity of the business.
Horses with Glanders
Watertown Gazette, 12 20 1889
It is claimed that four horses owned by Ed. Lyman, of the town of Watertown, are affected with the glanders.  On Tuesday he had two of his horses in the city, and Dr. Klein examined them and stated that it was his opinion that one of the horses had that disease and the other every symptom of it.  The state veterinarian has been notified of the cases and is expected here next week to give it his attention.
Velocipede
Watertown Gazette, 12 13 1889
Jule Schemmel has placed his ice-bicycle patent on the market for sale and the indications now are that he will receive a handsome sum for it.  The Adam Co., patent agents, of Muncie, Indiana, are corresponding with several parties about the patent, and they will undoubtedly dispose of it for Mr. Schemmel.
Relates to a class of velocipedes / Julius Schemmel, Chippewa Falls, WI / US381956 – Velocipede, https://www.google.com/patents/US381956
<![if !vml]>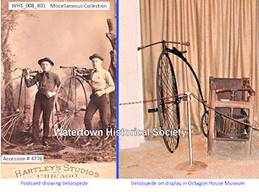 <![endif]>
Watertown Gazette, 12 13 1889
Dr. Valerius & Co. of this city have just received an order for a lot of horses for the Government of the West Indies.  The order was obtained through their government veterinarian, who was a classmate of Dr. Valerius at the veterinary College.  The horses are to be shipped not later than February in care of Messrs. Outerbridge & Co., New York, and billed to Barbados.
Watertown News, 10 02 1918
Local barbers are contemplating a raise in the price of haircuts on Saturday.  They will get the consensus of opinion among themselves and will probably boost the price on Saturday to 50 cents.  They believe that by so doing hair cutting on Saturday will be lessened and more done during the other days of the week, so that Saturday waiting will be lessened considerably.  They are also planning to charge 5 cents for a neck shave.
Watertown Republican, 10 08 1890
Dame Rumor has it that in the no distance future a rare treat will be given the people of Watertown by the Young Ladies' Club of the West side, or better known as the "Sweet Sixteen Club" of this city.  She claims it will consist of a musical and literary program similar to the one rendered by them in Oconomowoc, on August 7th.  We hope Dame Rumor is correct this time, as she generally is, and we will wait patiently for their first appearance in this city.
The Winter of 1890
Watertown Republican, 01 15 1890
Sunday was another of those wet, drizzling sort of days, a true type of the prevailing kind of weather we have this winter.  Sunday night, however, a change came of a colder temperature with considerable of a snowfall and this more wintry condition of things has continued, making everyone feel better in mind and body. 
It seems the only thing lacking to cause people to feel supremely happy these times is a falling thermometer and the lower it would get below zero the better it is that the average human would be satisfied.
The river has a coating of ice upon its bed, very thin as yet, to be sure, but enough to indicate a degree of thickness someday to insure a crop of ice for the coming summer. 
The colder weather has had a salutary effect on sickness, most of those ailing feeling much better with the change in the atmosphere, and let us hope that we have seen the worst of the influenza, grippe and other kinds of sickness incidental to this remarkable winter.
(Note:   Other articles tell of farmers still plowing the second week in Jan.)
Heavy Rainstorm
07 2 1903
The heaviest rainstorm that has ever taken place hereabouts set in shortly after noon last Friday and continued for about seven hours, three and three-quarters inches of rain having fallen during that time.  A heavy wind accompanied the rain, which damaged shade and fruit trees considerably and the grain was badly lodged.  Many cellars were flooded and several country roads had culverts rendered impassable for a time.  The mail carrier on route No. 2 started out Saturday morning but had to return to the city owing to several culverts being washed out.  Shortly afterwards he traversed a return road and delivered part of the mail.  During the storm a large portion of the stone wall on the south side of the McMahon residence property, corner Main and Third streets, gave way, carrying with it a large amount of earth.
Watertown Daily Times, 07 12 1968
Tom Sheehan, vice president and loan officer of the Watertown Savings and Loan Association, will be in charge of the Whitewater branch of the Watertown Savings and Loan Association if the association's application to establish a branch office there is granted, it is announced by Paul Kehrer, president and general manager.  The local association operates a branch office at Beaver Dam, which was established Sept. 1, 1966.  The application for the Whitewater branch was filed July 10 with the Wisconsin Savings and Loan Commission at Madison.
05 26 1909
Wednesday morning at about 8:40 o'clock, a perceptible tremor of the earth was felt in the eastern part of the city.  One good lady was so agitated by the tremor, that she danced a jig singing in the meantime a good old hymn to quite her fears.  At another home, the piano was so effected, that sacred music was played for a few seconds by invisible hands.  At another home, the dishes in the pantry traveled around on the shelves, much to the consternation of the good housewife, who thought that the end of mundane affairs was approaching.  At another home, a lady was engaged in doing the family washing and found it quite difficult to keep out of the tub of water.  We had a "quake'' all right, but luckily no damage was done and no one "scart'' to death.  The Watertown News, 28 May 1909.
Cross reference notes:  A significant earthquakes centered near Aurora, Illinois, on May 26, 1909, was noticed in Wisconsin.  Pendulum clocks in Madison stopped because of the tremors.  The great San Francisco earthquake occurred in 1906.
Washington Street Home Improvements
Watertown Gazette, 06 20 1890
The people living on Washington Street, 3d ward, are evidently bent on making their premises show off with good effect, as several of the many fine residences on that street have recently been greatly improved by being artistically painted and decorated.  Among those who have been receiving the painters' attention are the residences of Chas. E. Parks, F. B. Tuttle, G. B. Lewis and Michael Hachckett.
Watertown Republican, 07 09 1890
A very sad accident occurred on the Monaghan farm, east part of the town of Watertown, last Saturday.  Thomas Monaghan was engaged in stacking hay, when he slipped from the stack, and in his descent striking a pitch-fork he became impacted on the handle, which penetrated to the bladder, tearing and lacerating the intestines.  Services of Dr. J. E. Masterson were procured, and everything done that medical skill could suggest, but all without avail, the unfortunate man lingering until 5 o'clock Monday evening, when death ended his sufferings.  Mr. Monaghan was about 40 years of age, and a bachelor.  Quiet, pleasant and retiring in his ways he was a favorite with all who knew him.  His funeral was held yesterday afternoon from St. Bernard's church.
John's 66 Station
Watertown Daily Times, 06 19 2008
In 1959 Clyman Oil Company, Inc., opened up a shop in Watertown at 800 E. Main St. called John's 66 Station.  It was a full-service filling station and auto service shop.  It changed names almost every year until 1972 when it became Clyman Oil Service.  Dean Elske, who is semi-retired now, became the manager of the service station that year.  He also acquired a small-engine and auto repair business from Justin Neuman.  Neuman had worked on lawn mowers, snowblowers and cars in his garage until his health caused him to give it up.  Elske moved his equipment to the Main Street shop and made it a part of the filling station.  In 1986 Elske made the decision to turn off the pumps and focus on service and sales.  This allowed him to keep his full-time employees.
Facebook postings, 02 15 2019
<![if !vml]>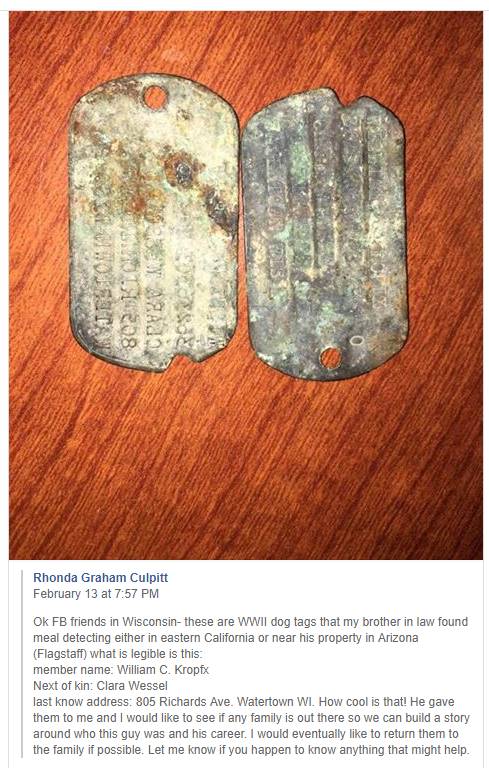 <![endif]>
REPLY:
Along with the hope that someone related will see and act upon, the following additional information is offered.
William C. Kropf is listed in the 1945 Watertown City Directory as:
Kropf, Wm. C., USA, 805 Richards Ave.
At the SAME ADDRESS in the same directory I find the following (2):
Kropf, Theo A, emp CMStP&P RR
Wessel, Arnold G (Clara), fire chief
________________
The following is the obit for William:
William C. Kropf, 86, a resident of Lutheran Home for the Aging in Wauwatosa and formerly of Watertown, died at the home on Saturday, Sept. 30, 1995.
Funeral services will be held Wednesday at 3 p.m. at the Lutheran home, 7500 W. North Ave. Private burial will be in Pinelawn Memorial Park.
Visitation is at the home Wednesday from 2 p.m. until the time of the service.
Kropf was born Dec. 28, 1908 in Watertown, son of William and Bertha Kropf. He married the former Mary Kelly in 1948 and she preceded him in death. He was drafted into the United States Army Feb. 28, 1942 and served for three years. He was a retiree of the Chicago Northwestern Railroad and a member of Immanuel Lutheran Church and the Brotherhood of Maintenance Way.
Survivors include a sister, Clara Wessel; a niece and nephew, Jean Kropf and Kenneth Kropf, both of Watertown; and a number of other relatives and friends.
He was further preceded in death by three brothers, Arthur, Walter and Theodore; and a sister, Adela Riebe.
_________________
Ken Riedl, Watertown Historical Society, Watertown, WI
<![if !vml]>

<![endif]>
Heidi Adams Jagler Kerry Kropf
<![if !vml]>

<![endif]>
Nancy Klinger Thanks for sharing this Ken.
<![if !vml]>

<![endif]>
Barbara Schmidt Ken kropf ran state farm insurannce on the corner of 1st and main....office moved now. On south church under kevin mitchell. .Ken's daughter still works there...holly kropf Kuehl ... She answers the phone...good luck....
<![if !vml]>
<![endif]>
Mari Kabat Theo (son?) is deceased. That would leave Jean and Kenneth Kropf.
<![if !vml]>
<![endif]>
Mari Kabat Jean and Kenneth are deceased with Jean being listed as the last of her family. Cousin Shirley Platz has a facebook account. address listed as Milwaukee.
<![if !vml]>

<![endif]>
Margie Quinn Walsh Emily Walsh Perkins .. are you following this?
<![if !vml]>

<![endif]>
Karla Kwapil Holly Kropf Kuehl
<![if !vml]>

<![endif]>
Rebekah Lynne K Malissa
<![if !vml]>
<![endif]>
Amy Martin My stepmom is related to Clara/Klara Wessel
<![if !vml]>

<![endif]>
Holly Kropf Kuehl Thank you all for responding the dog tags are with a family member and are being returned to me.
<![if !vml]>

<![endif]>
Julie Kelly I just started researching this but it's already been solved. :) takes all the fun away! I was curious because there was a Clara Wessel in my family, I knew it wasn't the same one because Wessel was her maiden name and our families never lived in Jefferson County. Just a coincidence.
UPDATE; A HAPPY & MOST FITTING ENDING
Our Society was instrumental in helping to find a family member in Watertown to whom these dog tags will be given.

History of Watertown, Wisconsin