website  watertownhistory.org
    ebook  History of Watertown, Wisconsin
Maxwell Street Day(s)
1960
07 20       FIRST MAXWELL STREET DAY SALES EVENT
Watertown's first Maxwell Street Day sprang into being early this morning under fair skies and the weather so comfortable that everyone who had any fears about what conditions it would be held under promptly dismissed them, for the day was perfect weather-wise.  The Weather Man certainly cooperated with the committee from the Watertown Chamber of Commerce which sponsored the event.  Even before 9 a.m., the starting time, when business men were still lining up their outdoor displays of merchandise and some were stringing pennants and banners, the crowds began to form and the people kept coming.  By mid-forenoon the crowds that jammed the downtown area had grown in proportion and at times it was difficult to push one's way along the sidewalks.   WDT
Back on the first Maxwell Street Day sale, it was only a one-day event.  Stores were open on that midweek day from 9 a.m. to 9 p.m.  The sidewalks were packed with store displays and it was simply a mob of people winding their way through the streets, all seeking those special bargains.
In addition to all the retailers offering special deals, there were a lot of civic and church groups who were offering all kinds of food and drink to keep the shoppers well nourished.
When Maxwell Street was first conceived, Watertown had more retailers located downtown.
1966
07 27       MAXWELL STREET DAY BRINGS SHOPPERS TO MAIN STREET
<![if !vml]>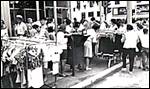 <![endif]>  
S.E. corner of Third and East Main streets (301).  Location of Kline's Dept Store
c.1968
MOB OF PEOPLE WINDING THEIR WAY ALONG MAIN STREET
<![if !vml]>

<![endif]>     uncertain date
1970
07 29       MAXWELL STREET DAY, 1970
<![if !vml]>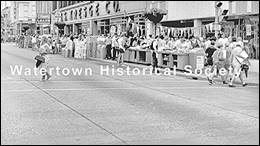 <![endif]>  
2001
05 26       THE MAIN STREET SPLASH EVENT REPLACED MAXWELL STREET DAYS
This year the Watertown Main Street Program is planning a new event to replace Maxwell Street Days.  The Main Street Splash Event will take place July 19-21, incorporating the familiar shopping tradition of Maxwell Street Days with a new event to include sidewalk sales, musical entertainment, children's events, eclectic vending and food.  "As part of our goal to revitalize the downtown area, we are taking an old event and putting on a new face," said Promotions Committee co-chairwoman Kathy Nelson.
The promotions committee of the Main Street Program is responsible for marketing the downtown area and revitalizing Main Street.   WDT
Cross References:
Named after the street by the same name in Chicago which was known for the special deals and activities retailers on that street promoted.  Online reference.

History of Watertown, Wisconsin