website  watertownhistory.org
 ebook  History of Watertown, Wisconsin
Joseph and Anna Mattecheck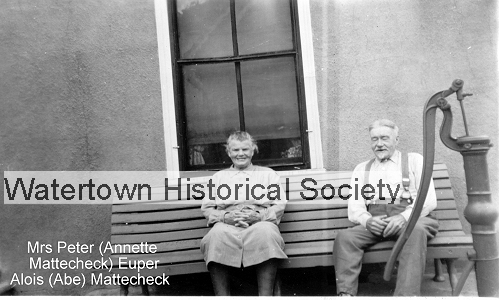 Annette was the 3rd child of Joseph and Anna Mattecheck (maybe spelled Matejcek).  Alois or Aloys, a single man, was the 6th child.  He died in Watertown Wi in 1949 and buried in S Dak. He lived with his sister Annette for many years .
Joseph and Anna left Watertown Wi about 1884 for Dakota Terr..  Eldest child Mary married a Clary (not sure of spelling) he died or killed and she married a Frank Paul.  They also live in SD.
Joseph and Anna had 10 children.  The first 4 Mary, Frank, Annette, Clara were born in Bohemia. Joseph, Alois, Henry, Anna (died at birth), Anna and Mathias were all born in Watertown Wi.