This file portion of www.watertownhistory.org website
Main Café
103 E Main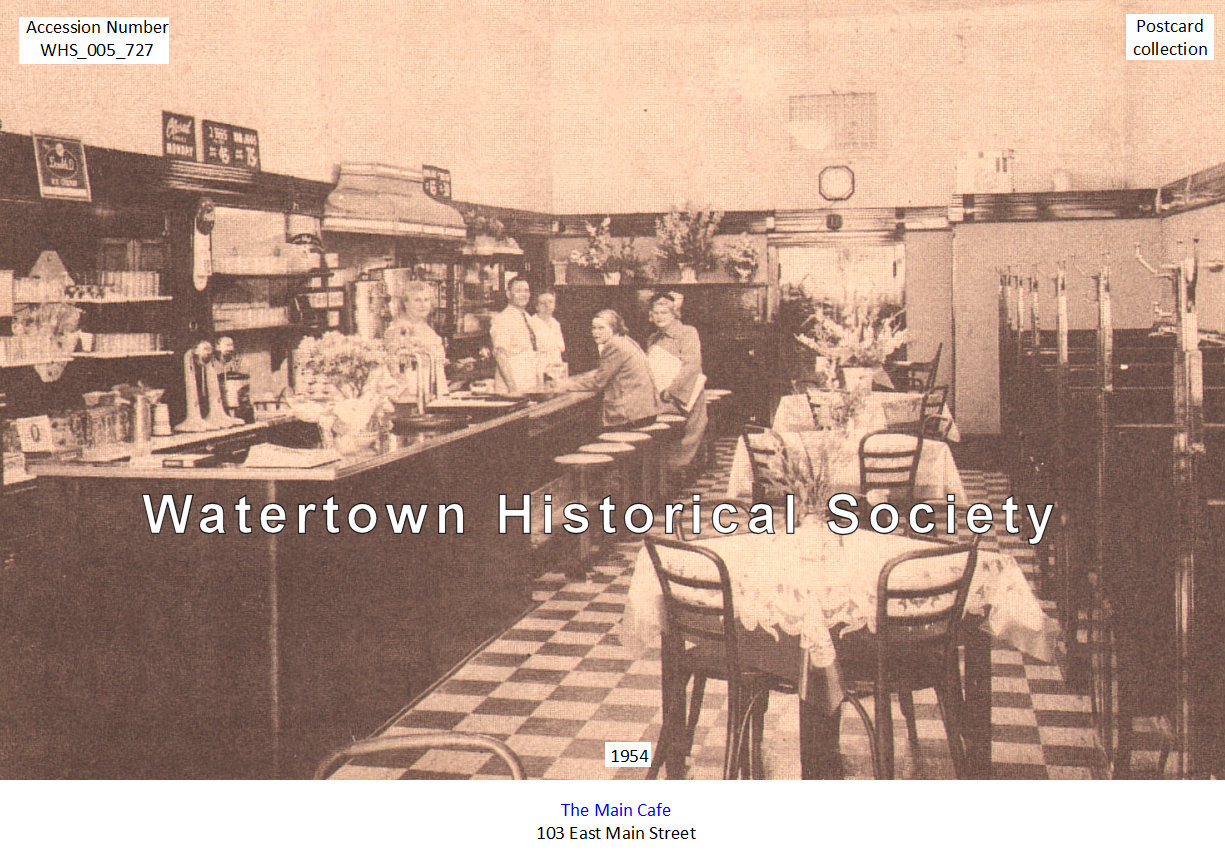 1954                                 WHS_005_727
1934
12 07     Fire Damages Evans Block.  The Evans Block [101, 103 and 105 E Main], a three story structure housing the Princess Confectionery and the Main Cafe, as well as living quarters was swept by fire last Saturday morning, 12/1/34 to such an extent that the eastern half of the building will have to be almost completely reconstructed . . . With the burning of the store buildings which house the Main Cafe and the Princess Confectionery, many people have begun to wonder when the building was erected.  No exact date has been recorded, but several of the older residents of Watertown have given information to help make the matter clear. 
Many years ago the three buildings which now house the Waugh Pharmacy, the Main Cafe and the Princess, were occupied by the Robinson House [Planters], a prominent and up-to-date hotel of its time.  This hotel was a large frame building of good architectural structure with balconies around the side and front of the building and a large-cupola on top.  One of the main features of the hotel was the fountain saloon which was located in the basement.  In the center of the saloon was an artesian well which furnished running water constantly.  This fountain saloon can be well remembered by people who lived in Watertown at that time as it was a popular gathering place.  Besides the basement and main floor there were three floors which were used as bedroom space.  On the 4th floor of the building was an iron door which connected the hotel with the Schwab building [107-109 E Main] now occupied by the Scott Store.  Following the fire which burned the hotel to the ground 67 years ago [65 yrs ago, 1869 is correct], the present buildings were erected.  The corner building built by F. P. Brooks, was first used as the post office, while the other two stores were the M. A. Kirsch General Store.  These stores have changed hands several times since they were erected.  The corner building was occupied by Gamm's Drug Store and later by the Behlke Drug Company.  The other- two were occupied by various establishments.   WTribune
1944
1957
1957c, Main Cafe, 1950s-70s city assessor form, WHS_006_011a
1957c, Main Cafe, 1950s-70s city assessor image, WHS_006_011b
1962
10 02       One of Watertown's old business establishments, a one-time widely known eating place, has reopened for business under its original name — the Main Cafe.  In recent years it had other names, but the new owners and operators, Chester and Dora Marquard, have reopened it under the name of the Main Cafe.  The place opened its doors on Tuesday and has enjoyed a generous patronage since then.  It opened without fanfare and after some extensive changes and improvements.  Mrs. Dora Marquard is actively managing the place.  She said today that "good home cooking" is her aim.  Dinners and short orders are the policy.