website  watertownhistory.org
    ebook  History of Watertown, Wisconsin
Samuel John Luchsinger
1922 - 2013
<![if !vml]>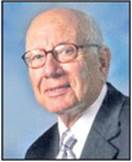 <![endif]>Samuel John Luchsinger died on Monday, Oct. 14, 2013, at Heritage Homes in Watertown. He was 90. The cause of death was old age and complications of dementia.
He and his wife, Margaret, owned the Salick Jewelry Store, located at 217 Main St. in Watertown, for 42 years, and sold the business in 1988, currently Bradow Jewelers.  Salick Jewelers was founded in Watertown in 1853.  Mr. Luchsinger was highly respected in the Watertown business community for his integrity, sincerity and friendliness to customers and colleagues. Sam was a lifelong practitioner of "everything in moderation" and kept himself physically fit by taking daily walks, breathing fresh air and enjoying his surroundings, especially big old trees. He delighted in the faces of children. He took pleasure in the beauty and symbolism of eagles and often refrained, "Rather an old eagle than a young sparrow."
Mr. Luchsinger's greatest joy was his marriage of 67 years to his wife, Margaret. He was constantly at her side both in family life and in business. For many years he kept a weekly afternoon golf date with her.
Samuel John Luchsinger was born on Nov. 19, 1922, in Oshkosh. His father, Samuel, was a judge in the Winnebago County Court. His mother, Mildred (Kensel), was a housewife. Young Sam enjoyed fishing on Lake Winnebago and graduated from Oshkosh High School.
Mr. Luchsinger served in the U.S. Army Corps of Engineers during World War II and received an honorary discharge. Following his service, he enrolled in Northwestern University in Evanston, Ill., and graduated in 1946.
He married Margaret Ann Salick of Watertown on June 15, 1946. He joined the Salick family business shortly thereafter.
Mr. Luchsinger attended Sunday Mass at St. Bernard Church, followed by dinner at home with his family, a short nap, and often a car trip to "poke around" with a few of his children. He instilled in his family the value of education and "using your mind." He had a strong faith in "Our Creator," and carried a peaceful inner reserve that made his family feel protected and secure.
Sam was active in Watertown's social life and loved a jolly good time with his wife, friends, family, good food, singing and dancing, and joking around. Even as his health failed, he amused his family with his wry, understated sense of humor.
Mr. Luchsinger was trained in gemology and a respected member of the American Gem Society. He was a lifetime member of the American Legion and a former member of the Watertown Elks Club, Watertown Chamber of Commerce and the Watertown Country Club.
After he retired, he and his wife lived in Venice, Fla., during the winter months and in Watertown the rest of the year. He was a member of the Epiphany Cathedral and Capri Isles Golf Club in Venice.
Besides his wife, Margaret, Mr. Luchsinger is survived by two sons and three daughters, Steven (Ping) Luchsinger, Stoughton, Richard (Amanda) Luchsinger, Estes Park, Colo., Margaret Luchsinger (Craig) Vossbrinck, Scotts Valley, Calif., Patricia Luchsinger, New York, N.Y., and Amy Luchsinger (David) Moecher, Lexington, Ky.; 10 grandchildren; two great-grandchildren; a sister, Ellen Baynes, Oshkosh; and nieces and nephews.
His parents, Samuel and Mildred Luchsinger, and a brother, William, preceded him in death.
Mr. Luchsinger's family would like to thank Marquardt Hospice of Watertown, especially his nurse, Jayne.
Memorials in Sam's memory can be directed to St. Bernard Church or Friends of the Watertown Public Library, or the charity of one's choice.
A funeral Mass will be held at St. Bernard Church in Watertown at 10 a.m. on Saturday with Monsignor Daniel T. Ganshert officiating. Visitation for family and friends will be at Pederson-Nowatka Funeral Home on Friday between 5 and 7 p.m. and at the church on Saturday between 9 and 10 a.m. Private inurnment at St. Bernard cemetery will take place at a later date.
Pederson-Nowatka is caring for the family. To leave an online condolence or to light a candle in Samuel's name, please visit www.pn-fh.com.
Pederson-Nowatka Funeral Home 213 S. Fifth St. Watertown

History of Watertown, Wisconsin