website  watertownhistory.org
    ebook  History of Watertown, Wisconsin
Liechty, Joan
<![if !vml]>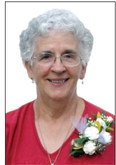 <![endif]>  Joan C. Liechty, 75, of Watertown, died on Monday, Oct. 1, 2012, at Rainbow Hospice Inpatient Center in Johnson Creek with family by her side.
Joan Cecille Manning was born on Oct. 24, 1936, in Clyman, daughter of Harry and Ermine (David) Manning. She married John E. Liechty on Sept. 19, 1959, at St. John the Baptist Catholic Church in Clyman; they celebrated their 53rd anniversary last month. She was the homemaker of the family.
A Mass of Christian burial will be held at 11 a.m. on Friday at St. Henry Catholic Church with Msgr. Daniel Ganshert officiating.  Burial will be at the Oak Hill Cemetery in Watertown.
Relatives and friends may call at the Hafemeister Funeral Home on Thursday from 5-8 p.m. with a prayer service at 8 p.m. and at church on Friday from 10 a.m. until the time of the Mass. Memorials, if desired, would be appreciated to St. Henry Church, Horicon Marsh Bird Club or to Rainbow Hospice.
She enjoyed the backyard birds, always watching out the kitchen window to see what was at their many feeders. She was very dedicated to bluebirds and wood ducks, a member of BRAW (Bluebird Restoration Association of Wisconsin), NABS (North American Bluebird Society), the Wood Duck Society and the Horicon Marsh Bird Club. She built many bird houses for her local trail and for others who shared this interest. She was very successful in raising mealworms to feed her bluebirds. Earlier this year she was featured on a segment of "Outdoor Wisconsin" and in 2011 there was an article about her in the Friends and Family edition of the Watertown Daily Times. Her birds will miss her. She and John boiled many gallons of sap from their trees to make maple syrup to give as gifts.
Joan graduated from Hustisford High School, was a member of St. Henry Church in Watertown and American Legion Auxiliary Unit 189. She and John delivered Meals on Wheels. Joan volunteered at the Golden LivingCenter in Watertown.
Joan was the loving wife of John of Watertown, and loving mother of Tammy (Randy) Frey of Johnson Creek, Theresa Miresse of Delafield, Veronica (Ben) Schuett of Horicon, and John (Lisa) Liechty of Fort Atkinson; grandchildren, Nathan Frey, Michelle (Matthew) Adamski, Nicholas Miresse, Thomas Miresse, Christine Miresse, Justin (Megan) Schuett, Jill Schuett, Allison (Matthew) Frank, Carolyn Schuett, Amber Liechty and Matthew Liechty; her brothers and sisters, Marge Gahlman, Marilyn Lien-Hagen, David (Margaret) Manning, Harry (Erna) Manning, and her twin sister, Jean (Jim) Swierzynski, along with many nieces, nephews, other relatives and friends.
She was preceded in death by her parents, a sister and infant brother.
The Hafemeister Funeral Home of Watertown is in charge of arrangements. Online condolences may be made at www.hafemeisterfh.com.

History of Watertown, Wisconsin