website  watertownhistory.org
    ebook  History of Watertown, Wisconsin
David R. Lenz
1943 - 2012
1992
04 10       FORMER MAYOR REGRETS CUTTING TAXES
Mayor David Lenz said goodbye to members of the Watertown Common Council Monday night in an emotional speech filled with warnings about the city's future.  Lenz, who leaves office today after 21 years of service to the city, told aldermen that they will be facing some tough issues in the coming years, including a certain property tax increase in 1993.  "You are facing an automatic tax increase of 6.8 to 7.2 percent," said Lenz, who added that this increase doesn't reflect raises for city employees or any additional spending on programs such as recycling.  Yet, the mayor also predicted that aldermen would find that cutting the budget "is going to be the easiest thing you've ever done."  Lenz noted that he cut taxes early in his administration, a move he regretted later because the city was placed in a catchup position.
2012
06 04       FORMER MAYOR PASSES AWAY
<![if !vml]>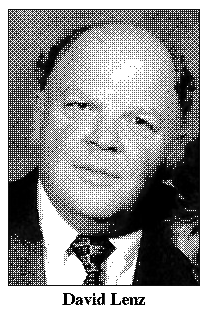 <![endif]>JEFFERSON — David R. Lenz, 68, of Jefferson, formerly of Watertown, passed away at his home on Monday evening, June 4, 2012.
Funeral services will be held on Saturday at 11 a.m. at Trinity Lutheran Church in Watertown with the Rev. Brett Brauer officiating.  Burial will be in Ebenezer Moravian Cemetery in Watertown.
The visitation will be at the Hafemeister Funeral Home on Friday from 4-7 p.m. and at the church on Saturday from 10 a.m. until the time of the service.
David Richard was born in Watertown on Nov. 24, 1943, son of Clarence and Evelyn (Rabbach) Lenz.  He was a 1962 graduate of Watertown High School. David attended Moravian College in Bethlehem, Pa., and Rupprecht Karl University in Heidelberg, Germany, from 1962 to 1967.  In 1967, he received a bachelor degree from Milton College in Milton, majoring in sociology-psychology and minors in English, history and philosophy.
David served as Watertown's mayor from 1987 to 1992 and was a former alderman for 16 years.
He was a member of the Rotary International, League of Wisconsin Municipalities, Finance and Taxation Committee, State Leagues Regional Coordinator, Resolutions Committee, National League of Cities Finance and Intergovernmental Relations Policy Committee. David was also a member of the Small Cities Council Steering Committee, the Governor's Appointee Wisconsin Retirement Board, the Senior Member Society of Manufacturing Engineers, the Senior Member Institute of Industrial Engineers, the Association for Manufacturing Excellence and the Society of American Value Engineers.
On June 15, 1968, he married the former Deborah Hartwig at Trinity Lutheran Church in Watertown.
David was a member of Trinity Lutheran Church and of the Wethonkitha Club, both in Watertown, and was instrumental in starting Watertown's Riverfest celebration.
He loved spending time with his family and enjoyed fishing, reading and fixing things.
Survivors include his wife, Debbie of Jefferson; his three children, Erika (Eric) Olson of Sun Prairie, Christian "Lenzer" Lenz of Jefferson and Katherine (Andrew Wells) Lenz of Peshtigo; his two grandchildren, Emily Olson and Ian Olson; a sister, Barbara Herried of Watertown; along with nieces, nephews, other relatives and friends.
David was preceded in death by his parents.
Hafemeister Funeral Home 611 E. Main St. Watertown

History of Watertown, Wisconsin