website  watertownhistory.org
    ebook  History of Watertown, Wisconsin
Kuenzi and Juul
305 E Main
1953
12 07       CHRISTMAS GIFTING, 1953
<![if !vml]>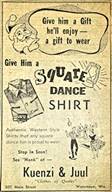 <![endif]>          Square Dancing Shirt
1955
05 26       KUENZI AND JUUL CLOSING
<![if !vml]>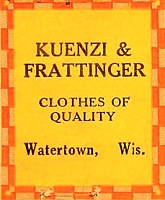 <![endif]>The Kuenzi and Juul store at 305 Main Street has closed its doors, having gone out of business.  It was for many years a leading men's store here.  
The business was operated by Henry J. Juul, 1319 Neenah Street, who came here from Madison some years ago, and Edward C. Kuenzi, 906 Western Avenue, who had been associated with the firm for a good many years.
Mr. Kuenzi has not been active in the business since February, because of poor health. Mr. Kuenzi had been in the men's clothing business here since 1920. He was for many years associated with the late Albert Frattinger in the firm of Kuenzi and Frattinger. After Mr. Frattinger's death Mr. Kuenzi continued to operate the business under the same firm name.
This was changed to Kuenzi and Juul when Mr. Juul came to Watertown.     
1955:  Location taken over by Ruesch's Fine Footware.

History of Watertown, Wisconsin