website  watertownhistory.org
 ebook  History of Watertown, Wisconsin
Krier's Men's Shop
101 E Main
107 E Main
113 E Main
<![if !vml]>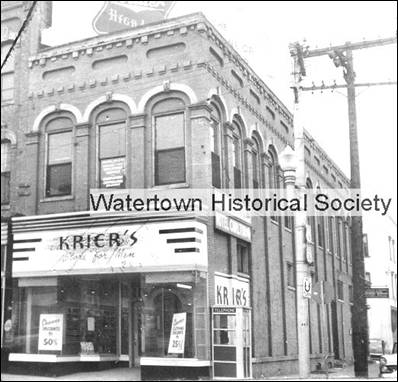 <![endif]>
Portion of image WHS_006_010b, c 1960  /  101 E Main
1962
04 17       A new business, Maloney's Gift Shop, located at 101 Main Street, the former location of Krier's, Inc., will open for business this weekend.  The gift shop will feature a complete line of personal and home accessories, such as towels, greeting cards, luggage, jewelry, hand bags, clocks, paper products, etc.  Mr. Maloney invites the public to visit the store at its grand opening on Friday and Saturday.  The store has been remodeled and redecorated.   WDT
1986
03 30       Krier's Store for Men will relocate in the building formerly occupied by Kern's Men's Store, according to Richard Peterson, Krier's owner.  Plans to be in the new location at 107 East Main Street by June.  The store is now at 113 East Main Street. Peterson and his wife, Kate, are buying the building from Mr. and Mrs. John Bloedorn of Watertown, who owned and operated Kern's for many years.  Kern's closed in December 1985 after 47 years of business.  Peterson said he plans to have some work done on the front of the building.  Changes will coincide with downtown revitalization plans.  The inside of the store will be remodeled and carpeting will be added.  The new location will increase store space by about 1,000 square feet.
1998
<![if !vml]>

<![endif]>02 25          A pool hall will be allowed to go into a Main Street location, despite opposition from some downtown business owners.  The Watertown Plan Commission voted unanimously to grant a conditional use permit for the billiards business, which did have support from other downtown business owners, as well as numerous pool players.  Dean Roeseler, owner of Pool Doctors, 1303 W. Main St., wants to move his business into the former Krier's Store for Men, 107 E. Main St. 
2012
11 13       Planners approve pool hall
The Watertown Plan Commission approved a conditional use permit for a new business to open at the former Hot Shots pool hall at 107 E. Main St.  Brian Shanklin has purchased the bar from former owner Carl Strzyzewski.  Shanklin said he is currently planning on using the second floor of the building as storage but said he may install an elevator in the future to open up the second and third floors for use.