website  watertownhistory.org
    ebook  History of Watertown, Wisconsin
Knispel Ice Business
1902
HARTIG BOTTLING
<![if !vml]>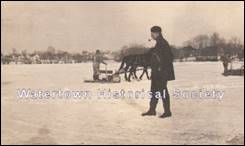 <![endif]>   Destroyed in 1914 tornado   
Cross Reference:      <![if !vml]>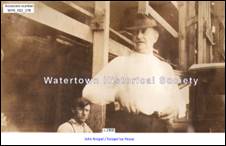 <![endif]>  Image Portfolio on tornado 
1904
12 03       John Knispel, of Chicago, has purchased the ice business of Frank H. Lehmann.  Mr. Lehmann will go into some other business.  His successor was until recently engaged in the ice business in Chicago, and comes to Watertown well recommended.  He has removed his family here and they have taken up their residence in the 6th Ward.
1909
02 26       State Bottling Co. disposed of its property to John Knispel and Kohloff Bros.  The sale includes the ice houses, soda water factory, machinery and contents, horses, wagons, etc., and beside two residences    WG
1915
01 12       NEW ICE HOUSE
One of the recent improvements in the city is the erection of a mammoth ice house by Kohloff and Knispel.  It is located at the foot of Lynn Street on the river bank, is 100x100 feet and 28 feet from the foundation to the eaves, with a storage capacity for 3450 tons of ice.  Every convenience has been provided for keeping the ice pure and clean.
The carpenter work on the new structure was under the supervision of Louis C. Schlueter and Charles Block, and the concrete foundation was put in by Dan Ryan.  The new building takes the place of the old one which was destroyed by the tornado last June and costs approximately $8000.     The Watertown News 12 Jan 1915

History of Watertown, Wisconsin