website  watertownhistory.org
    ebook  History of Watertown, Wisconsin
Elaine Klecker
1922-2012
<![if !vml]>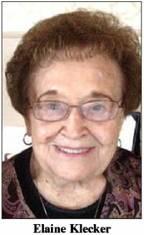 <![endif]>Elaine M. Klecker, age 90, passed away on Wednesday, May 2, 2012, at the Rainbow Hospice Center in Johnson Creek.
A Mass of Christian burial will be held on Tuesday at 11 a.m. at St. Henry Catholic Church with Monsignor Daniel Ganshirt celebrating.  Burial will be in the parish cemetery.  Family and friends may call on Tuesday from 8:30 to 11 a.m. at the church.
Memorials to Rainbow Hospice, St. Henry Catholic Church or the charity of one's choice would be appreciated.
The former Elaine M. Justmann was born on Feb. 26, 1922, in Watertown, the daughter of Arthur and Elsa (Thoma) Justmann.  On Aug. 30, 1943, she married Harold Klecker at St. Henry Catholic Church.  He preceded her in death on April 16, 1985. Elaine had been employed at Waukesha Motors, Mid States Shoe Company, Balistreri's Restaurant and Lindberg Hevi-Duty as a cook. Most of all, she and Harold raised six children on the family farm and provided lifelong memories for the many family members and friends.
She was a member of St. Henry Catholic Church, Christian Mothers and Altar Confraternity. Elaine had been an avid card player, playing sheepshead every night with her friends at Johnson Arms where she lived for 17 years.
Elaine was a loving wife, mother and grandmother, and always enjoyed the company of her family. She always had time for visitors and a great meal. Her beautiful smile will be missed by all.
Survivors include her children, Kathleen (Roger) Mehlberg of Bella Vista, Alaska, Mary (Bud) Seward of San Antonio, Texas, Michael (Sherry) Klecker of Watertown, Robert (Darlene) Klecker of Watertown, Daniel (Kathy Pazak) Klecker of McFarland and Mark (Laurie) Klecker of Watertown; 13 grandchildren, Alisa (Jim) Kasten, Todd Balistreri, Mario (Wendy) Balistreri, Troye (Dawn) Klecker, Amanda (Brad) Kropp, Annette (Andy) Maass, Eric (Kaycey) Bruhn, Nathan (Candice) Brun, Conor (Patty) Klecker, Meghan (special friend Mike Reisman) Klecker, Hannah Klecker, Jessie (fiancé Rob Schroeder) Klecker and Tanner Klecker; 17 great-grandchildren; three greatgreat- grandchildren; three brothers, Dennis (Mary) Justmann of Watertown, Jerome (Ruth) Justmann of Markesan and John (Frances) Justmann of Fruita, Colo.; nieces, nephews, other relatives and friends.
She was further preceded in death by a granddaughter, Vickie Klecker; her parents; a sister Evelyn Metz, and a brother Clark Justmann.
Schmutzler-Vick Funeral Home 500 Welsh Road Watertown